Case study
Green innovation: recycling waste into building blocks
How Carbon8 developed Accelerated Carbonation Technology to recycle industrial waste into concrete with support from Innovate UK.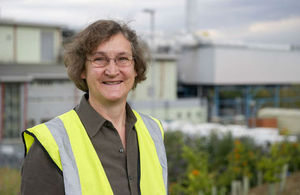 A discovery by geologist and hazardous waste expert, Dr Colin Hills, led to an innovative green business opportunity.
In 2006, Colin founded the company Carbon8 with three colleagues. He wanted to find a way to produce concrete blocks from recycled industrial waste.
The company's patented Accelerated Carbonation Technology (ACT) makes waste materials less hazardous. This means they can be removed without having to pay to place them in landfill.
ACT allows concrete products to be manufactured alongside capturing carbon from industrial processes.
"Carbonation has been regarded as a bad thing because it corrodes steel and gives a finite life to reinforced concrete," said Dr Paula Carey, Managing Director of Carbon8 Systems.
"Now that view is beginning to change."
Collaborative innovation
Carbon8 applied for an innovation voucher grant from Innovate UK to develop the business further.
Initial support from Innovate UK came via a Knowledge Transfer Partnership, which meant that Carbon8 could work in partnership with the University of Greenwich and Viridor Waste Management.
Carbon8 later partnered with the Building Research Establishment (BRE) and University College London (UCL), as part of the Carbon Abatement Through Accelerated Carbonation Technology scheme (Carb-ATTACT). This was run by Innovate UK with the help of a £150k grant.
The BRE provided marketing information for the recycled concrete produced by the ACT, while UCL developed a model for the use of flue gases in the carbonation process.
"Innovate UK gave us vital support in our first piece of work in capturing CO2," said Paula.
"They funded a major pilot project to enable us to manufacture sufficient aggregate to test in aggregate blocks which gave us the confidence form the new company and build a plant at Brandon in Suffolk."
Expansion on the horizon
The Brandon plant run by Carbon8, is the first in the world to use carbon dioxide to treat air pollution control residues. It is also the first to manufacture concrete blocks made from recycled waste materials known as 'aggregates'.
The plant has been very successful and now employs seven people and is based at the premises of a company called Lignacite.
"We produce the aggregates from air pollution control residues which Lignacite turns into lightweight blocks," said Paula.
"We take hazardous waste in and what comes out is an inert product. Combined with other ingredients, Lignacite has recently launched the 'Carbon Buster', the world's first Carbon Negative concrete construction block."
The company is now looking to build four new plants around in the UK and has patents for the technology in the USA, Canada, Australia and Europe.
"The aggregate industry is very resistant to change which is not surprising really, when you have materials that must last 20 years. It has been a hard sell, but we have a good quality product," said Paula.
Business is booming
Carbon8 has also received 'end of waste' status from the Environment Agency for its aggregate products. This means its recycled aggregates are no longer viewed as waste and have obtained product status.
The Environment Agency is now looking to stop operators from sending waste to landfill from incinerator air pollution control. In the past there was no alternative way of disposing of this form of waste, which provides a real opportunity for Carbon8 and its ACT process.
"The critical thing is to be ready. If that derogation is lifted and we are not ready the contracts will go to less sustainable processes," said Paula.
Carbon8 Systems has already won a prestigious Shell Springboard prize. The company has also won best recycled product in the 2014 National Recycling Awards for its lightweight C8Agg aggregate.
"…all the key elements are in place for Carbon8 to become a major and influential player in an increasingly carbon and cost constrained world," concluded a recent Low Carbon Technologies Report by research firm Greenbang.
"But it was Innovate UK that set us on our way," said Paula.
Published 2 January 2014
Last updated 13 April 2016
+ show all updates
Out of date link removed
First published.