Case study
Grape Production in Parwan Province
With UKAid's support, Gul has been able to dramatically increase his grape production and income by using modern techniques to grow grapes.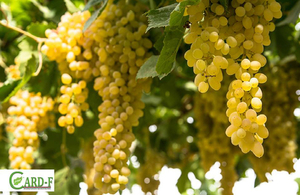 Gul, like other farmers in Parwan, previously used traditional agricultural methods. However, despite all his hard work, he was only able to make 10,000 AFN (around $145) from his grapes each year.
After receiving assistance from the Comprehensive Agriculture and Rural Development - Facility (CARD-F), Gul learnt new methods for grape production. As a result, Gul has increased his income significantly.
Gul said:
I made more than 60,000 AFN (around $875) net income from 300 grapevines this season.
Gul now plans to expand his business by building a Raisin Drying Unit (Kashmish Khana) this year, which should increase his income further.
CARD-F has supported farmers in Parwan province by upgrading more than 150 Jerib of vineyards with trellising systems. This has greatly increased the quality and quantity of grape yields in Parwan and helped to create jobs throughout the province.
The UK is a key donor to CARD-F, which supports the agricultural sector in Afghanistan.
Published 16 March 2016