Case study
Gabiley (Somalia): UK aid Promoting Women's Economic Empowerment
Gabiley: UK aid Promoting Women's Economic Empowerment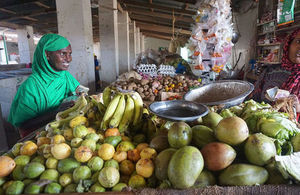 Among the hustle and bustle of Gabiley's main marketplace, Hodan Jama chops at a shoulder of goat meat with precise, rhythmic swings of an axe that complement the orchestral clamour of everyday business activity….
Behind the scenes, within the dimly lit and muggy offices of the municipal headquarters, another group of women work tirelessly to ensure that public amenities like marketplaces and health clinics are providing a service to local communities. Amina Aden has been a public servant with the Gabiley local government for over two decades, and her humble personal demeanour belies a confident command and understanding of the local government's finance department.
Gabiley is a fertile city of 141,000 people situated along the arterial highway connecting Somaliland's capital to the Ethiopian border. The city relies heavily on markets to service its agricultural pastoralist and merchant economy. A large number of the beneficiaries of UK aid here are women, as they are the community's main cultivators, market traders, vendors, household labourers and consumers, who gain from improvements to the public services that Amina Aden and her colleagues work on.
In 2014, the municipal government of Gabiley oversaw the completion of the marketplace, with technical and financial support from the UN's Joint Programme for Local Governance (part-funded by UK Aid). The market has provided a safe, hygienic and popular haven for vendors such as Mrs. Jama to sell everything from fabrics and cooking oil to agricultural products sourced from local farms and pastoral areas.
In line with its participatory approach, JPLG worked with the district government to and reach out to communities to collect information on priority areas of development for the local people. The female population was consulted by local authorities on social welfare priorities and top of the list was greater access to markets, roads and hospitals.
The construction of the marketplaces has brought advantages both to the general community and to the local government and this includes improvement of incomes of the Gabiley community through job creation and trade. Prior to the construction and rehabilitation of the market, the number of people trading in Gabiley central market was between 210 and 270. But the numbers have now increased to 570 people, 95 percent being women.
Service Delivery and Communal Wellbeing
The local government has also benefited from collecting tax from the businesses created in the marketplaces. The method of tax collection has greatly impacted local revenue collection. Whereas previously she was relying on pens and cumbersome, dust-ridden record books to manage public expenditure and revenue, Mrs. Aden and her long-time colleague, Ms. Sirad Abdi, now benefit from the use of computer-based automated processes, known as Accounting and Billing Information Management Systems, introduced by JPLG. In addition to reducing the workload required for record keeping, these systems allow for greater accountability, predictability, planning and prioritisation of district funds by compiling and presenting all budgetary items in a single matrix that enables easy financial management.
Highlighting the change that has occurred, Amina Mohamed, a seamstress, notes that:
Before the market centre was constructed, we were reluctant to pay taxes because we did not trust where the money was going. But now we can feel the presence of the local government in our lives, not only in the construction of roads and buildings, but also in the dedication to maintaining the quality of this public space.
The impact on social cohesion, according to Ms. Mohamed, has been significant:
Now we are happy to contribute a part of our earnings, because we believe it will be used for our community, and will give us the power to make the local government listen to our concerns.
Three years on a lot has changed in the lives of the residents. Today, Gabiley has many more roads and marketplaces than before. People can easily and safely travel to market to conduct their business.
Facts and Statistics:
The UN Joint Programme on Local Governance and Decentralisation (JPLG) is the largest vehicle for support to local government in Somalia. It is funded by 6 donors, with the UK the joint biggest donor, alongside Sweden.
JPLG provides expertise on policy, planning, budgeting and expenditure management at the district level, built around a system of innovative conditional cash grants to district governments.
Each of JPLG's 5 agencies (UNDP, UNICEF, UNCDF, UN-Habitat and ILO) plays a role in enabling more participatory, transparent and effective district governance.
Published 14 July 2015