Food for families in Gaza
How UK aid is helping people get access to safe and nutritious food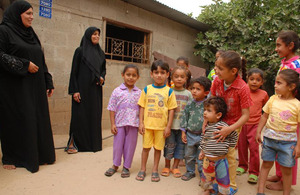 Nariman Farahat has enough food to feed her family, and her 6 children are healthy again, thanks to food vouchers provided by the World Food Programme (WFP) and funded by UK aid.
Nariman, who lives in Shijaiya in Gaza, is also feeling much healthier. She previously had extremely low calcium levels which required treatment and medication. Today her calcium levels have returned to normal.
"I have never felt this good and healthy," says Nariman. "I used to feel very tired and was taking pills that had little effect. I was keeping the little food we had for my children but with the food vouchers I can now make some savings and I feel much more energetic."
Feeding families
Reem Said Hassanein from Zeitoun is also able to feed her family with the help of food vouchers. Her children get to have breakfast before they go to school and their diet is more varied.
Reem's husband lost his job in construction in 2007 and Reem struggled to provide enough food for herself and her children.
"When we got married in 1998 we could buy our house and furniture and live a good life," she says.
"But after my husband lost his job I couldn't even buy food for my children's breakfast before they went to school. Now they have breakfast everyday and their daily diet includes bread, thyme, milk and eggs."
Conflict and struggle
Nariman and Reem are some of the thousands of people that UK aid is helping through the WFP food voucher scheme.
The ongoing conflict and restricted access in and out of Gaza has caused the economy to all but collapse.
And the loss of thousands of jobs, along with falling wages, has meant many people now face a daily struggle to feed their families.
Unemployment is among the highest in the world at 38%, and more than half of Gaza's population is food insecure - meaning they can't rely on access to the sufficient, safe and nutritious food that they need to survive. Children and women like Nariman and Reem are particularly at risk.
A little goes a long way
However, the UK aid supported WFP food vouchers are helping many families live happier and healthier lives. The electronic voucher operates like a credit card, allowing people to purchase food with dignity, while supporting local shops and food producers to help the economy develop.
Food security programmes like these are supported by a range of international donors and DFID works with a number of these donors to address the wider challenges facing Gaza. In particular, we are working with Israel, the EU and the UN to help improve movement and access to and from Gaza, support economic growth and enable people to return to work, which will help to reduce dependency on aid.
With our support, the WFP will be able to provide food vouchers to 5,750 poor households, helping them to purchase basic nutritious food items such as bread and milk.
For just $18.50 per person, the voucher covers 70% of a household's food needs for a month - showing how a little can go a long way.
Published 17 November 2011