Case study
Finger food specialist wins business in Singapore
UKTI helps Frank Dale Foods, the UK's leading premium party food manufacturer, develop an export plan and explore overseas markets.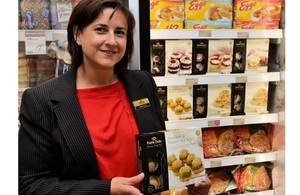 Family business Frank Dale Foods produces 14 million miniatures of classic British foods every year and has a significant share of the UK food service sector. It supplied mini Victoria Sponges for the Queen's Diamond Jubilee celebrations at Sandringham Estate.
Making full use of services provided by UK Trade and Investment (UKTI) has enabled the company to develop an export strategy and win business in Singapore.
Claire Carter, International Business Development Executive for Frank Dale Foods said,
We would not have got to this stage as quickly without UKTI support.
Developing an export plan
Saturation of the home market prompted them to contact UKTI to develop a 5 year plan targeting overseas sales.
A representative of Frank Dale Foods met with East of England UKTI International Trade Adviser (ITA) Rosemary O'Connor in September 2013 for an initial diagnostic meeting. This aimed to identify how UKTI could best support and develop the company's plans for international growth.
Rosemary recommended that the company join UKTI's Passport to Export programme.
Claire Carter said,
The Passport Scheme has been an invaluable part of our learning and, in turn, our strategy.

In a relatively short space of time we have learnt a huge amount about the practicalities involved in trading overseas. The advice, support, workshops, one-to-ones, and networking events have been instrumental in our export achievements to date.
Exploring exporting around the world
Frank Dale Foods also took part in 'Explore Export', an annual UKTI initiative in November 2013. This gave them the opportunity to meet UKTI Commercial Officers and British Chamber of Commerce representatives from 80 countries, and gain insight into global business opportunities.
Claire Carter said,
This was where our export strategy really started to develop.

We were particularly considering overseas markets in Commonwealth countries that had an affinity with British products and the English language.

We identified several consulates with whom we wanted to speak and various seminars that we wanted to attend, to help us learn more about trading in specific international markets.
They then used a UKTI screening tool to help narrow their field, scoring potential target markets according to factors such as growth, proximity, cultural affinity and language.
Singapore came out top, followed by Hong Kong and South Africa.
Using UKTI services to research the market
Claire Carter researched the Singapore market using UKTI's Export Communications Review (ECR) service and Overseas Market Introduction Service (OMIS).
She used OMIS to identify buyers in specific catering and retail organisations ahead of her market visit planned for February 2014.
Claire Carter said,
UKTI's Singapore office was amazing. They were able to give me formal introductions to the companies we wanted to meet with.

As a company new to export, going into a new market that we didn't know very well, this was invaluable. It gave us so much more credibility: a meeting request coming from the British Consulate in Singapore will be taken seriously.

On my arrival in Singapore UKTI even provided a folder of background information and a map showing how to get from one company to the next.
The field trip to Singapore with UKTI support gave them the confidence to move forwards and build on all the desk-based research they had done.
Attending a tradeshow
Frank Dale Foods took a stand at the FHA Food Show in Singapore in April 2014. All the companies they had met with in February 2014 came their stand to sample products.
Claire Carter said,
At one point we had the 2 biggest retailers in Singapore on our stand at the same time, both of which wanted exclusivity. We were delighted when the chief executive of the largest and most upmarket company, Cold Storage, returned the following day to secure a deal with us.
Other markets
Working with Cold Storage has indirectly opened up other markets for Frank Dale Foods in Malaysia and Hong Kong.
Their consolidator – a firm which groups together orders from different companies into one shipment – also serves these markets. They were able to broker introductions to important retailers in September 2014.
The company is also actively exploring trading opportunities in Australia, following other contacts they made at the Singapore food show.
Frank Dale Foods continues to meet regularly with their ITA to review export progress and consider its next steps.
About Frank Dale foods
Frank Dale Foods has been operating over 20 years and its regular UK client base includes high end retail outlets such as Booths and Ocado.
Fast facts
Published 23 March 2015