Case study
Explaining the benefits for Ukraine of closer European integration
The British Embassy recently funded a project to determine how Ukrainians perceive the EU and how one could raise their awareness of the benefits of signing the EU-Ukraine Association Agreement.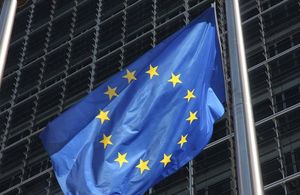 The UK is a strong supporter of Ukraine's European aspirations. Closer European integration would bring significant benefits to Ukraine and its people – from safer roads to higher environmental standards, from more foreign direct investment (and therefore jobs) to increased export opportunities for Ukrainian companies. But it is clear from discussions with Ukrainians from all walks of life that not everyone has a good grasp of these benefits.
The British Embassy therefore recently funded a project to determine how Ukrainians perceive the EU and how we could raise their awareness of the benefits that signing the EU-Ukraine Association Agreement, including a Deep and Comprehensive Free Trade Area, would bring. On the basis of this research, we then wanted a blueprint for a possible communications campaign, in which Ukrainian, EU and international partners could work together.
Today we are publishing the final report of this project. Its results are based on extensive information gathering, open sociological data, media content analysis and consultation with representatives of the government of Ukraine, EU Member States, the EU Delegation, think tanks, international donors, civil society and mass media organisations, businesses and many others. In total, the project implementers conducted 86 interviews, 7 focus groups and analysed about 830 pieces of media coverage relating to the topic of Ukraine's integration with the EU.
Commenting on this research, British Ambassador to Ukraine, Simon Smith, said:
"International agreements can easily seem dry and irrelevant to the "man or woman on the street." But the Association Agreement that I hope will be signed in November – if, of course, important conditions are met – should matter to all Ukrainians from Lviv to Luhansk and from Sumy to Mykolayiv. Why? Because this agreement will improve the lives of all Ukrainians, bringing higher standards of living and greater prosperity.
"The research that we funded has shown that we need to consolidate and coordinate our efforts to provide comprehensive information about the EU and present clear and well-defined arguments in favour of EU integration. Working with a broad range of Ukrainian and European partners, we now intend to do just that."
Scoping Study on raising awareness about the EU
Further information
The project "Scoping Study on raising awareness on the implementation of the Association Agreement including DCFTA and its impact in Ukraine" (duration: October 2012 – January 2013) was funded by the British Embassy Kyiv Bilateral Programme Fund and implemented by an independent consultancy, Key Communications.

If you have any questions about this project or want to join our combined efforts, please contact our EU Co-ordinator, Svitlana Yavorska, at Svitlana.Yavorska@fco.gov.uk or our Communications Co-ordinator, Oleksiy Kurka, at Oleksiy.Kurka@fco.gov.uk; tel.: (380 44) 490 3660.
Published 17 April 2013