Case study
EU Training Mission for the Malian Armed Forces
The EU Training Mission for the Malian Armed Forces (EUTM) was launched in February 2013 to provide basic military training and advice to the Malian military.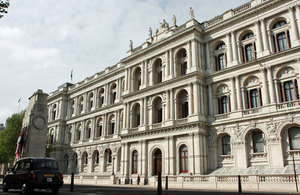 The UK has provided the mission's only civilian human rights trainers, deployed from the UK Team of Experts. This long-term placement has delivered training to Malian soldiers on the principles of international humanitarian law, human rights law, and preventing sexual violence in conflict.
The deployment has offered an opportunity for the UK to make a tangible difference to the shape and impact of the EUTM, and demonstrate UK expertise on preventing sexual violence in conflict. It addresses a clear need in the Malian Armed Forces as they prepare to operate amongst populations who have suffered human rights abuses inflicted by a range of actors during the Islamist take-over of northern Mali. To date, four Malian battalions have been trained, amounting to approximately 2,800 personnel.
Published 10 April 2014