Case study
Ending violence and transforming women's lives
How UK aid is working to eliminate and prevent all forms of violence against women and girls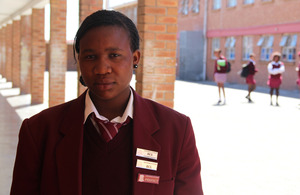 This International Women's Day we're celebrating those working to end violence against girls and women.
It is shocking and unacceptable that in the 21st century one in three women is beaten or sexually abused in her lifetime. Recent high profile stories including the protests in South East Asia over lack of justice for rape victims, and the story of Malala Yousafzai, who was shot by the Taliban for campaigning for girls' education have thrown a spotlight on the issue. These acts of violence are not going to stop unless action is taken to tackle the root causes of violence.
Violence against women and girls stops them getting an education, prevents them from being economically active and undermines their ability to choose the timing and number of children they want to have. It has a profound effect on the physical, social, emotional and psychological well-being of women and girls, and on their children and other dependents – it is a direct cause of death, disability and physical injury for victims and survivors. Due to its significant social and personal costs, sexual violence has and is being used as a weapon of war to destabilise populations, destroy bonds within communities and families and to humiliate 'enemy' women and men. It also has huge economic costs, including the direct costs to health, legal, police and other services.
At a UN meeting this month we have an opportunity to show the world that these acts of violence and brutalism will not be tolerated. This year's theme for the Commission on the Status of Women (CSW) – the global policy body for the advancement of women's rights - is eliminating and preventing all forms of violence against women and girls. It is imperative that, unlike last year, there are agreed conclusions at CSW. A failure to do so will undermine progress made on women and girls' rights and send out a signal that it is legitimate for these acts of violence to continue. The UK will be at the forefront of efforts to ensure that this does not happen and that a successful outcome is achieved at CSW.
See how UK aid is tackling violence against women
In pictures: UK support is helping South African prisoners become women's rights champions
In pictures: UK aid is supporting care workers to protect vulnerable children in South Africa
Case study: An acid attack survivor fights for the rights of other victims in Bangladesh
Case study: UK aid is funding women's support centre's in India help victims of gender based violence
Case study: UK support is helping paralegal committees in Nepal promote women's rights and empowerment
Case study: In Pakistan UK aid supports the Acid Survivors Foundation to help victims lead normal lives
Published 22 March 2013