Case study
Eminox wins £750,000 contract in Hong Kong
Gainsborough based medium-sized business (MSB) Eminox, demonstrates their export success with the help of UKTI.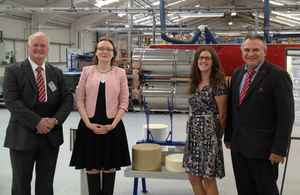 East Midlands' Deputy Regional Director, Alison Zhu, visited Eminox and heard how the company continues to invest in growth. With the help of UK Trade and Investment (UKTI), they plan to secure business in countries such as Poland, Bulgaria, Sri Lanka and China.
She said:
The company currently exports across Europe with high ambitions for further afield. They demostrate what exporting can do for mid-sized businesses and we are keen to help them continue any way that we can.
The newly secured £750,000 contract, which is for a retrofit trial scheme in Hong Kong, marks a step in Eminox's advances in the Asian markets.
Opportunities for MSBs
Currently only 17% of the UK's MSBs generate revenues outside of the European Union (EU) compared to 25% in Germany and 30% in Italy.
UKTI runs a MSB programme to support companies with a turnover of between £25 million and £250 million.
Services include:
advice and support from a UKTI International Trade Advisor (ITA)
help with developing an export strategy and action plans tailored to MSBs needs
advice on international business culture
support from UK Export Finance (UKEF)
Alison added:
Lord Livingston set out plans to transform the economy by ensuring MSBs receive the help they need to export and we are here to ensure that any company interested in exporting gets that help.
Dr Martin Ott, Political Affairs and Business Development Manager at Eminox, said:
I have recently visited Sri Lanka, China and Eastern European countries and UKTI has always provided a great deal of support to us: wherever we go in the world we use UKTI and their structure and network extensively.
About Eminox
Eminox is a family-owned MSB. It designs and manufactures exhaust and emission control systems for heavy duty diesel vehicles. The firm has been established in Gainsborough for over 25 years and has supplied emissions abatement products across the globe for 20 years.
They currently export about 70% of their £32 million turnover across Europe and have recently moved into new multi-million pound facilities.
Published 27 October 2014