Case study
Education brings hope for Pakistan's children
Higher education programmes allow children to continue their education.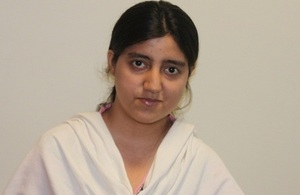 The UK's Department for International Development is working with the Lahore University of Management Sciences (LUMS) to help 450 students complete their graduate studies over the next 5 years. Sara Jamil, 20, is one of the students receiving support to study in the prestigious institution.
Sara's story
Sara lives in the Gulshan-e-Ravi area of Lahore. After Sara's parents separated when she was 15, her mother was left to look after her 4 children.
"It was a difficult time for me emotionally to come to terms with the situation – all of a sudden there were a lot of responsibilities on all of us. But my studies were always a welcome distraction – and something that helped me get away from it all. I had always been a good student, but under the circumstances I excelled even further."
Her mother's income was barely enough to make ends meet but she was determined that they continue studying. Sara's family had always wanted her to become a doctor, but her heart lay elsewhere.
"I was always good with numbers and was drawn to accounting and finance because of the possibilities it could open up for me. But I knew that even though my mother was persistent that we continue our education, I didn't have the means to pursue my dream."
Education and hope
In Pakistan, two-thirds of women are illiterate, and more than 9 million girls do not go to school. Education helps girls increase their potential wages by up to 20% with each extra year. The financial independence gained helps them take control of their lives, delay marriages and plan their families in a better way.
Sara was lucky to be able to complete her primary and secondary studies but her financial constraints threatened to undo all her hard work. Then, during the first year of her intermediate (A-Levels) education, Sara learnt about the LUMS National Outreach Programme. After passing an English and mathematics test she went to LUMS for a 17-day mentoring session which allows students to experience the university first hand and prepares them to take the admission test.
"It was a life changing session. I met some amazing people and found an environment where I was well outside my comfort zone – you can't really put a value on that kind of exposure. That was when I decided I wanted to study here."
Scholarships and success
Sara later passed the admission test and was accepted on her dream course. During this she has performed admirably. She made the dean's honour list in only her second semester, interned with international firms and represented Pakistan abroad in competitions.
"I've been extremely lucky to come to an institution that offers such a good foundation for the future. My experience has taught me that there are no financials constraints to getting accepted into the best universities – because if you're good enough academically you can make it. I owe a lot to the programme and I also spread the word so others can benefit."
The initiative aims to enable these young people to get better jobs and so lift themselves and their families out of the cycle of poverty. The scholarships – worth £7.1 million (1.2 billion rupees) – will help an estimated 1,000 of the brightest students from the poorest households over the next 5 years. The aim is for half of these to be girls.
Published 11 October 2013
Last updated 1 June 2015
+ show all updates
Corrected factual errors.
First published.