DR Congo at 50: improving access to clean water
DFID is working to secure safe water supplies and improved sanitation for people on the outskirts of Kinshasa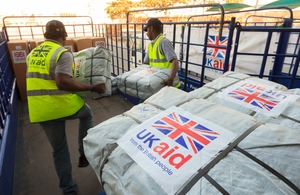 On the outskirts of Kinshasa, the population of Ngomba-Kinkusa has expanded rapidly. There is a strain on resources and poverty has increased. In January and March of 2008, typhoid killed 40 people in this area.
The village chief explains: "It was caused by the lack of portable water and the lack of hygiene created by the lack of safe water.
"The water distribution system from Kinshasa doesn't reach here. And the explosion of population we have seen in this area just exacerbates the problem."
Following the typhoid outbreak, the DFID-funded Healthy Village, Healthy School project began bringing a safe water supply, a hand washing system and slabs and covers for latrines to Ngomba-Kinkusa village. The villagers distributed the materials themselves.
Families now have new, basic toilets and shiny spigots grace the clean concrete structure of the village's protected water supply. The area is crowded as children and women fetch water, wash clothing nearby and shower in the fresh water.
"It has made an enormous difference," says the chief. "There have been no problems with typhoid since these improvements were instated."
Water of life
Calala Caricu, 38, has 8 children. She lost her husband to the typhoid epidemic. "When the typhoid epidemic came, my husband got sick and died.
"With no resources to fall back on, it left us in a terrible situation, which was even worse as we had no one here to take care of us.
"My children all had to leave school as there was simply no way to afford to send them anymore. The epidemic devastated our lives.
"I was 5 months pregnant with twins when my husband died. Three of my children also got very ill, but luckily they survived. They were all very sick in the stomach.
"We didn't know why this was happening - but at the time we would get our water from the river. It was dirty but we had no choice but to drink it, as that was the only water available. A lot of people got ill. A lot died. Now, things are very good. Now, they are never ill. The water is clean now and it makes such a difference."
Facts and stats
DFID is providing £25 million over 4 years to a project with UNICEF to improve rural water supply using the well established provincial health system.
It will provide access to clean water, improved sanitation and hygiene education for 3.5 million people from 2008.
In 2007, only 46% of people in DR Congo had access to safe, clean water.
Published 30 June 2010