DFID Research: The success of Bolivia's bitter potato
A regional initiative of the International Potato Center helps farmers in Bolivia access high-value markets for their freeze-dried potato products.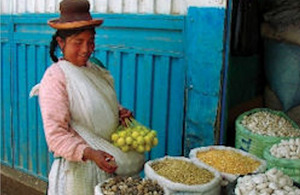 Despite playing a vital role in rural economies, many Bolivians have long regarded the traditional freeze-dried potato product, chuño as "poor man's food". It is produced by exposing bitter, frost-resistant potatoes to several days of intense sunlight, alternating with very cold nights - the harsh conditions of the Altiplano. After several days the potatoes are trampled to remove the skins and any remaining water. Once dried, chuño can be stored for years.
Until recently, the small quantities of chuño transported to Bolivia's major cities were often sold in bulk and not actively marketed. Furthermore, there was no guarantee of quality and no formal hygiene standards.
In 2003, the International Potato Center (CIP) Papa Andina initiative, together with its national partner, the PROINPA Foundation, sought to improve chuño sales. Key players in the market chain were brought together including farmers, traders, processors, exporters, cookery schools and research-and-development organisations, in what has become known as the Participatory Market Chain Approach (PMCA).
Following discussions, participants widely agreed that unreliable quality of was one of the biggest obstacles to expanding the market for chuño. So, they developed formal quality standards that became legally-recognised by the Bolivian government in 2004.
A key priority was changing the image of chuño and a marketing makeover resulted in the launch of cleaned, selected, bagged and branded "Chuñosa" in supermarkets in La Paz and Santa Cruz. An important feature of the revamped product was transparent packaging to demonstrate that potatoes were in good condition. Opaque sacks used previously were notorious for containing damaged tubers and up to a kilogramme of soil. With consumer confidence restored, sales soared.
Five years after the start of the initiative, Papa Andina reports that chuño is now regarded by urban Bolivians as less of a traditional "folk" food and more as "a natural and healthy Andean product." As a result, it has attracted interest from exporters supplying ethnic markets in Brazil, Argentina, USA and Spain, and around 250 chuño-producing families have benefited.
Participants brought together through the PMCA have formed a new group called "Plataforma Andina Boliviana" that continues to meet every month, discussing new products and ways to further expand the market. Chefs and cookery schools have helped develop new chuño-based products, including dehydrated soups and flour.
Through alliance with other partners the PMCA has been applied beyond potatoes and is bringing together stakeholders in the milk, coffee and cacao markets. The PMCA approach has also proven successful in neighbouring Peru, where Papa Andina helped launch the award-winning T'ikapapa brand of selected, naturally-coloured Andean potatoes, sold as gourmet food in urban markets. The first commercial brand of coloured crisps from native potato, Jalca Chips, has also been introduced.
Published 18 September 2008