DFID Research: Planting without ploughing - zero-till wheat takes root
Innovative partnerships enable the adoption of zero-tillage to sow wheat after rice in the Indo-Gangetic Plains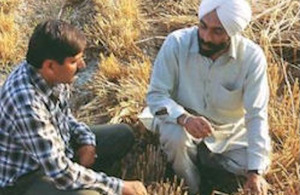 Zero-tillage cultivation is a farming practice that reduces costs while maintaining harvests and protecting the environment. Between 1997 and 2004, an estimated 620,000 farmers in northern India adopted the method to sow wheat after the rice harvest on around 1.76 million hectares of land, with average incomes increasing by US$180-$340 per household per year.
The impact achieved was the result of long-term efforts involving direct promotion and testing with farmers, development of affordable, locally-manufactured seed drills, and training and support for national programme champions willing to oppose conventional wisdom about tillage practices. Efforts were led by the Rice-Wheat Consortium (RWC) for the Indo-Gangetic Plains, a partnership involving the national research programmes of Bangladesh, India, Nepal, and Pakistan, and with key technical and logistical support from the International Maize and Wheat Improvement Center (CIMMYT).
DFID funding on natural resources management and core funding to CIMMYT was important in supporting the RWC.
Read the full version of this case study.
See also the project record for Reaping the Benefits: Assessing the impact and facilitating the uptake of resource-conserving technologies in the rice-wheat systems of the Indo-Gangetic Plain
Key references:
Published 17 March 2011