DFID Research: household smoke reduction in Sudan
Smoke pollution from indoor open fires causes sickness and mortality.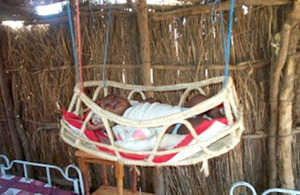 Poor people are exposed to excessive levels of indoor air pollution when they cook on open fires using biomass in poorly designed kitchens and with poorly designed stoves. This pollution causes sickness and mortality from respiratory ailments, especially in young children.
Researchers at Practical Action worked in partnership with three communities, in Kenya, Nepal and Sudan, to find accessible, acceptable and affordable ways to alleviate smoke. The researchers seek the empowerment of women through transmission of knowledge about the dangers of smoke, supporting them in finding ways to alleviate it and giving them the skills to do so.
In Sudan, researchers worked with a community of displaced people suffering the effects of a conflict near Kassala in the northeast of the country.
Participatory methods have produced a sense of 'ownership' of both the problem and the solutions in Sudan, fostering high levels of community engagement and decision-making. Communities adopted liquid petroleum gas (LPG) stoves in many cases which resulted in a 70% reduction in particulates and carbon monoxide emissions. LPG stoves were cleaner and cheaper and unlike biomass fuels could be used throughout the year, even during floods.
This sense of ownership is well illustrated by the image of a Sudanese infant. Within the Gedarif community, married women take a 'sauna' each day, where they immerse themselves in special sweet-smelling wood-smoke. The family of this infant did not want to give up this practice, but they did not want their small child affected - so the infant is now hoisted in a cradle into the farthest corner of the room, adjacent to the eaves space.
More information
See DFID project record for Smoke, health and household energy Also the project reocord for Researching pathways to scaling up sustainable and effective kitchen smoke alleviation
Published 22 November 2006