DFID Research: A commodity-based approach to livestock trade
New standards proposed for livestock products from Africa could fundamentally change the way meat is imported and help poor livestock producers.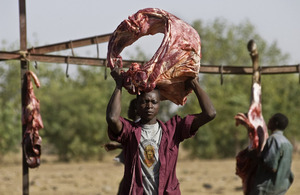 The proposal to introduce new standards, supported by DFID and the Department for Environment, Food and Rural Affairs(Defra) and the African Union calls for the development of commodity-based trade (CBT) standards. These science-based regulations would be applied to different meat and dairy products and focus on production and processing rather than the disease status of the area in which the animal is reared, which is the focus of existing regulations.
Maintaining a disease-free status
According to current standards set by the OIE (World Organisation for Animal Health), most meat and dairy products can only be exported if the region from which it originates is declared free from transboundary animal diseases (TADs), such as foot-and-mouth and avian flu. Considerable sums of money have been spent eradicating such diseases in developed countries and/or maintaining disease-free status, which is the reason for the existing trade restrictions on the export of meat from Africa.
For African countries, however, these diseases are endemic in many areas as they also affect wildlife. It is therefore an uneconomical task to require African countries to eradicate TADs. The exception has been rinderpest, a cattle disease that appears to have been eliminated from all regions around the world, although not all countries have been declared free of the disease.
TAD-free areas have been achieved in some countries, such as Botswana, Namibia, South Africa and Zimbabwe by investing in costly fencing to separate cattle from wildlife. However this scheme, whilst allowing a degree of market access, is controversial due to its impact on wildlife and people. It is also only feasible for large-scale commercial farming and is not an appropriate option for the millions of poor smallscale livestock farmers in Africa.
Simple, science-based standards 
Greater export of livestock products, however, could result in increased economic growth for Africa, providing meat is prepared according to international standards. By defining acceptable processes - including removing bone and other risky materials from meat - for each type of product to be exported, standards could be set to ensure the meat was free from any disease.
Internationally accepted standards known as HACCP (Hazard Analysis and Critical Control Points), are already used as a systematic preventative approach to control food hygiene in many food products. But they are not currently applied to livestock products. An extension of this approach for CBT would ensure that safety of meat products was assured.
Although the EU already applies CBT, livestock products must also come from disease-free areas. DFID and Defra argue that this is not always justified or based on HACCP principles and that standards for CBT should be simpler, more logical and scientifically-sound.
A move in the right direction
A more positive stance towards CBT has recently been taken by the OIE and a working group will be meeting in July 2008 to discuss the approach and how to incorporate it into the organisation's guidelines.
If CBT standards were to be immediately accepted, it is estimated that Botswana's beef exports would increase by 30%. Increased trade in livestock products would also provide smallscale farmers with the finance and the incentive to be actively involved in disease control, and thereby help to further stimulate trade opportunities from Africa.
Published 3 September 2008