Case study
Cumulus aims to transform the renewable energy market
Sheffield-based business secures investment thanks to Clean & Cool Missions to San Francisco and Colorado.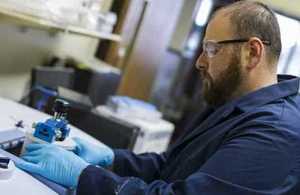 Cumulus Energy Storage to revolutionise renewable energy market
Cumulus Energy Storage, one of the UK's most promising clean technology SMEs, has obtained seed funding after attending Missions run by Innovate UK and the Department for International Trade.
Cumulus uses technology similar to that already used in the mining industry, to produce a rechargeable copper/zinc battery that is safe, reliable and sustainable. The process allows this to be used as a rechargeable grid-storage battery, using inexpensive, recyclable materials. Chief technology officer Michael Hurwitz said:
The work we're doing right now is extremely important, as the world moves on to renewable energy sources there's an increasing need for energy storage to balance electricity supply and demand.
The technology could play a significant role in improving the economics of renewable generation and transforming energy markets.
Clean & Cool Missions provide valuable networking opportunities
Cumulus took part in two 'Clean and Cool' Mission trips to San Francisco and Colorado, where they met project partners and customers, whilst gaining valuable knowledge about their market.
They were also able to pitch to a large number of venture capitalists throughout the week. Chief operating officer Darron Brackenbury said:
I would definitely recommend going on a Mission. The benefit far outweighs the cost, compared to trying to do something like this yourself.
Chief executive Nick Kitchin explained:
'We were on one of the buses between venues and we were told about a specific corporate finance lady; as a consequence of that we followed up. That raised the seed finance and from then we have gone on to raise further rounds with those same investors downstream. So, all in all, fantastic!
Cumulus now have facilities in both Sheffield and San Francisco - Sheffield for manufacturing and San Francisco for research and development - which gives them a footprint in two of the key places in the world for energy storage.
Global ambitions
The renewable energy market offers a significant business opportunity and Cumulus predict that in a decade this technology will be used internationally, including developing markets such as India and Africa.
Cumulus are planning to set up a full production line in the UK, creating hundreds of jobs, building and selling grid-scale energy storage batteries from 2018. Nick added:
It's a very exciting time and it's a very exciting industry and we look forward to being part of it as it grows.
Published 21 June 2017