Case study
Community managed libraries: Alford library, Lincolnshire, East Midlands
Case study to support the research report: Exploring the service effectiveness and sustainability of community managed libraries in England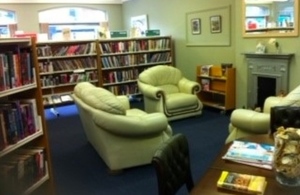 Background
Situated in the East Midlands, Alford is a market town within Lincolnshire with a population of 3,459 people. In light of a reduction in funding from central government in December 2013, Lincolnshire County Council (LCC) embarked upon a period of budget and services rationalisation, which included the county library service. Consequently, LCC planned closures for 30 out of 45 libraries in the county.
Finance
LCC offered each of the libraries facing closure funding of £5,167 per year for a period of 4 years, if appropriate community groups came forward to operate them as community managed libraries (also known as a community hub libraries). In February 2016, Richard Quantrell, a local resident and chairman of a group of trustees, proposed to keep Alford library running as an incorporated charity under the community managed library interim offer made by LCC. Subsequently, Alford library was re-opened as one of 35 community managed libraries in Lincolnshire. (Five community hubs were developed in areas that did not originally have a library.)
Other support
In addition to financial support, LCC agreed to a peppercorn rent for AlfordlLibrary for use of the library premises. LCC also provide:
access to its library stock
access to its Library Management System
7 public computers with associated IT support
a Library Development Officer who assists with volunteer training and provides general guidance in a specialist capacity
Initially, LCC offered Alford library a 10 year lease, under the provision that at any time they could serve 6 months' notice for the library to vacate the premises. However, the library was able to secure grant funding from an alternative source to update the building, and subsequently persuaded LCC to provide a fixed lease for 7 years. The lease not only covers the ground floor rooms of the building which were originally used by the LCC library service, but also the first floor rooms which were previously used by the community dentist.
Relationships with stakeholders
In April 2016, LCC sub-contracted the core provision of local authority and community managed library services to GLL, a charitable sport and leisure social enterprise. As a result, most existing local authority library employees, including the Library Development Officers, transferred to employment under GLL. Alford library still maintains a relationship with LCC, both as a tenant, and as recipients of funding and in kind support. Under the terms of their Service Level Agreement (SLA), provided the library opens for at least 6 hours per week, the support received from LCC will continue until February 2020. However, there is still uncertainty about what will happen to Alford Library after the 4 years of funding from the county council has ended:
Lincolnshire County Council may wish to withdraw the peppercorn rent they currently offer us and start charging commercial rates for the use of the building.
(Alford library representative)
Since the handover of services to GLL from LCC, the relationship that Alford library has with the library service provider is generally more positive. However, Alford library has concerns over the ability of GLL to implement meaningful change to the library service due to financial restrictions which are imposed by LCC.
It's been easier to have a relationship with GLL because they focus solely on the provision of library services, whereas LCC have to concentrate on saving money. So far it's been quite positive, GLL are interested, attentive, and supportive, but when it comes to provision of IT for library service, they can't invest in that unless they get funding from LCC. To some extent they can only help us so far because funding still comes from the county council.
(Alford library representative)
User profile
As of December 2016, Alford library had 3,486 members, a level which has remained static since April 2016. It currently serves just under 40% of the 9,000 local residents, which includes the population of Alford and surrounding catchment areas. Most library users are over 50; however it also attracts younger parents and children.
Alford library is considered to be in an area of high deprivation. It feels that low house prices attract people to retire in the area and that this is the reason why the majority of users are over 50 and/or retired. Moving forward, it would like to broaden its user base to local residents who do not consider the library as appropriate to their needs.
The library believes that having a wide range of books and flexible opening hours are the most important factors in maintaining user satisfaction. In addition, as Alford is considered a centre for education in the area, with 3 large local schools, the library also feels that concentrating on improving the stock of children's books will encourage visits by pupils who regularly come into the town.
Library volunteers
The number of volunteers based in Alford library has increased from zero to 20 since opening in February 2016. As the majority of volunteers at the library are over 65, the library envisages the turnover of volunteers will increase in coming years due to problems such as ill health. However, it has plans in place for further recruitment, although on a very informal basis. Recruitment is often through word of mouth as it has found advertising to be ineffective in a small town such as Alford.
The library feels that ensuring volunteers feel valued for whatever support they are able to provide is the most important factor in maintaining volunteer satisfaction. The library finds sourcing enough people to cover library opening hours challenging at times, and illness and caregiving duties can limit volunteer availability. The library feels there needs to be a level of empathy and understanding that not all volunteers can give as much as others. It has overcome this challenge by engaging a number of volunteers who are willing to provide support at very short notice.
(We)…value all volunteers for what they are able to give and realise that some will give a lot more than others, but in their minds they are giving as much as they can.
(Alford library representative)
LCC provides the library with a comprehensive volunteer training package which is delivered in 4 parts. The first 2 cover health and safety and safeguarding; and the final 2 address the Library Management System and library staff duties.
Service delivery
Currently, Alford library provides the following services:
book loans
newspapers / magazines available in the library
inter-library loan service
national programmes for example the Summer Reading Challenge, Quick Reads and Books on Prescription
CD loans
photocopying / printing
wifi
computer access
local history archive
meeting room hire
Changing the ambience of the library from what was once perceived by it as a "boring room with fluorescent lighting" to one which now includes a comfortable adult seating area, fireplace and children's area is considered by the library as the most successful aspect of its service.
The relaxed environment encourages people to come into the library and stay, rather than simply take a book out and go.
(Alford library representative)
The library reports that one of the ground floor rooms which previously only housed 7 computers has now been equipped to be an Education and Training suite with adjacent disabled and unisex toilets. The library has also installed a fully functioning kitchen to service the meeting rooms and Education and Training suite.
Outside of delivering services, the library believes there are other, less tangible, benefits to providing a community managed library service. For example, it feels it is a focal point for community cohesion. Having a library situated in the centre of the town attracts people to local shops and other facilities, enabling Alford to maintain its town status rather than become a village.
Plans to improve current service provision include further development of a range of meeting rooms to hire. The library feels that with further austerity measures likely, local authority run services in the town may also cease, which could offer it the opportunity to house those services in the meeting rooms it has developed.
Sustainability
Alford library receives £5,167 per year from LCC, which is set until February 2020. The library is confident that the town council will increasingly provide core funding for it, and perceives alternative sources of income, other than that from LCC, as very important. Since the library opened, the town council has provided financial support - £1,000 in the first financial year (2015/16) and £2,000 in the second (2016/17). It is envisaged that if funding from LCC decreases, this sum will rise to compensate for any disparity, and that this would constitute approximately 50-60% of all income received.
The library also receives considerable income from hiring out meeting rooms, which accounts for approximately 25% of all income. Previously, there were a number of organisations in the town offering meeting spaces, but this is now reducing and there is considerable unmet demand. Furthermore, Alford Town Council is now holding all of its meetings in the first floor conference room the library has created.
Charitable donations form a minority of the library's overall income; this income stream is variable and ranges from small contributions from the public to larger, more substantial sums from trustees. The library notes that it is important for people who donate to see their donation being used for tangible activities, rather than for core running costs. This makes donors feel good and encourages them to donate more in the future.
Alford library is of the opinion that in addition to financial contributions, having an effective volunteer team in place is fundamental to the sustainability of any community managed library. The library has attracted a strong team of 20 volunteers, which not only includes a chairman, vice chairman and treasurer and secretary, but also a group of volunteers who run the library.
The library now opens for 15 hours per week due to the level of support received by volunteers. This exceeds expectations outlined in its SLA, which stipulates a minimum of 6 opening hours per week. Each volunteer works approximately 3 shifts per month, with each shift lasting 3 or 4 hours.
The library has mixed views regarding enhancing its sustainability through enterprising activities. The sale of second hand books and meeting room hire is of great importance, but activity which involves volunteers asking for donations or promoting services is not a route it wants to take as it perceives this could make both volunteers and users feel uncomfortable.
Future direction and support
Alford library requires financial support to continue delivering its services. Although the town council have agreed to fund it, if and when financial support from LCC ceases, the library would prefer not to be in a position where it is reliant on this one source. However, additional funding from LCC could potentially allow it to go above and beyond the delivery of core services, for example, paying for a regular storyteller to visit the library.
Support to understand fast and slow moving book stock would be a great help to Alford library in terms of maintaining user levels. The library feels that for local authority run libraries who have professional staff, this knowledge is updated on a day-to-day basis. However, it is difficult for volunteers working for 3 shifts a month to build up this level of expertise. Discussions with LCC and GLL to provide this information from LCC's Library Management System are currently ongoing.
Alford library would value the support of a networking and education forum for community managed libraries in order to explore library design and share good practice. GLL have already held meetings with Alford and other community managed libraries to ensure they are able to provide an effective service. To date, this has worked well from the perspective of Alford library; however, to be of any benefit this support needs to continue.
We did have a get together with different community hubs to talk about library design and I thought that worked fairly well. I'd like to see that continue and develop. One of the big things with community hubs is that everyone is different but we can learn a lot from what others are doing and it provides a good networking and education forum.
(Alford library representative)
Regardless of threats to funding and volunteer availability, the library believes having a good team of volunteers and ample support from the local community will ensure it will remain open for the foreseeable future.
The views and opinions expressed in these case studies are those of the community libraries and do not represent those of SERIO, the Libraries Taskforce or DCMS.
Published 5 September 2017