Case study
Civil Service apprentice: Rya Cooper
Rya Cooper, who works in the Department for Education, discusses her experience as a Civil Service apprentice.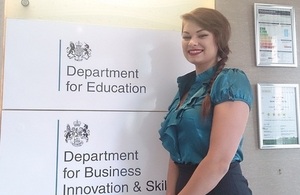 Rya Cooper from Sheffield, age 20, has a role in the finance and commercial function of the Department for Education (DfE) and has been an apprentice since September 2013. She is currently working on a project to organise departmental structures in their enterprise resource planning system.
Rya says:
After I left school in 2009 I went straight into the British Army. I was discharged on medical grounds; I had missed the enrolments for college and I did not have the right qualifications to take up a university place. This is where I discovered apprenticeships.

I enrolled for this apprenticeship as I have always had an interest in politics and it gives me a great opportunity to expand my education whilst undertaking a role in the civil service.

The range of roles and opportunities in the finance and commercial group gives me a new challenge on a daily basis, from preparing meetings and traveling nationwide to managing general administration and databases; this benefits my apprenticeship in many ways.

The most exciting aspect of my role for me is travelling. I have had many opportunities to work alongside other departments in the Civil Service as well as traveling to other locations, such as London, Manchester and Coventry. My greatest achievement through this apprenticeship would be meeting David Cameron, which happened only 1 month into my employment.

I am hugely grateful to be on this apprenticeship scheme as it provides me with a Level 4 qualification, a role in the business administration and overall a brighter future in the civil service. If you are motivated, reliable and willing to accept new challenges on a daily basis, then there should be nothing to hold you back on applying for this role!

One of the most challenging aspects of the job is balancing work loads and requests from other members of staff around me, particularly on busy weeks. I enjoy the challenges that come with my role and it helps me expand my knowledge and broaden my skills in different areas.

I think apprenticeships are the future, as employers these days are not only looking for qualifications but also your skills and work experiences. Apprenticeships offer all of this and more as they provide you with new opportunities to expand your skills in the workplace, as well as providing you with a qualification.

My advice to people who are thinking of an apprenticeship role in the Civil Service is to go for it; it's a great experience and provides you with new skills, opportunities and new knowledge of the Civil Service. You meet loads of new faces and gain new experiences on a daily basis – good luck for the future!
Published 21 January 2014