Case study
Civil Service apprentice: Cora Gordon
Cora Gordon, a paralegal in the Crown Prosecution Service, talks about her experience as a Civil Service apprentice.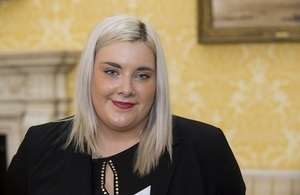 Cora Gordon is a paralegal officer, who works on case management and assists prosecutors in the Crown Prosecution Service (CPS).
Cora says:
I studied for my A-levels and achieved the results I needed to study law at university. After receiving my grades I decided that I wanted to go into full-time work and start earning money; however I still wanted to keep on in education.

The Civil Service Fast Track Apprenticeship Scheme was the perfect alternative to going to university for me. If you're enthusiastic, determined and confident then this is also perfect for you!

Applying for the scheme was the best decision I've ever made. In my opinion, studying whilst working is the best way of broadening your knowledge of the environment surrounding your work as well as earning a significant living.

The thing I enjoy most about working as a paralegal officer is the fast-paced working environment of the legal system. Some days I work in the office completing casework for cases such as murder and rape, and other days I work in Crown Courts across West Yorkshire assisting prosecuting criminals. No 2 days are the same!

The most challenging aspect of the scheme is the balance of work and study. However, you will be appointed mentors and managers that will guide you through your learning and ensure you keep on track with your work so you're never alone.

My journey so far has been perplexing and challenging but extremely rewarding. I would recommend the scheme to anyone who is focused and determined to succeed in life, as this is an amazing opportunity that will kick start the next chapter in your life.

My advice to anyone looking to apply for the scheme would be good luck, relish the opportunity and keep your head held high.
Benefits Cora found:
job experience that could not be gained through university or any other forms of learning
valued work experience as well as valued learning/qualification
the chance to better your understanding of the world and working life
earning a substantial living whilst learning
vast career prospects at such a young age
friendships through work and the apprenticeship
Published 21 January 2014