Case study
Civil Service apprentice: Ayath Ullah
Ayath Ullah, who has an enforcement and compliance role in HMRC, talks about his experience of being a Civil Service apprentice.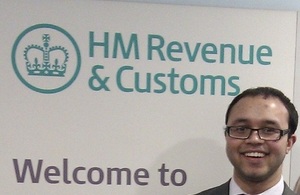 Ayath Ullah from Central London, aged 19, has an enforcement & compliance role for the Planning Governance & Capability group at HM Revenue & Customs (HMRC).
Ayath says:
This is a real alternative to a university education and I am constantly learning new things every day. I resigned from a job in the City to join the scheme because I knew it was one of the best on the market to develop myself from an early age and set a good foundation for a fruitful career in the Civil Service.

The Civil Service is a vibrant and dynamic place to work and very few employers can match what it has to offer - both in terms of breadth and depth of experience. No 2 days are ever the same and every day brings with it a unique set of challenges. I also get to meet some fascinating people, from those who deliver frontline services, to the public at our enquiry centres, to those who are ultimately responsible for approving high value contracts like the Crown Commercial Representatives. I recently met a colleague who's retired after 48 years of service and that in itself is a testament to the type of employer the Civil Service is.

Through my quality assurance work; I go home every day knowing that the taxpayer is getting value for money from our spending/investment.
During his apprenticeship, Ayath has taken the opportunity to:
help to commission new learning products for our tax professionals and facilitate the review of Tax Professional Learning Products
monitor and report on our business performance throughout the year, including quality assurance
assist with strategic workforce planning & forecasting
develop products, programmes and solutions to help build our capability and continuous professional development
produce performance analysis and reports for directors and senior management
Ayath says:
A huge challenge is managing expectations and balancing the workload from different business streams or different managers.

There's never been a better time to join the Civil Service as it's going through some of the most radical reforms to date.

For people who are eager to learn and serious about building a career in the public sector there are always opportunities to shine and develop yourself. Joining at a management grade you get responsibility from an early phase of your career.

One of the most important things apprentices bring into the Civil Service is an appetite for doing things differently and that is very much an attitude welcomed by ministers and the head of the Civil Service.
Benefits Ayath found:
a structured learning programme from the start every step of the way - including help from line managers, departmental lead or Civil Service Learning staff
you get the best of both worlds as you study for qualifications whilst still doing a day job
apprentices are very much a talent pipeline, which means the investment made in you is a serious commitment to you from your department
it's a route to success in the fast lane, as long as you perform well
Published 13 January 2014