Case study
Civil Service apprentice: Alexander Yates
Alex Yates, who has a programme support role in the Cabinet Office, talks about his experience as a Civil Service apprentice.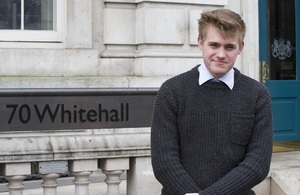 Alex Yates from Epsom, age 20, has a programme support role for the Next Generation Shared Services project in the Cabinet Office. This project seeks to drive down the cost of back office functions and save millions of pounds for the taxpayer.
Alex says:
After completing my A-Levels I applied for university and was accepted to study Information Technology at the University of Kent. I completed the first term and began exploring alternative options – one of which was a Business Administration Apprenticeship.

The sheer diversity and breadth of the Programme Support role presents a new challenge to me every day, from preparing documents and arranging meetings and workshops, to meeting visitors and external stakeholders, to the office administration (not to mention balancing this with work on the NVQ itself).

The most exciting aspect of the job for me is, quite simply, where I am working. The aura of working in Whitehall, walking across Westminster Bridge with a view of the Houses of Parliament every morning, will never grow old.

I cannot stress enough how grateful I am for the opportunity to work in the Cabinet Office. If you're motivated, ambitious, positive and reliable then there should be nothing stopping you applying for the job!

The most challenging aspect of the job is often balancing the requests of multiple members of the team during particularly busy weeks. I love the challenge and have learnt a lot this year. I have improved my ability to balance tasks and keep members of the team informed of deadlines, and look forward to improving further.

While I was studying at school, alternative options to university were limited and rarely offered – I think that apprenticeships will become even more popular in future as they provide amazing opportunities and will completely renew your focus as to where you would like to go in life.

My advice to people thinking of an apprenticeship in the Civil Service would be that this is an amazing opportunity to learn a lot and meet some amazing people – keep asking questions and keep your head up!
Published 15 April 2013