Case study
CCS helps 11 NHS trusts renew video conferencing services
The Crown Commercial Service (CCS) has helped 11 NHS trusts renew their video conferencing services, with an estimated saving of £832,000 through an aggregated procurement.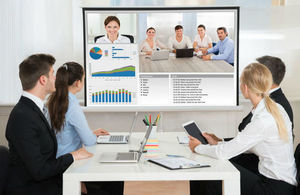 The requirement
A group of 11 NHS trusts in the Cheshire and Merseyside area had a requirement to update their video conferencing facilities across their cancer Multi-Disciplinary Team (MDT) network.
MDT meetings typically involve several sites, including specialists in remote locations. This requires high quality video conferencing facilities to enable "virtual" meetings spanning all these locations, enabling each specialist to participate effectively from wherever they are.
The trusts recognised the importance of ensuring that the solution provides compatibility between legacy and new systems, using common industry standards. The system also needed to be scalable to allow expansion as new clinical networking requirements are developed across the Merseyside area to support transformation.
The solution
CCS helped the trusts conduct an aggregated procurement, by running a national further competition under the Network Services framework agreement. This approach provides a way to bring together the purchasing needs of each trust to achieve better value.
Best value was obtained by taking into consideration both price and quality factors.
The solution enabled each trust to acquire resources according to their specific needs, budgets and timescales, while also supporting the regional MDT service as a whole.
The results
The aggregated procurement delivered a projected saving of 44%, amounting to £832,000 over 3 years, when compared with the average price of the competition.
The video conferencing service is expected to enhance MDT team meetings, as well as enabling savings through reduced travelling costs and improved logistics.
David Anwyl, Assistant Director for Clinical Support Services, St Helens and Knowsley Teaching Hospitals NHS Trust, said: "The support of CCS was instrumental in both the design of the procurement and technical evaluation of the solutions tendered, which could accommodate a breadth of organisational requirements."
Get involved
We would like to hear from customers across the public sector who are interested in securing savings by combining their requirements with other organisations on a range of common goods and services.
Find out more about future opportunities on our aggregation pipeline.
You can also email aggregation@crowncommercial.gov.uk or call us on 0345 410 2222.
Published 30 March 2017