Case study
Angloco's long term relationship with UKTI reaps rewards
Angloco's long standing relationship with UK Trade & Investment (UKTI) helped them secure an order for fire fighting vehicles for St Lucia.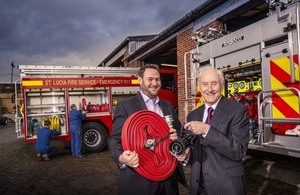 The Embassies and High Commissions in the Caribbean advise on new opportunities and changes in market conditions and Angloco have also used UKTI's Overseas Market Introduction Service (OMIS) to find new distributors in Trinidad & Tobago and in Oman.
Based in Batley, West Yorkshire, Angloco has been designing and building special purpose firefighting and rescue vehicles for 40 years. Today, the company exports to customers in 50 countries, contributing to a turnover of over £17 million.
Since 2000, UKTI has supported Angloco's business in the Caribbean. Attending networking events organised by the British High Commission in Barbados has helped the company to connect with potential clients and raise its profile. It has built up strong relationships with the relevant local authorities, and recently secured its third, five-year rolling contract to service all fire vehicles in Barbados.
In 2010, Angloco needed a better understanding of the islands' fire services and their timetables for upgrading or replacing their vehicles. The company commissioned an OMIS from UKTI to arrange a meeting of Regional Fire Chiefs from nine of the Caribbean countries. Following the first meeting in December that year, UKTI helped to arrange further meetings in Trinidad and in Barbados in late 2011 and 2012.
Meanwhile, in St Lucia the local UKTI staff maintain close contact with the island's Fire Chief. When a tender was issued, UKTI forwarded the documents directly to Angloco so that it could prepare its proposal. The company's bid was accepted and it secured an order worth more than £500,000 for two firefighting vehicles.
The UKTI teams and High Commissions in the Caribbean islands have always been very supportive of us,
says Bill Brown, Chairman and Managing Director of Angloco.
Our sales and service teams visit the island countries regularly. But, it is very beneficial to be frequently updated by UKTI through OMIS about developments in each country. When a tender is then issued and we submit a proposal, it helps to be associated with the local UKTI team who are able to represent our interests with the local decision makers.
Ongoing support
UKTI has also supported Angloco with the following:
an OMIS in 2013 helped the company to find a new distributor for Trinidad & Tobago
in 2011 an OMIS for Oman helped the company to identify a suitable distributor. The local UKTI team continues to advocate for the company with potential clients, and there are currently five tender bids live and awaiting a decision.
UKTI staff in Tripoli, Libya are in touch with a potential client on Angloco's behalf, which may result in a multi-million pound order. The company will join a UKTI Trade Mission to this market later this year.
UKTI has helped us to find high quality distributors,
says Bill.
They keep us informed of tender opportunities and our association with them gives us a head start. There's no doubt that this ongoing support has helped us to grow our exports.
Fast facts
| | |
| --- | --- |
| Company | Angloco |
| Sector | Automotive |
| Target Market | Caribbean, Oman |
| UKTI Services | Events & Missions, Overseas Market Introduction Service |
| Website | www.angloco.co.uk |
Published 19 March 2014