Agroceutical Products: a better life for Alzheimer's patients
Welsh businessman Kevin Stephens has developed a process for producing sustainable Alzheimer's medication, with support from Innovate UK.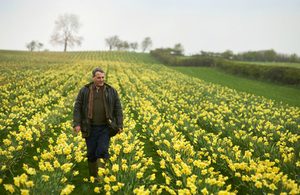 Galanthamine is an alkaloid that was first discovered in the 1950s in the bulbs and flowers of snowdrops found in Bulgaria, and later, in certain varieties of daffodils.
When isolated, it has been found to effectively treat vascular dementia and Alzheimer's. It works by inhibiting an enzyme that leads to the cognitive impairment found in Alzheimer's patients.
However, natural galanthamine is hard to source due to the difficulties in cultivating flowers that produce enough of the alkaloid. This has led to a worldwide supply that's almost exclusively synthetic - which has associated side effects caused by impurities from the manufacturing process.
But is change on the horizon? One member of a family with a long history in rural farming might have found the solution… in Wales' Black Mountains.
Agroceutical Products success story video
The Black Mountains effect
The man in question is Kevin Stephens, a co-founder of Agroceutical Products, which is processing galanthamine from daffodils grown on his family's farm.
But the story starts in 2004 when a biology professor, the now-retired Trevor Walker, received a phone call from an ex-colleague, who told him that his wife had been diagnosed with early onset Alzheimer's.
Kevin explains:
The conversation went the same way that you'd expect. 'Oh gosh, that's awful – someone should be able to do something about this'.

And to his credit, the professor decided that person would be him.
Professor Walker, who started a research and development company called Alzeim, eventually discovered the so-called 'Black Mountains' effect. This is where daffodils ability to produce galanthamine increases when grown under stress at 1,200 feet.
His finding was reported in Advances Wales – a science journal produced by the Welsh government – and was eventually found by Kevin, the son of a Welsh farmer with a background in business and software development.
Kevin says:
I offered to plant a few trials for him before uttering the fatal words: 'if you want a hand getting the company started, give me a shout.'

10 years later, he's retired, and I'm still bashing away at it.
The catch 22
Significant progress has been made in the last decade, despite challenges.
Over the years, Agroceutical has received funding from Innovate UK and other organisations such as the Biotechnology and Biological Sciences Research Council which has helped them to perfect the processing of daffodils in-situ before extracting the alkaloid in the lab.
This has led to interest from pharmaceutical companies - but also what Kevin describes as his 'catch 22'.
Though Agroceutical has received interest from large pharmaceutical companies, as a small rural farm, they don't have the resources to straight away provide the significant amounts of galanthamine that would be required from a partnership like this.
Kevin explains that these organisations would require 100s of kilos on the shelf to give Agroceutical a sales contract.
But, in order to ramp up production at the farm, they first need the financial stability that a sales contract would provide.
So why does Kevin continue to bash away at it? Providing a better future for Alzheimer's patients, their loved ones and carers is a major driving force, but there's a second part to the Agroceutical story – and it concerns Kevin's own family.
Like grandfather, like son
Kevin's father, David Stephens, is now in his mid-80s and still pursuing his trade as a traditional cattle and sheep farmer.
While Kevin went away from the farm with a career in business and software development, his eldest son, Mark has decided he wants to follow in his grandfather's footsteps.
Kevin says:
The problem is, if you look up the numbers for cattle and sheep farming in Wales, you end up with the subsidy line invariably being greater than the profit line.
This is what led Kevin to look at how the farm might also produce natural pharmaceutical products, creating an additional income as opposed to an alternative one, so traditional farming could be maintained.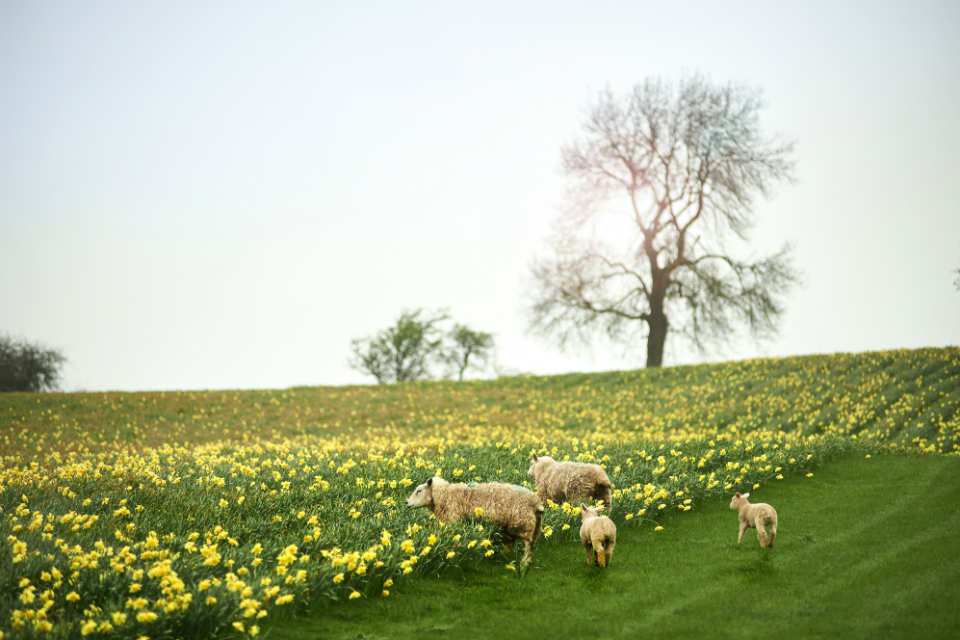 A progressing problem
Kevin wouldn't pursue this route if he didn't think he could make a significant contribution to the lives of Alzheimer's patients – of which the number is progressing rapidly.
He says:
In 2010 it was estimated that 30 million people had Alzheimer's worldwide. This was expected to double and then double again to 120 million by 2050.

David Palmer's wife – the lady who started this all off – passed away in 2016, after her diagnosis in 2004. She took galanthamine under the care of a dementia specialist and for 12 years she was at home with her husband. And she was herself for a very long time because they were able to get the balance right.
Significant development of the idea has resulted in a sustainable, efficient and low-cost method to producing galanthamine. Kevin believes he can finally see the light at the end of the tunnel.
This is provided through a partnership with a small Canadian research company that works on a different scale to the major pharmaceutical companies.
Kevin concludes:
Engaging with smaller companies could be the answer. These guys only want kilos to start with, not 100s of kilos.
Some might see this as a disruption to the model of traditional pharmaceuticals, but for another industry – farming – Kevin's methods could also provide an element of stabilisation that so many rural farmers seek.