Against the odds, UK-funded Gazan businesses grow
The UK is proud to support the 3rd Palestine Investment Conference, which opened in Bethlehem this week (2-3 June 2010)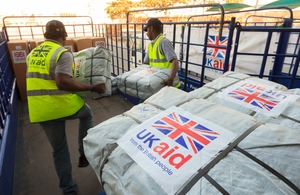 Private enterprise is an important driver of development. It creates jobs, wealth and opportunities. It harnesses the talents and enterprise of entrepreneurs who, through their ingenuity and drive, create opportunities for prosperity.
In the context of the Middle East Peace Process, a strong Palestinian economy, underpinned by a vibrant private sector, is essential to improve the prospects for sustainable peace.
For all these reasons, the UK is proud to support the 3rd Palestine Investment Conference, which opened in Bethlehem this week (2-3 June 2010).
Nearly 120 Palestinian businesses, some of which have already established export markets ranging from North America to Russia, China and the Gulf, exhibited at the conference. For the 900 potential investors, from over 30 countries, it will provide investment opportunities in small and medium enterprises (SMEs) from across the West Bank and Gaza.
A focus on Gaza
A joint UK Department for International Development and World Bank funded scheme, the Facility for New Market Development (FNMD) works to assist businesses grow across the Palestinian Territories. In Gaza, 40 businesses have been supported.
Decimated by continuing restrictions on the import and export of goods and with close to 40% unemployment, it is crucial that the Gazan economy is not forgotten. For FNMD-supported businesses in Gaza, support is vital if they are to expand into new markets or develop new products. The UK is delighted to see nine Gazan companies exhibiting at the Bethlehem conference, all funded by FNMD.
FNMD highlights:
192 businesses supported, including 40 in Gaza
FNMD clients have entered 28 new markets across five continents
322 new jobs have been created
17 products are now being made in the Palestinian Territories for the first time
Published 3 June 2010