Case study
Afghan Women Using Greenhouses to Grow Cucumbers
Through UKaid support, afghan widows like Zarghona are now able to support their families by using greenhouses to grow cucumbers.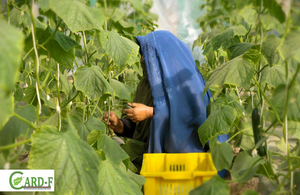 Zarghona from Nangahar province lost her husband in the civil war and struggled to feed her nine children. As the only income earner in the family, she couldn't earn enough to support her children or send them to school. That changed when the CARD-F programme gave her a greenhouse, tools and the skills to grow cucumbers efficiently.
Zarghona now grows cucumbers, earns five-times more than before and is able to support her family and send her children to school. In only four months, she has earned 65,000 AFS from selling fresh vegetables. She hopes to make AFS 250,000 by the end of the year.
Zarghona says:
I used to work only for AFS 3,500 per month, it was hard to feed my family and provide my children with education. But now, I am earning much more with less effort.
The UK funded CARD-F programme helps farmers use new technology to increase the quantity and quality of their crops in order to make agriculture profitable. CARD-F provides equipment, technical advice and training (e.g. about sowing, planting, irrigation, weeding and fertiliser application).
CARD-F has already granted 54 greenhouses to poor women in target provinces, and aims to further support poor women in all of its other agricultural projects.
Published 11 November 2015