A future for children in Ethiopia
How Save the Children are treating malnourishment thanks to UK aid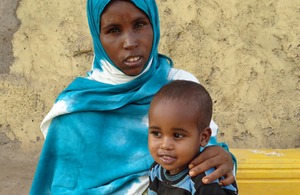 Ilyas is 1 of many children in Ethiopia who have suffered as a result of the drought in the East Africa region. He became very ill due to severe malnourishment but now, thanks to a Save the Children project with UK aid support, he is back to being a happy, healthy, 2 year-old boy.
Ilyas Abdullahi, a 2 year-old boy from the Shinbirale Kebele of Ayisha in Northern Ethiopia was brought by his mother to Save the Children UK's mobile health clinic suffering from vomiting, watery diarrhoea and a loss of appetite. He also showed signs of a respiratory complication and was severely malnourished, weighing only 7.7 kilogrammes.
Staff at Save the Children's Nutrition Community Therapeutic Care project provided free health care and treatment, and gave his mother high energy peanut paste so Ilyas could continue to have a nutritional diet at home.
Ilyas' story
"Ilyas is my only son," explains his mother Faduma. "We migrated to the Biyoqabobe Kebeles taking with us the livestock that had survived the drought, in search of pasture and water. We'd heard that this area had received some rain, unlike many others.
"Ilyas was sick for 2 months but I didn't take him to hospital because I was using traditional medicine instead. He was still not getting better and I heard from one of the community volunteers that Save the Children had started an outpatient programme in my community so I brought Ilyas for treatment.
Feeling better
"The mobile clinic examined Ilyas and told me he was severely malnourished and had serious problems with his breathing. They transferred him to their stabilisation clinic and put him on a feeding programme where he was given [fortified] milk every four hours.
He started to feel better after a few days and his health improved enough after a week for me to bring him home. I was sent home with some peanut paste for him to eat regularly so he could continue to grow stronger.
Dealing with drought
"My family has been hit hard by the drought. It killed the livestock that we depend on for our milk, meat, and income. We don't get the kind of nutrition or quality of food that we used to and I think this is why Ilyas got so sick. My husband Abdullahi and I used to have around 300 sheep and goats but due to the bad weather conditions and a disease that affected many of our animals, we're left with only 30 animals. I fear that if the drought continues like this, the situation will get even worse and take the lives of our remaining herd.
"When Ilyas was discharged from the stabilisation centre he had reached a healthy weight of 9.8 kilogrammes. Thanks to the mobile clinic my child is now ok. I hope this programme will continue to combat malnutrition and rebuild the future for other children."
Preventing illness
Thanks to funding from UK aid, Save the Children UK has been running a Health and Nutrition Community Therapeutic Care project in Ayisha since April 2011 as part of the emergency drought response in East Africa. It aims to prevent avoidable illness and death by improving access to basic health and nutrition services for women and children.
The project provides supplementary food, a ready to use peanut based paste that is fortified with essential vitamins, minerals, and fats, and other basic healthcare services to women and children through mobile clinics and by supporting the 13 health centres and facilities in Ayisha.
Facts and stats
Ayisha is a Woreda in the Shinile Zone of the Somali region, Northern Ethiopia bordering Djibouti.
The region is prone to drought, flooding and epidemics and over the last 5 years has been affected by chronic recurrent droughts. These droughts have significantly affected the livelihoods of the majority of people in Ayisha. Most livestock has been lost as a consequence and the children of Ayisha are facing the threat of severe food shortages compounded by vulnerability to diseases such as measles and acute watery diarrhoea.
Published 20 October 2011