Case study
34 local councils save £8.8 million on IT hardware
The Crown Commercial Service has helped 34 local councils save £8.8 million on IT hardware such as laptops, desktops and tablets.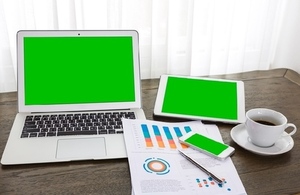 The requirement
A group of 34 local authorities regularly combine their IT hardware requirements to maximise their buying power and achieve the best prices. The group is overseen by its own IT Contract Board.
The group decided to continue to pool their requirements to buy laptops; desktops; monitors; tablets; hybrids; and thin clients over a 2 year period.
The solution
Non-brand specific technical specifications were developed by the group, taking into account the common needs of all participants. Feedback was also received from suppliers, as a result of a request for information, as part of the procurement process. By taking on board the supplier feedback the technical specifications were optimised to reflect the current market. The group then all agreed to buy the same minimum technical specification of goods.
The specification also covered a wide range of services including imaging, asset tagging, delivery and warranty options. Optional upgrades and downgrades were added to the core specification to meet individual customer's specific needs.
The process
The contract board contacted the CCS technology aggregation team for advice on the options available, in order to repeat the success of previous procurements.
It was recommended that they use the Technology Products (RM1054) agreement and run a further competition to achieve the most economically advantageous offer in the market, taking into consideration both price and non-price factors. It was also vital that technological advancement and price protection, including accounting for currency fluctuations, were fully catered for in the tender.
The further competition was concluded with an eAuction for approximately 48,000 devices. Only suppliers that were able to fully meet the stringent quality requirements were able to bid to offer their best prices in the eAuction.
Regular meetings were held with the board to agree issues including evaluation criteria lotting strategy and a communications plan. In addition, we provided advice on best practice procedures, highlighting potential risks and providing a number of recommendations to ensure the procurement was robust.
The results
Against a pre-auction value of £24.6 million for the 48,000 devices, the eAuction achieved savings of between 2% and 44.37% when 6 individual baskets of goods were compared with a combination of current prices paid and independent third party benchmarks.
This is the equivalent of a saving of £8.8 million over the 2 year contract.
Get involved
We would like to hear from customers across the public sector who are interested in securing savings by combining their requirements with other organisations on a range of technology goods and services including mobile services, IT hardware and other telephony services.
Find out more about future opportunities on our technology aggregation pipeline
You can also email technologyaggregation@crowncommercial.gov.uk or call us on 0345 410 2222.
Published 4 August 2016