Foreign travel advice
Sudan
Summary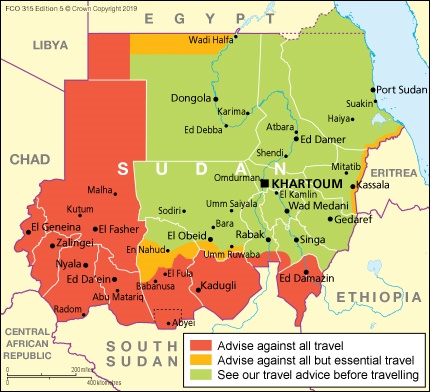 The Foreign and Commonwealth Office (FCO) advise against all travel to:
the Darfur states
the Abyei Region
South Kordofan and Blue Nile states
the southern area of West Kordofan state that was previously part of South Kordofan, as shown on the map
within 50km of the border with South Sudan in White Nile and Sennar states
within 200km of the border with Libya
The FCO advise against all but essential travel to:
within 100km of the border with Egypt in areas west of the Nile Valley
within 20km of the border with Eritrea
areas of North Kordofan and West Kordofan states south of the Kost-El Obeid-En Nahud road
Following months of anti-regime protests in Khartoum and across Sudan, Omar al-Bashir was removed as President on 11 April 2019 and a Transitional Military Council (TMC) was established. There was initial progress in negotiations to establish a civilian led government, but these stalled when no agreement could be reached on the composition of Sovereign and Legislative Councils. On 3 June, security forces used extreme force and live fire to disperse a sit-in outside military headquarters and further crack down on protesters across Khartoum, with reports of over 100 killed and many more injured. Following extensive negotiations and mediation by Ethiopia and the African Union, an agreement for a civilian led government was finally signed on 17 July.
However, the political and security situation in Sudan remains fluid and a further deterioration can't be ruled out. While continuing protests have been mostly peaceful in recent weeks, this could change with little or no notice. You should continue to maintain a high level of vigilance across the country, avoid all protests and large gatherings, monitor developments closely and follow the instructions of local authorities and security services. See Political situation
If you're in Khartoum, limit your movements in and around the city and plan any travel carefully. There remains a military presence in many areas of Khartoum. Khartoum Airport is operating normally, but you should check regularly with your airline for the latest information before leaving for the airport. See Local travel - Khartoum
Voice, SMS and data services, including access to social media sites, are available on most mobile phones. Virtual Private Networks (VPNs) are not available to download in Sudan.
Consular support is severely limited in parts of Sudan where the FCO advise against all travel and all but essential travel. The British Embassy no longer registers British nationals in Sudan and the capacity of the British Embassy to help in times of crisis may be limited. You should consider your own travel arrangements carefully and make sure you have up-to-date travel documents and visas in case you need to leave at short notice. See this crisis guidance page for more information about the precautions you should take in the event of a crisis and the help and support the British Embassy can provide.
Terrorists are likely to try to carry out attacks in Sudan. Attacks could be indiscriminate, including in places frequented by expatriates and foreign travellers. See Terrorism
If you're abroad and you need emergency help from the UK government, contact the nearest British embassy, consulate or high commission.
The Overseas Business Risk service offers information and advice for British companies operating overseas on how to manage political, economic, and business security-related risks.
Take out comprehensive travel and medical insurance before you travel.