Foreign travel advice
Mozambique
COVID-19 Exceptional Travel Advisory Notice
As countries respond to the COVID-19 pandemic, including travel and border restrictions, the FCO advises British nationals against all but essential international travel. Any country or area may restrict travel without notice. If you live in the UK and are currently travelling abroad, you are strongly advised to return now, where and while there are still commercial routes available. Many airlines are suspending flights and many airports are closing, preventing flights from leaving.
Summary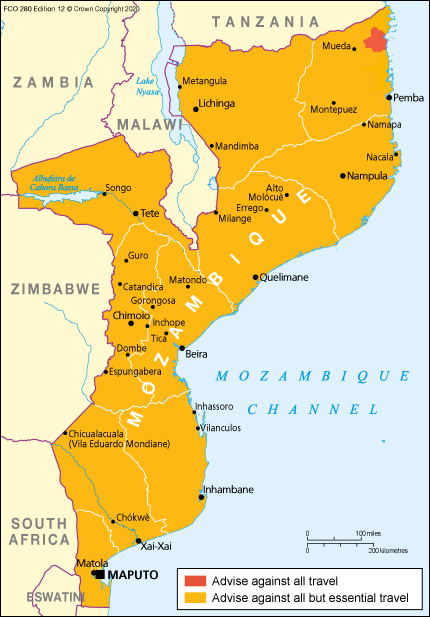 The Foreign and Commonwealth Office (FCO) is advising British nationals against all non-essential international travel at this time. Existing advice for Mozambique remains in place:
The FCO advise against all travel:
to the district of Mocimboa da Praia in Cabo Delgado Province
The FCO advise against all but essential travel:
to the districts of Nangade, Quissanga, Ibo, Macomia, Palma, Meluco, Mueda and Muidumbe in Cabo Delgado province, including the islands off the coast, due to attacks by groups with links to Islamic extremism.
on the EN1 road between Inchope and the town of Gorongoza and the EN6 road between Tica and Inchope, in Sofala province. Since August 2019, there have been a number of armed attacks on vehicles on roads in the province.
The Mozambique authorities have introduced a number of precautionary measures in response to the coronavirus (COVID-19) pandemic. See Coronavirus
Given the rapidly changing situation in Mozambique we are temporarily withdrawing a limited number of UK staff and their dependents from our High Commission. The High Commission will continue to carry out essential work including providing 24/7 consular assistance and support to British people in Mozambique.
Terrorists are likely to try to carry out attacks in Mozambique. There has an been an increasing intensity of attacks in areas of Cabo Delgado province dating back to January 2019. Militants have used explosives, machetes and firearms to conduct lethal attacks, as well as burning vehicles and homes. There are reports of an increased security presence in the province, including road blocks, and there are regular clashes between militants, armed vigilante groups and Mozambican security forces. There is also a threat of kidnap in Mozambique, which is particularly acute in northern districts of Cabo Delgado province. See Terrorism
South African Airways is undergoing a business rescue process resulting in changes to its international and domestic flight schedules and some cancellations. Check with the airline or your tour operator before travelling
Cabo Delgado Province was affected by heavy rains and flooding in late December 2019. Monitor local reports, check your routes before travelling and follow the advice of local authorities. You can monitor local and international weather updates from the World Meteorological Organisation.
Mozambique was affected by two major tropical cyclones during the 2018-19 rainy season, which had a major impact on the people and infrastructure of Sofala, Manica, Nampula, Tete, Zambezia and Cabo Delgado provinces. Critical infrastructure has been restored and main roads are open. However, not all bridges have been repaired and travel in the rainy season may therefore be restricted. If you're travelling to affected areas, you should plan ahead, check routes before travelling and follow the advice of the local authorities.
Coastal areas have a risk of tropical cyclones during the rainy season (November to April). Widespread flooding can also occur around river basins, especially the Zambezi. See Natural disasters
Most visits to Mozambique are trouble-free, but violent crime does occur and there have been cases of criminal kidnappings. You should take extra care. See Crime
Traffic accidents are common due to the condition of the roads, poor driving and vehicle standards. Always drive carefully and be aware of pedestrians using the roads. If you're travelling by road make sure you have relevant documents with you at all times and monitor local media for traffic updates. See Road travel
Piracy remains a significant threat in the Gulf of Aden and Indian Ocean. See Sea travel
Consular support is limited in parts of Mozambique where the FCO has existing advice against all but essential travel (see above). If you're abroad and you need emergency help from the UK government, contact the nearest British embassy, consulate or high commission.
The Overseas Business Risk service offers information and advice for British companies operating overseas on how to manage political, economic, and business security-related risks.
Take out comprehensive travel and medical insurance before you travel.