Guidance
Supplier Credit Financing Facility
How to apply for a Supplier Credit Financing Facility, how it works, its benefits and eligibility.
Overview
Under a Supplier Credit Financing Facility, we provide a guarantee to a bank either:
for a loan to an overseas buyer to finance the purchase of capital goods and/or services from a UK exporter – known as a Supplier Credit Loan Facility
to cover payments due under bills of exchange, or promissory notes, purchased by a bank from a UK exporter. The exporter will have received them in payment for capital goods and/or services supplied to an overseas buyer – known as a Supplier Credit Bills and Notes Facility
Finance can be made available in the main trading currencies (including sterling, US dollars and euros). Other currencies can be considered.
Eligibility
The following criteria must be met:
the exporter must be carrying on business in the UK
the bank must be acceptable to us
How the Supplier Credit Loan Facility works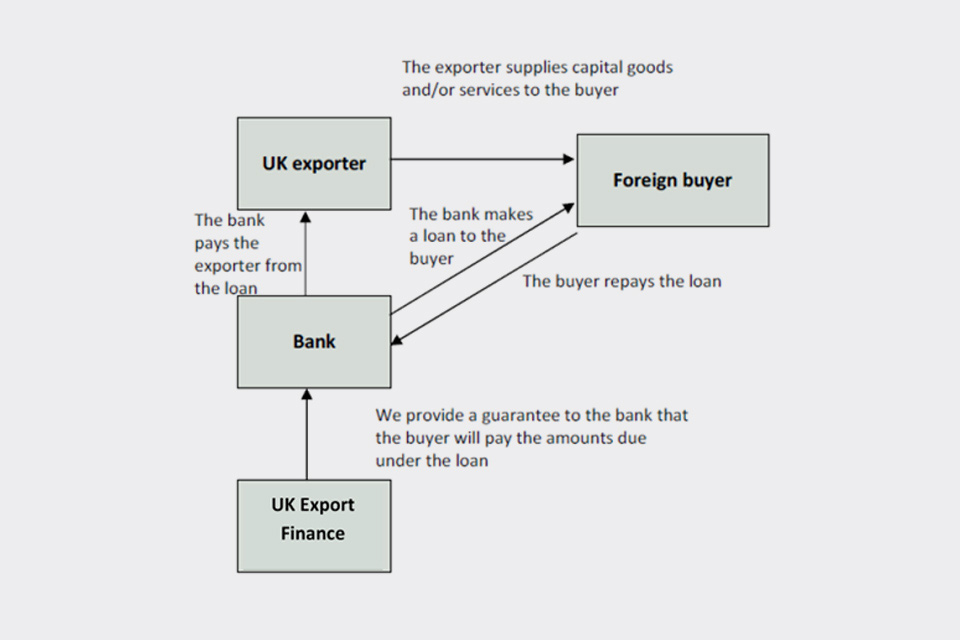 How the Supplier Credit Bills and Notes Facility works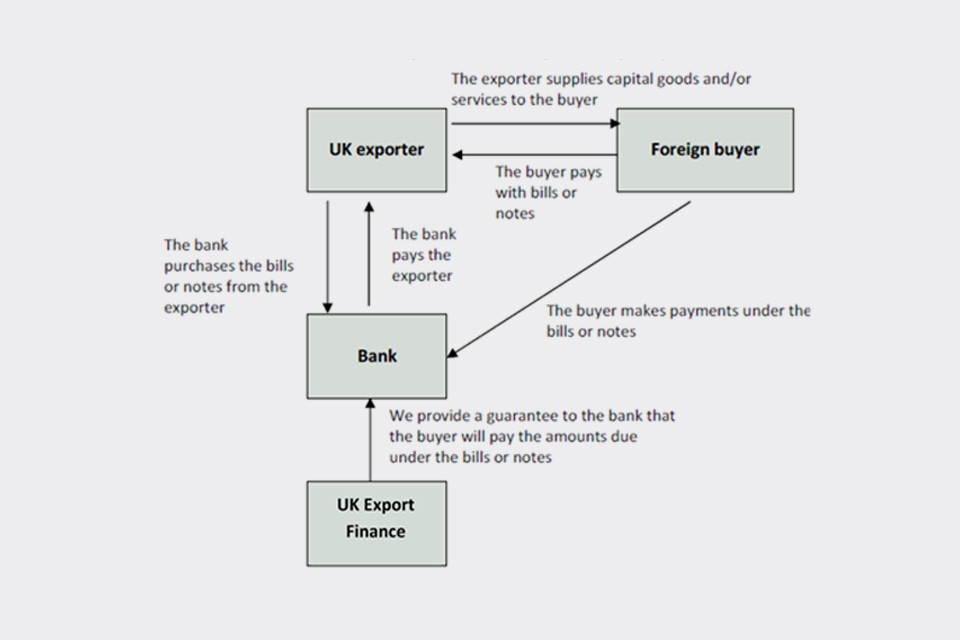 How to apply
The steps to apply for a Supplier Credit Financing Facility are:
Read this guide to check this is the policy you need.

Read the standard terms and conditions for the Supplier Credit Facility (PDF, 674KB, 10 pages) .

Read the guide for applicants on business processes and factors, to find out how we make decisions on applications.

Read the quick quide to credit terms (PDF, 323KB, 2 pages) related to the export contracts we are asked to support, which includes what is meant by credit terms, what terms can be agreed, the amount of credit that can be supported, starting point of credit, length of credit and repayments of credit.

Read the guide to recourse, which includes what recourse is, when it is sought and required, when we exercise recourse, from whom it is sought, the amount of recourse, release from recourse and the Lloyds recourse indemnity policy.

Use our country cover indicators tool to find out what cover is available in the country you want to do business in.

Contact customer services, to obtain an indication of how much premium you will need to pay.

Fill in the Supplier Credit application form (PDF, 1.83MB) .

If you want supplemental export insurance with your Supplier Credit Facility, fill in the supplemental export insurance policy application form (PDF, 253KB) .

Fill in the sustainable lending questionnaire if necessary (the country cover indicators tool will tell you if you need to fill it in).

Send your application form and supporting documentation to the Business Group. The address is:
Business Group
UK Export Finance
1 Horse Guards Road
London
SW1A 2HQ

Benefits of Supplier Credit Financing
The benefits are:
the exporter is paid as soon as the goods have been shipped and/or services performed
the buyer or borrower has time to pay over a number of years and can borrow at fixed or floating rates
the bank receives a guarantee from us for the amounts due under the bills of exchange, promissory notes or the loan
Risks covered
The bank is protected against non-payment under the guaranteed bills of exchange, promissory notes or loan. However, the bank must take the documentation risk and will therefore need to ensure that the loan agreement and/or the bills or notes is/are legally enforceable.
Maximum amount
The maximum amount that can be made available under the facility is 85% of the contract value. A minimum of 15% of the contract value must be paid directly to the exporter by the buyer before the facility starts to be repaid. Of the 15%, a down payment of at least 5% should be received upon contract signature.
We can consider support for foreign content (the cost to the exporter of purchasing goods or services from sub-contractors outside the UK) of up to 80% of the contract's value.
Term
The period for payment under the facility is typically 2 to 10 years. It can be shorter or longer depending on the sector and deal requirements.
Cost
There is no fee for the application. The premium payable for our cover is determined on a case by case basis.
Banks that hold MGAs for the Supplier Credit Facility
We issue master guarantee agreements (MGAs) to banks who take part in the Supplier Credit Financing Facility.
The MGA is only an umbrella document, which sets out the principal terms and conditions on which we will guarantee payment to banks that make finance available using the facility.
We set out the terms and conditions of cover for individual transactions when making an offer of support for a particular export contract. Once the bank has accepted an offer of cover, it is able to purchase negotiable instruments from you or make a loan to your buyer knowing that we will cover them under the master guarantee agreement.
The following banks are able to use the Supplier Credit Financing Facility:
ABC International Bank plc
1-5 Moorgate
London EC2R 6AB
Telephone: 020 7776 4076
Fax: 020 7726 4085

ANZ Bank New Zealand Limited
Ground Floor
ANZ Centre
23-29 Albert Street
Auckland 1010
New Zealand
Telephone (London): 020 3229 2688
Fax (London): 020 3229 2378

Commerzbank AG
London Branch
30 Gresham Street
London, EC2P 2XY
Telephone: 020 7475 3862
Fax: 020 7475 5690

CoöperatIeve Rabobank U.A
Croeselaan 18, 3521 CB Utrecht
PO Box 17100
3500HG Utrech
Netherlands
Telephone: (Netherlands) +358 9 53007070
Telephone: (London) 020 7809 3000

HSBC Bank plc
Project and Export Finance
Level 18
8 Canada Square
London, E14 5HQ
Telephone: 020 7991 6265
Fax: 020 7992 4428

Investec Bank plc
2 Gresham Street
London, EC2V 7QP
Telephone: 020 7597 4565
Fax: 020 7597 4539

JP Morgan Chase Bank N.A
25 Bank Street
Canary Wharf
London, E14 5JP
Telephone: 020 7742 7120

Landesbank Baden-Wuerttemberg
For Export Finance Documentation (Head Office)
201 Bishopsgate
London
EC2M 3UN
Telephone (London) 020 7826 8000

Lloyds Bank plc
Global Transaction Banking
25 Gresham Street
London, EC2V 7HN
Telephone: 020 7354 7400
Fax: 020 7158 3266

London Forfaiting Company Ltd
11 Ironmonger Lane
London
EC2V 8EY
Telephone: 020 7397 1510
Fax: 020 7397 1511

Nordea Bank AB (publ)
Finnish Branch
C&IB, Export Finance
Satamaradankatu 5
FFL-00020 NORDEA
Helsinki
Finland
Telephone: (Finland) +358 9 53007070
Telephone: (London) 020 7726 9000

Raiffeisen Bank International AG
Am Stadtpark 9
1030 Vienna
Austria
Telephone: +43 1 71707 0
Fax: +43 1 71707 1715

Standard Chartered Bank
1 Basinghall Avenue
London, EC2V 5DD
Telephone: 020 7885 7133
Fax: 020 7885 1133

Svenska Handelsbanken AB (publ)
Export Finance
SE-106 70 Stockholm
Sweden
Telephone (Stockholm): +46 8 -701 1211
Telephone (Manchester): 0161 602 0300
Fax (Manchester): 0161 602 0399

Disclaimer
The information available in this brochure is not intended to be a comprehensive description of our products and procedures, and many details which are relevant to particular circumstances may have been omitted.
When considering applications, our underwriters will look at each case on its merits.
Published 21 April 2013
Last updated 24 April 2017
+ show all updates
Change to Security of Information Arrangements
Updated the list of banks that hold MGAs
First published.