Guidance
Overseas investment insurance
From:

Part of:

Published:

18 April 2013

Last updated:

24 April 2017, see all updates
This guide explains what an overseas investment insurance policy is, how it works, its benefits, its key features and how to apply for the policy from UK Export Finance.
Overview
An overseas investment insurance policy covers the risk of loss resulting from certain political events in connection with an investment made by an investor in the United Kingdom in an enterprise outside the UK.
The policy can also cover losses arising in connection with a guarantee given by the insured in respect of an investment made by another person in an enterprise outside the UK in which the insured has an interest.
How to apply
The steps for applying for overseas investment insurance are:
Read this guide to check this is the policy you need.

Read the guide for applicants on business processes and factors, to find out how we decide applications.

Check our country cover policy and indicators to find out what cover is available the country you want to do business in.

Contact customer services to obtain an indication of how much premium you will need to pay.

Fill in the Overseas Investment Insurance application form (PDF, 305KB, 21 pages)

Fill in the sustainable lending questionnaire if necessary (the country cover indicators will tell you if you need to fill it in).

Send your application form and supporting documentation to the Business Group at:
Business Group
UK Export Finance
1 Horse Guards Road
London
SW1A 2HQ

Please note that, as of 24 April 2017, UK Export Finance no longer offers the option for exporters to request Security of Information Arrangements ("Special Handling Arrangements") with regards to the provision of Agent's identities. Application forms on this page will be updated in due course. Applicants must therefore provide all the information requested in respect of any Agent.
How does it work?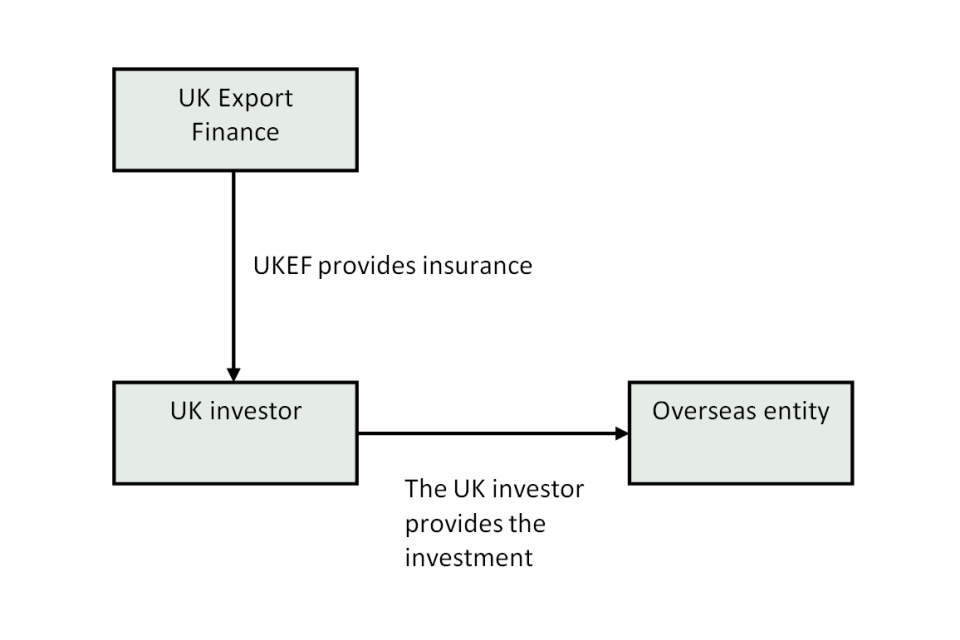 Benefits of an overseas investment insurance policy
The benefits are:
any investment of resources may be considered for cover, including loans or subscriptions for shares
indirect investments and guarantees given to other investors may also be covered
up to 90% of losses can be covered resulting from the specified events
the policy may be renewed annually on the same terms and premium rate and run for up to 15 years
on each renewal the investor can adjust the amount of cover to reflect the amount of its investment in that year provided that it does not exceed a specified maximum insured amount
Risks covered
Full details of the risks covered are set out in the policy but they include:
war, civil war, revolution and insurrection in the host state
expropriation or nationalisation of the enterprise in which the investment is made (or of its property) contrary to international law
restrictions on remittances, including exchange controls, imposed by the host state
Eligibility
The investor and the investment must meet the following criteria:
the investor must be carrying on business in the United Kingdom and not simply acting as a conduit for investment from outside the United Kingdom
the investment must be made in an enterprise outside the United Kingdom
where cover is requested for a guarantee given in respect of an investment in an enterprise, the person giving the guarantee must have an interest in that enterprise
Cost
There is no fee for the application. The premium payable for our cover is determined on a case by case basis.
PDF version of this guide
Disclaimer
The information available in this brochure is not intended to be a comprehensive description of our overseas investment insurance and many details which are relevant to particular circumstances may have been omitted. Investors must read the policy to see whether it meets their needs.
When considering applications, underwriters will look at each case on its merits.
Document information
Published: 18 April 2013
Updated: 24 April 2017
Change to Security of Information Arrangements
First published.