Integration Area Programme
Information about the Integration Area Programme.
Overview
The Integrated Communities Strategy green paper, published in March 2018, invited views on the government's vision for building "strong, integrated communities where people – whatever their background – live, work, learn and socialise together based on shared rights, responsibilities and opportunities."
Integration challenges are not uniform throughout the country – the interplay of demographics, patterns of migration, physical geography, industrial history and local economy in each place makes a unique set of challenges.
The Integration Area Programme focusses local and national resource on a common goal to deliver integrated communities, to better understand and tackle the challenges specific to a place, building on existing best practice and local strengths.
Integration Area local authorities
We are working with 5 local authorities – Blackburn with Darwen, Bradford, Peterborough, Walsall and Waltham Forest – which are the first Integration Areas to participate in the programme. Each area faces different types of integration challenges.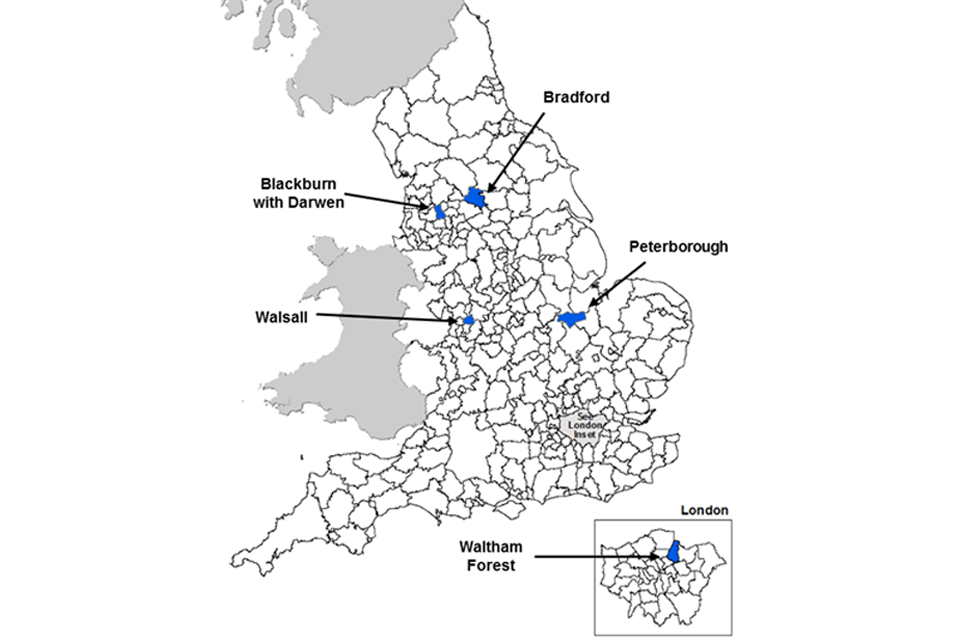 We chose to work with local authorities that have already demonstrated a keen grasp of the challenges they face. These areas are showing a desire to try new things – taking an evidence-based approach to analyse and then address local needs.
Local integration strategies
Each of the Integration Areas has produced a locally-focussed integration strategy, outlining the activity they will take to create stronger, more-integrated communities in their local area. An integral part of the strategy is the delivery plan which sets out numerous projects to support better integration within the community.
View the local integration strategies: