HMCTS reform update - Infrastructure and enabling services
The latest progress made in our reform programme on infrastructure and enabling services.
This area of our reform programme will improve systems and processes across jurisdictions to support modern ways of working to ensure we provide the best support and service to all our users.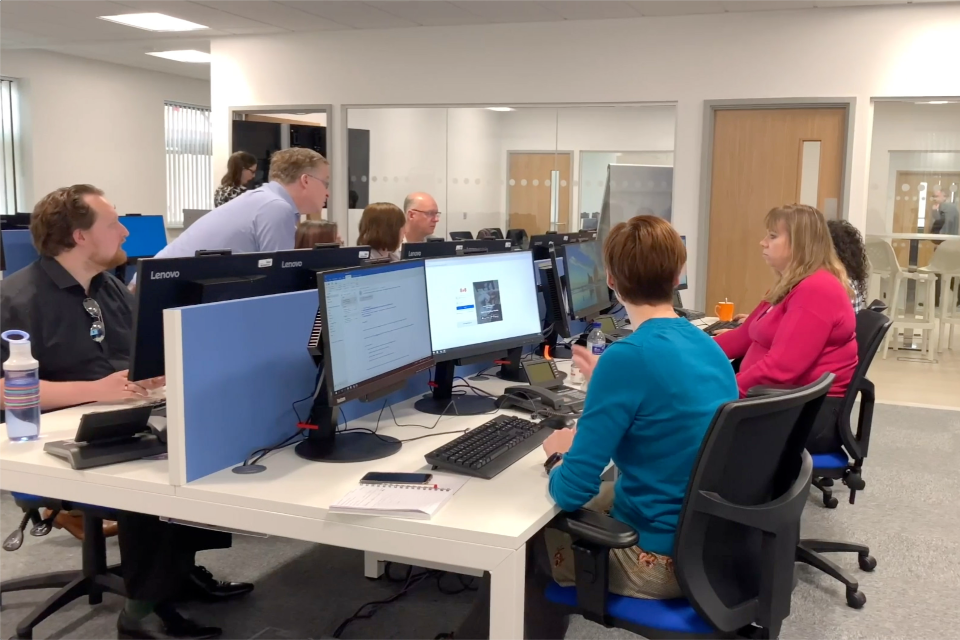 What our reforms have delivered so far
two new Courts and Tribunal Service Centres (service centres) in Stoke-on-Trent and Birmingham to begin to provide a national service for the public wanting information about their cases
Wi-Fi installed in all our courts and tribunals and more than 80,000 professionals are accessing Wi-Fi in our courts each week
testing fully video hearings in the Tax Tribunal and further pilots are underway in Civil and Family Courts in Manchester and Birmingham
closing underused and inappropriate court buildings raising £124m to invest more effectively in improving our justice system
an assisted digital service providing help and support to people using our online services
By the end of this year, we will have
further upgraded Wi-Fi in all criminal courts
completed further testing on video hearings in Civil and Family Courts in Birmingham and Manchester.
begun pilot testing flexible operating hours in Civil and Family Courts in Brentford and Manchester
procured an external supplier for our digital scheduling and listing tool
See our Reform Update which provides regular progress updates on our reform programme.
Courts & Tribunals Service Centres
We want our court and tribunal venues to be focused on trials and hearings, and our administrative work to be done with more consistency and resilience. To do this, we are moving administrative processing into dedicated service centres.
The service centres will be the first port of call for people wanting information on their cases – allowing us to answer calls, emails and queries much more quickly and reliably. It will allow us to develop specialisms to improve the consistency and accuracy of the information we provide.
The first two service centres – in Stoke-on-Trent and Birmingham – began operating earlier this year and are providing support to our first reformed services (divorce, probate, the Single Justice Service and the Social Security and Child Support Tribunal). The third will be in Loughborough and is expected to be operational by May 2020.
We have developed bespoke ways to train and support our staff in these centres. Staff joining a service centre will receive two weeks' classroom training followed by the service centre learning academy for the next six weeks. We aim to give our staff a deeper understanding of the system and the role they play within it, which will help them provide the best support to our users.
Assisted digital
Our aim is to create online services that are so intuitive and easy to use that most people will choose to use them. However, for those that don't find going online easy, we are offering help and support, yet keeping (and improving) paper alternatives too.
The digital support offered to users is tailored to their needs and abilities, and is provided by telephone or face-to-face. We provide assistance using our online services but cannot offer legal advice (though we will signpost people to this, if needed).
Our assisted digital services are being designed following extensive user research and testing, and we have worked with charities and the advice sector to ensure that these work for everyone. Staff in our service centres are trained to identify users who require support to use our online services and help them over the phone or refer them to a face to face appointment. We will introduce webchat and screen sharing support to help those who need help when online.
The digital inclusion charity, Good Things Foundation, is delivering free of charge face-to-face assistance via a network of local community partners, including libraries, Citizens Advice offices and community hubs. We are using 17 Foundation centres across England and Wales to try different approaches to delivery, and plan to add another seven sites this year.
For those who do not want or are unable to access support for online services, paper forms will remain and we are improving these to make them more straightforward and easier to use. The development of bulk scanning arrangements will enable paper applications and forms sent to us to be converted into digital forms to ensure they can be processed efficiently internally too. We are also designing our services so you can still benefit from digital improvements if you complete a paper application, for example signing up to text notifications in our SSCS service.
Our people
As HMCTS changes, our staff needs will change too. Work is underway to train and develop staff, redesign roles, offer better routes for career development and progression, review policies for recruitment, retention, and redeployment, and to actively and sensitively manage the effects or uncertainties around change.
We are engaging people at every stage and giving them a chance to help shape their future. We will be a smaller organisation with new skills and capabilities. Today, we have the equivalent of around 16,000 full time roles, of which 3,000 are filled by temporary or agency staff. At the end of the reform programme, we anticipate having around 11,300 full time roles. Around half will continue to work in courts and tribunals, with the other half working in service centres, or in headquarters or regional roles.
Some types of role – those predominantly concerned with processing paper, or re-keying between legacy systems, for example – will no longer exist; and others will change, typically becoming more skilled and involving less repetitive, routine work (as a result of better digital systems).
We will continue to have clerks and ushers (with no fewer of them per hearing than we have today and, in some cases, more) but their roles will change as technology helps them support judges and the public better. We will continue to have listing officers in the courts that have them now. We will also have staff in every court and tribunal focused on the condition of the building, and keeping the increasing digital technology in good order.
The courts and tribunals estate
The physical courtroom and face-to-face interaction will always play a critical role in the administration of justice. Many of our buildings have been significantly underused or are inappropriate for public use and some are located close to other buildings within our estate where services can be co-located.
Since 2015, 132 court buildings have closed following public consultations, yet our court estate remains accessible to the majority of people.
The close proximity of courts and tribunals means that the majority of users will not face onerous journeys. Of 332 operational court and tribunal buildings providing face to face services, 245 are within 5 miles, 280 are within 10 miles, and 304 are within 15 miles of another court or tribunal. The move to focusing on key strategic locations will mean that more densely populated centres will have improved access to better quality court and tribunal buildings.
We also expect to see fewer hearings over the course of the reform programme as a result of the introduction of other routes such as more mediation, continuous online resolution, and fully video hearings, particularly for administrative and procedural matters.
We published our response to the Fit for the Future consultation setting out the principles upon which future decisions relating to the court and tribunal estate will be taken, particularly in relation to reform. These give greater reassurance on issues relating to user travel times and physical access to court and tribunal buildings, and includes our undertaking not to make changes to the court estate until we can first demonstrate that the programme has delivered real changes that give people new and better ways of doing things.
We are also investing in new and refurbished facilities in key locations and an additional £15m, announced in the Budget last year, has been invested in 450 improvements across 206 sites in 2018/19. This is on top of the original allocation of £89million.
We also want to ensure that our buildings provide the best possible experience for all those who use them, particularly vulnerable people. Our Court and Tribunal Design Guide sets out the standards we will apply when we build new buildings or hearing rooms, and when we refurbish existing buildings.
Flexible operating hours
Most courts sit between 10am and 4pm, and we want to discover whether using courts more outside these hours could allow us to hear more cases in each courtroom, and give people more flexibility about when they can come to court.
Following feedback to our initial proposals in 2017, we have developed two pilots in the civil and family jurisdictions to test flexible operating hours - in Brentford County Court and Manchester Civil Justice Centre.
Local implementation teams involving partners across the justice system are in place in both locations and are responsible for the detailed design of the pilots in each site, including the start date of the pilots. The pilots will run for six months.
An independent evaluation of the pilots to assess the impact for all participants will be carried out before any future decisions on the use of flexible operating hours are made.
Scheduling and listing
This project is designing a digital tool and new processes for supporting the administration of scheduling and listing cases. This will increase efficiency, reduce delays and make it easier and quicker for listing officers to perform their role.
Listing is a judicial function, and the tool will support this by improving the collection and management of a wide range of information about judicial availability, rooms and the needs of our users. This in turn will provide more comprehensive and reliable data about how successfully lists are balancing competing demands.
We recently tested a simple listing tool in a small number of courts. Feedback so far has helped the project to develop the design ensuring that the needs of staff, professional users and the judiciary are met. We expect to have contracted a supplier by the end of this year to provide our solution.
Video hearings
Fully video hearings are where the judge and all the parties join the hearing by video. They have the potential to reduce the disruption, costs and inconvenience associated with users having to travel back and forth to court, or spend time in a waiting room simply to progress a straightforward matter. They could also allow urgent hearings to take place even when those involved are distant from one another. The arrangements we are working on will enable people to use their own computers, without the need for participants to access specialist video conferencing equipment.
Video hearings should enable courts to deal with certain proceedings, particularly progress and preliminary hearings, in a more proportionate, flexible and efficient way. But video will only be suitable for some types of hearing and the final decision on whether a video hearing is appropriate will be a judicial one.
The principles of open justice will be upheld and protected as we introduce fully video hearings – we are developing proposals for remote viewing, if the judge is not in a courtroom.
We first tested a prototype in immigration and Asylum Tribunal case management hearings involving legal professionals and Home Office representatives in October 2017. From March to May last year we undertook a small-scale pilot in the Tax Tribunal. This was evaluated by independent academics from the London School of Economics who reported "high levels of satisfaction with video hearings" from public and professional users, particularly due to the practical advantage of not having to travel to a hearing venue.
The evaluation reported that the hearing was clear, easy to navigate, and user-friendly. We published a blog on how we expect video hearings to be used in different jurisdictions last year. We plan to do more testing in the Tax Tribunal in the coming months.
We are also carrying out further small-scale testing in civil and family jurisdictions - in Manchester Civil and Family Justice Centre and Birmingham Civil and Family Justice Centre. In Manchester, this testing has included urgent injunction applications often made by victims of domestic abuse in cases of intimidation or threat of violence. This category of hearing is often held at short notice and usually involves a solicitor and the client waiting to appear before a judge at a court building, which adds extra stress at an already extremely difficult time.
In the pilots, the applicant and their legal representative appear instead via video from a law firm's office – removing the need to travel to court and wait in an unfamiliar environment. An evaluation of this further work will be carried out by independent academics and published on completion.
Common digital capabilities
There are more than 30 common digital capabilities needed to support and underpin multiple reformed services. These include functions to enable users to upload documents like marriage certificates, but also more complicated things like the Core Case Data system, which will replace existing case management systems across civil, family and tribunals, allowing easier access to case materials and removing the remaining paper files from our courts.
The aim is to design and build these capabilities so that they can be re-used across all services rather than being separately designed for each – which will also help with the usability of the system for staff, and for professionals who use many different parts of it. Some have already been developed – Core Case Data, for example, is already supporting live online services in divorce, probate and SSCS, and security and access management systems are being rolled out too.
A fee register has also been developed to enable users to make payments online and a text notification system is already in use in SSCS, and will be extended to other services. The capability to generate documents such as a decree nisi or notice of issue using the PDF document format is also available, with plans to develop this capability further so that templates can be previewed and edited.
We will develop digital court bundles, with the ability to annotate and share appropriately. We will also develop systems to allow professional users to manage multiple cases of different kinds, tracking progress and seeing what needs to be done next.
The extension of the reform programme will give us more time to develop the full suite of common components once and well, before using them in the next set of services – avoiding the risk of service-by-service developments that don't integrate as well as they could.
Upgrading Wi-Fi and IT infrastructure
Our goal is to provide a Wi-Fi service to enable all who attend courts and tribunals to work digitally anywhere in our buildings. Wi-Fi has now been installed in all civil, family and tribunal buildings and we are in the process of upgrading the Wi-Fi in criminal courts to expand its strength and coverage too (currently, the Wi-Fi service has been fully upgraded in 54 criminal court buildings). A new Wi-Fi service, accessible across the Royal Courts of Justice (RCJ) is now available to all public and professional users.
Screens for litigants in person and witnesses
Our aim is to allow unrepresented litigants and witnesses to view electronic case material in our hearing venues by installing touch-screen devices.
The early pilots at Hull Combined Court and Central London Family Court are being extended to tribunals and civil courts. Hardware testing is expected to be completed by the end of August 2019.
Infrastructure and enabling services reform events
We jointly hosted the International forum on online courts, 3 and 4 December 2018 with the Society for Computers and Law, a charity focused on the development of IT-related law.
All of our infrastructure and enabling services reform events are listed on on our reform events programme page.
Other Infrastructure and enabling services information and announcements
Stay up to date and visit our latest GOV.UK news and announcements and our latest infrastructure and enabling services related Inside HMCTS blogs.