Guidance
HMCTS reform update - Family
The latest progress made our reform programme in the family jurisdiction.
There has been much change in the practice and administration of family justice in the last five years. Our reforms will build on those improvements by making the system easier to understand and navigate so that it better meets the needs of the people who use it.
We will introduce new technology for the family court to make the system simpler and more efficient for everyone, make improvements to the court estate, and develop enhanced case officer (legal adviser) functions to support judges better.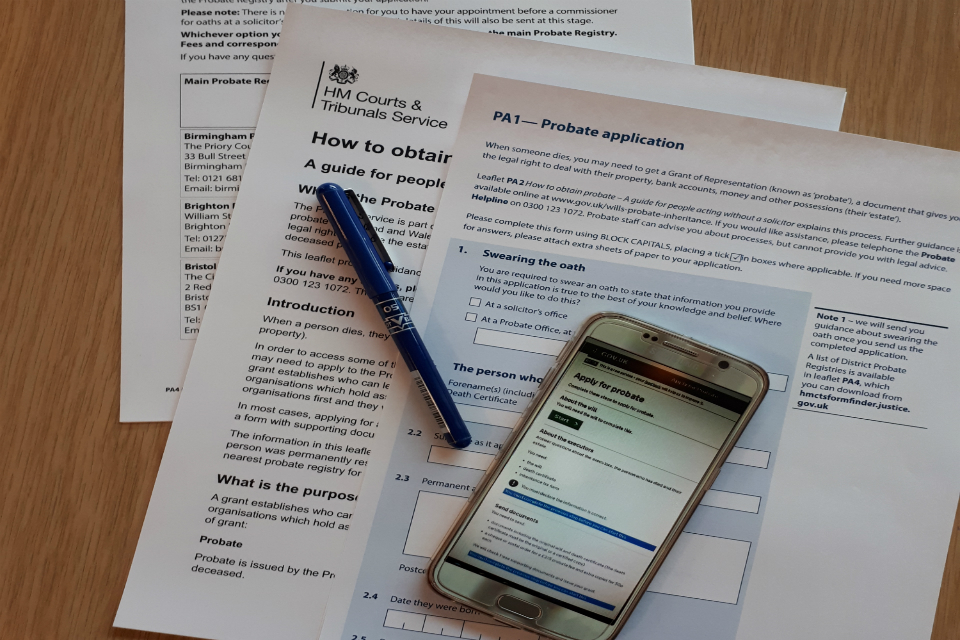 What our reforms have delivered so far
more than 41,000 divorce online applications have been made since the service was launched in April 2018, with digital uptake at 58% and 82% of users saying they were satisfied with the service
a financial remedy pilot for legal professionals enabling them to make consented divorce applications and receive outcomes digitally on behalf of clients
our probate online service has received over 19,000 applications – and 9 out of 10 users say they are satisfied with the service
testing a new way for local authorities to apply for care and supervision orders in public law cases in the family court – more than 100 applications have been issued and progressed online
By the end of this year, we will have
established a divorce online service for legal professionals acting on behalf of clients across England and Wales
introduced arrangements for decree absolute applications to be made online in divorce
added more features to our digital service in family public law, including case management, evidence management and orders
increased features to the probate online service for personal applicants, including applying for a caveat and intestacy
made a probate online service for legal professionals available nationally
Divorce online
This will deliver a national end-to-end digital service for individuals and/or their legal representatives to make an application to legally end a marriage or civil partnership and resolve associated financial issues.
We rolled out the first stage for personal applications in April 2018. This has allowed people to apply for an uncontested divorce, upload evidence and pay online. Since then more than 41,000 applications have been received with more than 8 out of 10 users saying they were satisfied or very satisfied with the service.
The service has been designed around the needs of public users with clear information and guidance. It takes half the time to fill in as the old paper forms. As a result, we returned less than 1% of online applications because of errors compared to 40% in the old system.
In January 2019, we added acknowledgement of service and decree nisi applications online. By summer, the decree nisi outcome will be added to the digital process too, with the decree absolute application following later in 2019. From the end of April this year, new scanning technology means that any paperwork sent in connection with online applications will be placed on the digital court file automatically.
Alongside this, we are also testing and growing an online system for legal representatives to apply for divorce on behalf of a client. We plan to make this service available nationally later in 2019.
A further element to this project's work, and an important element of our aim to offer a fully digital divorce process from beginning to end, is testing digital processes around financial remedy. In the summer of 2018 we began a consent order pilot for legal professionals and in March this year we added financial remedy outcomes to this pilot. By early summer 2019, we plan to have added contested financial remedy applications to the testing phase.
This new area of work is being tested in the new Financial Remedy Centres, initially starting in the Central Family Court in London, followed shortly after in Nottingham and then extended to further Financial Remedy Centres around the country.
Probate online
Probate online provides a simpler, digital means for users to apply for probate and a new case management system to reduce the cost and time of processing applications.
Since launching in limited testing in June 2017, more than 19,000 people have used the service to apply and pay online. The user satisfaction for our online service is high: 92% of people using the service said they were satisfied or very satisfied with it.
The service is available to anyone dealing with an uncontested estate if the person who died lived in England or Wales, the person making the application has the original will and is named as an executor in the will or any codicils (updates to the will).
We have made changes during the testing phase including introducing the online statement of truth. This means that most people no longer need to visit a probate registry or solicitor's office to swear an oath. We have also used feedback from those who've used the service to improve it, including removing the need to sign the back of the will as people told us they found the requirement confusing.
Further improvements to the online service have been made including allowing the main people making the application to enter their name as it appears on the will if it is different to their current name and to provide a reason why. The online application now allows people making an application to upload supporting documents (such as the death certificate), download a PDF of the completed application and to print a cover sheet to accompany the original will.
In early 2019, we replaced the paper grant of probate with a new version that contains a digital seal and hologram removing the need for it to be embossed. We have also introduced an online service for users to apply for caveats (a legal document that prevents a grant of probate from being issued).
There have been some temporary delays in the issuing of probate in the last two months as we move to new systems.
Family public law
Reforms are focused on ensuring the court, parties and their representatives have access to the right information, at the right time, to help decide the best outcomes for children involved in public law cases. In particular, they will allow evidence to be submitted and shared electronically and cases to be managed much more securely and effectively. It will also allow orders to be written and produced in real time in court (in many cases), meaning that everyone leaves with immediate clarity on what has been agreed.
Following extensive development and testing, the 'Shared Storage Solution' has been released and tested in Swansea to allow documents to be securely shared between local authorities and family courts. In January 2019, the first phase of a new digital system was launched to enable local authorities to complete and submit a C110a application for care and supervision orders along with the supporting documents required by the family court to issue and progress the case online. The system incorporates the new shared storage technology and local authorities are now able to upload the bundle to cases. The system is being tested in four family court sites in Portsmouth, Stoke-on-Trent, Swansea and West London.
We have also changed the content and structure of the application to make it simpler and quicker for local authorities to provide the right information to assist the gatekeeper (HMCTS legal advisor) in making their decision, and reduce unnecessary delay.
By the end of April 2019, more than 100 applications had been issued and progressed through to gatekeeping online.
In parallel to making improvements to our existing service, we will be developing the next stages, including case management, evidence management and orders. This part of the work will include respondent and children's solicitors and by March 2020 will lead to us testing an end-to-end service to take those using the service from application through to final order.
Adoption
We are digitising the adoption process for both placed adoption and step-parent/family adoption cases, developing systems to manage these cases more securely and effectively.
As part of our initial phase, we have undertaken user research with courts, local authorities, adopters and the Children and Family Court Advisory and Support Service (CAFCASS). The findings from this research will help us to understand the complexities of these cases and shape the approach to developing the future service design.
We will further develop and test our ideas and initial designs and engage further with our users, focusing on the application process, issuing new proceedings and creating a directions order ready to test with users by March 2020.
Private family law
We will develop and implement systems and processes to enable users involved with private family law cases to start and manage their cases online – again, fitting together seamlessly. We expect to begin this work in summer 2020.
Here is a full list of civil, family and tribunal projects in our reform programme.
Family reform events
Our latest family reform event was held on 4 July 2019, the video is below:
Family reform event held on 4 July 2019
All of our family reform events are listed on on our reform events programme page.
Other family jurisdictional information and announcements
Stay up to date and visit our latest GOV.UK news and announcements and our latest family related Inside HMCTS blogs.