Guidance
HMCTS reform update - Crime
The latest progress made our reform programme in the crime jurisdiction.
Our ambition is to provide smarter, more joined-up and streamlined processes to deliver better criminal justice for all.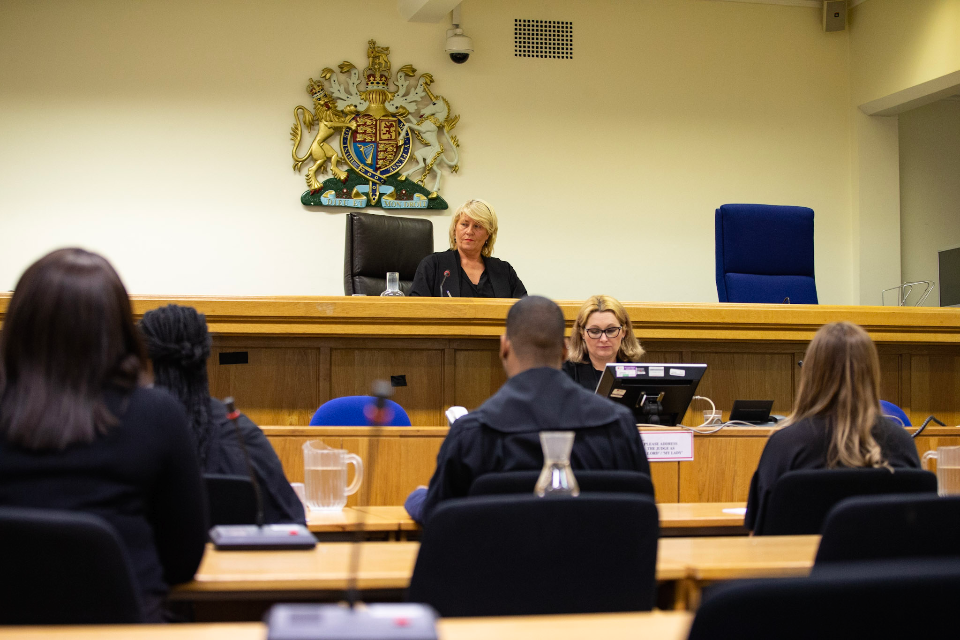 We are supporting digital working throughout the criminal courts to enable all participants in the criminal justice system to work from the same information, reducing duplication of effort and introducing more consistent working practices. We will make processes easier and more accessible for all those involved.
What our reforms have delivered so far
a digital case management system to support the Single Justice Procedure (SJP) for summary offences has handled over 31,000 Transport for London cases, cutting delays and waste
the make a plea online service for summary traffic offences has been rolled out to all police forces with more than 236,000 people entering a plea online since 2015
magistrates' court rota is in use nationally matching nearly 13,000 magistrates with court sittings.
digital mark up is in use across all magistrates' courts, enabling the legal advisors in court to record the case outcome instantly
jurors can now reply to a jury summons online
the common platform is handling real cases in a pilot in the Crown Court in Liverpool, and pilots have begun in SJP cases too
By the end of this year, we will have
completed a nationwide roll out so that all TV Licensing and DVLA prosecutions within the SJP are handled by our new digital case management system, with defendants able to plead online
published online listings of all SJP cases being heard as a result of prosecutions by Transport for London (TfL)and TV Licensing (TVL).
started to pilot new proof of concept technology in video remand hearings
introduced additional functionality within the common platform pilot in Liverpool, in advance of a roll-out to other Crown Courts (main roll-out taking place during 2020)
expanded the use of common platform in magistrates' courts, starting with other SJP referrals and then widening out to cover other case types (with fuller roll-out during 2020)
Single Justice Service
HMCTS' Single Justice Service (SJS) enables magistrates' courts to deal with low-level crimes in a way that is quick and efficient for everyone involved – including the defendant – while still being fair and rigorous.
The SJS procedure – introduced as a result of the Criminal Justice & Courts Act 2015 - allows for a single magistrate sitting with a legal adviser to decide adult summary-only, non-imprisonable and victimless offences (such as speeding, fare evasion, or not having a TV licence).
They can only do this where the defendant has pleaded guilty, or has failed to respond and so the case will be looked at without them (known as 'proof in absence'). The defendant has the option to say that they want to have a hearing in court instead but most do not do so for offences of this kind.
A new digital case management system called the Automated Track Case Management (ATCM) system is being rolled out to support this process and make it more efficient. This has been operational in Lavender Hill Magistrates' Court since April 2017 to handle all fare evasion cases prosecuted by TfL. As a result, court staff no longer need to print thousands of sheets of paper each week spend time preparing and transporting physical files to and from court.
Since December 2018, all cases being brought by TVL in the Midlands have been handled using the ATCM too and, by March 2019, there had been over 37,000 TfL and TVL cases handled using this new system.
All defendants prosecuted by TfL and TVL in the Midlands are also able to make a plea online if they choose to. This further increases the speed by which such cases are heard and resolved. In one case a defendant pleaded guilty online and within four days had received the outcome of the case and was able to pay their fine. This compares with the postal method which takes on average 29 days.
There has been a steady increase in the number of pleas being entered online for these cases with more than 2,000 online pleas entered by March 2019, with 73% of people saying they are satisfied or highly satisfied with the service.
Since we introduced online pleas for these cases we have seen more people responding than when the system was paper only - up from 16% to around 20% now. This is good for access to justice, because it means fewer people's cases being dealt with without their input.
We also know that not everyone finds it easy to go online, so a dedicated HMCTS team has been set up to deal with calls from members of the public who need help and support relating to TfL and TVL cases. The traditional postal route also remains in place for those that do not wish to use online services at all – and it too has been improved and simplified as part of reform.
During 2019 we will expand the use of ATCM to handle all TVL and Driver and Vehicle Licensing Agency (DVLA) SJP cases across the country including the ability for defendants to make a plea online. All SJP cases should be using this system by the end of 2020.
Make a plea online
This was introduced prior to the wider reform programme, and allows adults prosecuted for summary non-imprisonable motoring offences, such as speeding and having no insurance, to make a plea online instead of by post if they wish. It is available across all 43 police forces and, during 2018, 87,247 pleas were received through this service – about 1,600 pleas online each week. It applies only to minor offences where the previous system was to make a plea by post.
Common platform
The common platform is the underpinning digital infrastructure for our reforms in criminal justice. It will deliver a single online system designed to act as a 'central hub' enabling the police, CPS, HMCTS and legal professionals to access and share all relevant information about a case. It will improve the use of photographic and video evidence and help remove the manual handling of documents, duplication of process and the re-keying of information.
It began testing in September 2017 with pilots involving Cheshire-Mersey CPS, Merseyside police and Liverpool Crown Court. As part of these pilots, prosecutors can now make available to all legal parties the Initial Details of the Prosecution Case (IDPC) for most either way and indictable cases once the police confirm that charging has taken place.
In spring 2019, we began pilots in two magistrates' courts - Lavender Hill Magistrates' Court (handling TfL cases) and Warwickshire Justice Centre (handling TVL cases) - to test the common platform in magistrates' court hearings, using cases that have started in the single justice procedure but then been referred to court for a hearing.
Over the course of this year we will develop more functionality to be used in the Liverpool pilot, following which we will begin roll-out to other Crown Courts (we expect the main roll-out activity to take place during 2020). In parallel, we will expand the use of common platform in our magistrates' courts, starting with single justice procedure referrals and then widening out to cover other case types (again, with the main roll-out happening during 2020).
In collaboration with the CPS, we will focus this year's development on the court-based parts of the common platform. In light of the Attorney General's review into the efficiency and effectiveness of disclosure in the criminal justice system, we will review the way the system should work for prosecutors.
Key discovery work
We have been working with a wide range of partners to map out the way things are done now and think about how they might be done better – a process known as 'discovery'. This has covered many aspects of the crime reform programme, including online plea and allocation, case progression, hearings and youth. This is now being fed into the detailed design for the common platform.
On online plea and allocation, we will make it possible for represented defendants (through their legal representative) to indicate a plea online, before coming to court; and for decisions on allocation to be taken outside the courtroom where that is appropriate. This is subject to legislation.
At present, decisions on allocation are often made based on a 'best guess' by the police about whether someone is likely to plead guilty or not guilty. Asking for an indicated plea online will support earlier engagement with the court and enable swifter allocation of cases as well as free up courtroom space and time currently used to hear pleas.
During the remainder of this year we will be looking to test various proofs of concept to understand how new processes for online plea and allocation may work.
On hearings, the objective is to enable appropriate hearings and case management activities to be held without requiring physical courtroom time, such as by telephone or video.
This extends the existing video remand hearings project to ensure that the opportunities of such channels are realised across the case lifecycle. The use of hearings by video would always be at judicial discretion and decisions as to which categories of hearing could be fully video would be for the senior judiciary.
On youth, a multi-agency working group has looked specifically at the needs of children and young defendants to ensure that we do not apply adult processes to children, but instead look at each stage of the process and shape a version of it that is appropriate for young people, with the right safeguards and enhancements.
Video remand hearings
Since September 2018, we have been working closely with the Home Office-funded Video Enabled Justice (VEJ) pilot project in London and the South East of England to make video-enabled remand hearings more effective. Since the pilot started at Medway Magistrates' Court there have been over 3,160 remand hearings heard via video.
During 2019 we will start to pilot a technical proof of concept testing video technology in a mock courtroom environment and the lessons we learn as a result, both in terms of technology and process, will support the design and implementation of a fully video solution for wider use across England and Wales.
We have held a series of online and national face to face workshops to engage defence practitioners to help support this work, and representatives from the Law Society and the Legal Aid Agency were invited to share their expertise and insight too.
Here is a full list of crime projects in our reform programme.
Criminal reform events
Our latest crime reform event was held on 24 January 2019, the video is below:
Crime reform event was held on 24 January 2019
All of our crime reform events are listed on on our reform events programme page.
Other criminal jurisdictional information and announcements
Stay up to date and visit our latest GOV.UK news and announcements and our latest crime related Inside HMCTS blogs.