UKTI's Turkey scale-up competition
Competition for Turkish scale-up companies seeking to grow their business. The prize will be a UK tailored business development programme.
Overview
High growth companies in Turkey should enter this competition.
The aim of the cometition is to encourage high growth companies in Turkey to look at the UK as a place where they can set up and grow their businesses.
The competition focuses on scale-up companies from all industries that already have an identified business model with a proven track record for generating repeatable business and is looking for growth in UK.
The winners will take part in a tailored business network and company establishment programme in the UK.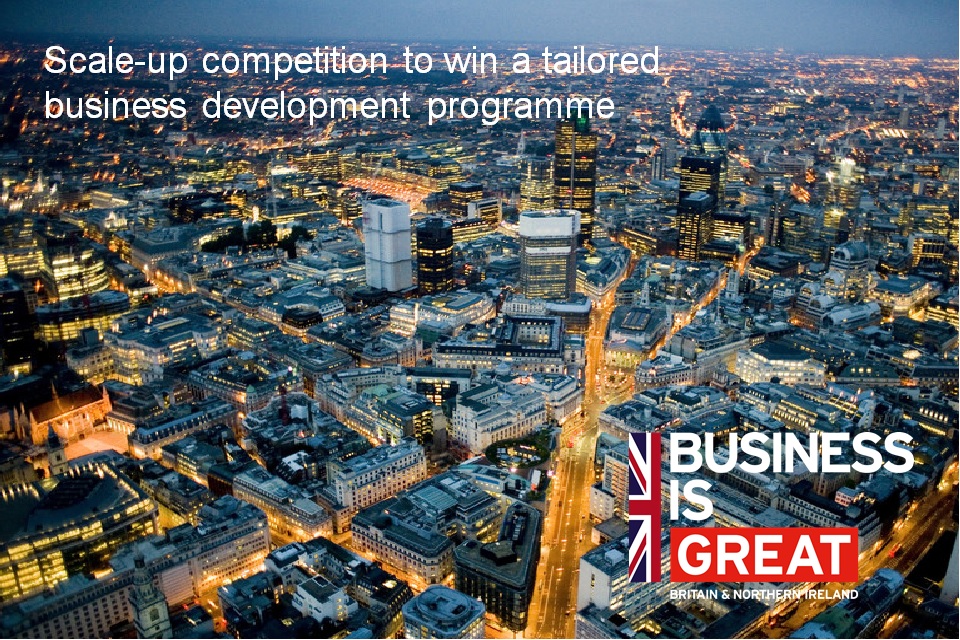 The competition is run by UK Trade and Investment (UKTI) and British Consulate General Istanbul.
Who can enter
The competition is open to companies that fit into the description and standards of a scale-up. The scale-up company must:
be registered in Turkey
be established within the last 4 years
have operating revenues of at least £500,000 for the last year
have a business that is eligible to launch in UK
be planning to launch the business in UK within a year
A winner will be selected from each of the following categories :
Female Entrepreneur/ Founder
Entrepreneur from Anatolia
The Social Entrepreneur
Innovative Business
Jury special award
Prizes
A tailored business programme in the UK will be organised for the winners. One winner will be announced from each category. The winners will be awarded with a 3 night business visit to London including:
one round-trip plane ticket from Istanbul to London
3 nights accommodation in London
consultancy services by accountants and lawyers on setting up in the UK, work visas and tax
sessions with Turkish companies recently established in London
briefing on opportunities in the UK by UKTI, and in London by London and Partners
networking opportunities with venture capitals and entrepreneurship ecosystem in the UK
London city tour
free membership from Interlink for 3 months to co-working space in London with 24/7 access; other competition participants can also benefit from an exclusive 20% off for 3 months if they sign up
Judging criteria
Applicants will be judged on the following criteria (% in bracket indicates portion of overall scores):
practical and profitable business idea, applicable to the UK market (25%)
potential and convincing interest for the business to be established and to succeed in the UK (25%)
quality of information supporting the business idea - e.g. in-depth analysis and research on the market (20%)
actual or projected returns and potential for growth (20%)
readiness of the business to launch in UK (10%: companies that are planning to launch in UK in short term will be ranked higher)
Applying for UKTI's Turkey scale-up competition
Applications will be open until 31 January 2016.
Timings
The applications will be closed on 24 January 2016 at 00.00, midnight.
The Grand Jury will meet on the second week of February 2016 and select the 5 winner companies as winners of the 5 categories (date to be announced).
One winner will be announced from each category at an event to be announced in March 2016.
Grand jury
Winners will be selected by a panel of judges. The jury will include:
İhsan Elgin, Founding Director, Fit Startup Factory
Tansu Yeğen, Vice President, Samsung Electronics Turkey
Erdoğan Çeşmeli, Executive Director for Strategic Investments, GE Turkey
Ali Sabancı, CEO, Pegasus Airlines
Cenk Bayrakdar, Managing Director, Revo Capital
Ayşecan Özyeğin, Board Member, FIBA Holding
Soner Canko, CEO, BKM
Tayfun Uğur, Board Member, British Chamber of Commerce of Turkey
Leigh Turner, HM Consul General and Director General UK Trade and Investment (UKTI) Turkey, Central Asia and South Caucasus, CMG
Daniel King, Head of High Growth and Emerging Market, Inward Investment Global Operations, UKTI
Last year's competition
The GREAT Startup Competition received more than 180 applications in 3 months. The winners were chosen based on a detailed evaluation process.
Watch our video on last year's GREAT start up competition.
GREAT Startup Awards Turkey: winners
Contact
Published 20 June 2014
Last updated 6 January 2016
+ show all updates
Details of 2016 jury added.

Details of new competition.

Details of the winners have been added.

Removed application link as booking closed.

Vidoe link added.

Change in date of announcement of winners.

First published.