Guidance
DVSA earned recognition: become an authorised audit provider
How to apply to become an authorised audit provider for the Driver and Vehicle Standards Agency (DVSA) earned recognition scheme.
What is DVSA earned recognition
Driver and Vehicle Standards Agency (DVSA) earned recognition is a new way for vehicle operators to prove they meet driver and vehicle standards.
This means that they're:
continuously monitoring their own compliance
using DVSA-validated IT systems
compliant with road safety standards
It's a voluntary scheme for operators of all sizes.
How it works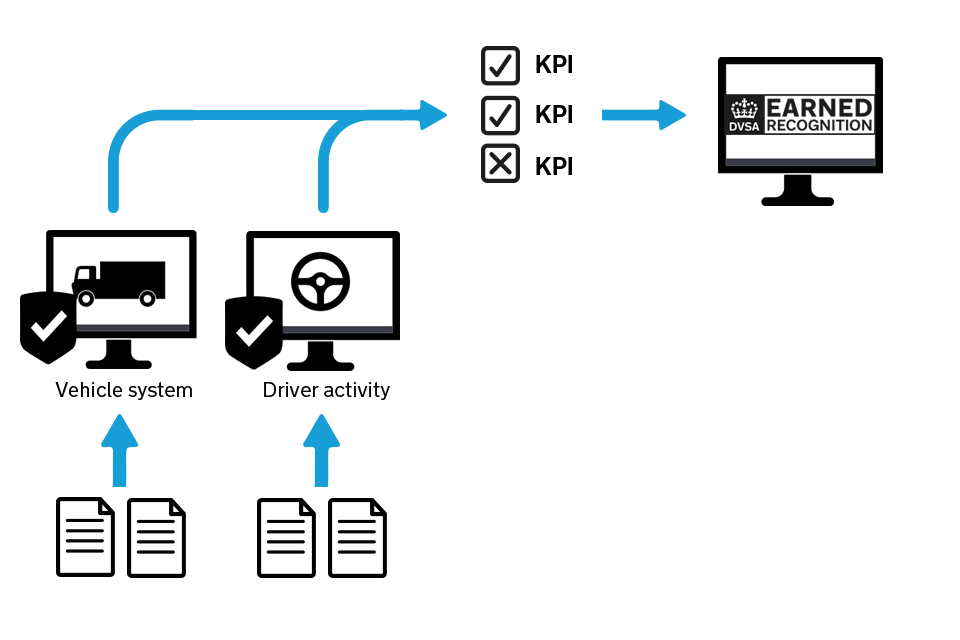 IT systems
Operators need to have digital monitoring systems for vehicle maintenance and drivers' hours. These check if they're meeting a set of key performance indicators (KPIs).
Every 4 weeks, these systems tell DVSA if they've missed any of the KPIs by a set amount. If this happens, DVSA will work with them to fix any problems.
DVSA will not have direct access to any of their data or systems.
Audit
Operators need to have an audit of their systems and processes by a DVSA-authorised audit provider:
when their application to join the scheme has been reviewed
every 2 years after that
If a concession's been granted, they'll need an audit covering the appropriate section every year, up to April 2021.
Apply to become an authorised audit provider
Eligibility
You'll need to meet the criteria stated in the:
DVSA will authorise either an individual or organisation to carry out auditing on their behalf.
You'll need to show:
high standards of professionalism
expert knowledge of transport, and operator licensing
that you have certain qualifications and competencies
You must also either:
have a recognised quality management system in place, such as ISO 9001
be able to show that you're working towards a management system - which must be in place within 12 months of authorisation
The application process
DVSA earned recognition audit provider authorisation process (PDF, 92.4KB, 1 page)
To become a DVSA authorised audit provider, you'll first need to fill out the Application form (PDF, 616KB, 6 pages)
You must:
complete the application in full
include a portfolio of evidence showing that you've met the standards and criteria detailed in the code of practise and the terms and conditions
Any missing information will mean the application is delayed or rejected.
Portfolio of evidence
The portfolio must include:
copies of all the required training certificates
quality management certification or evidence you're working towards it
It must also include the:
audit standards
audit report
complaints procedure documentation
You also need to show that your audit document is aligned across all the:
compliance modules
performance criteria
assessment requirements
You should provide evidence of the recruitment and monitoring process for auditors working on your behalf, including:
management of certificate of professional competence (CPC)
updated qualifications
details of relevant two years' experience
Remember to include:
an example of the contract you ask operators to sign
a copy your complaints procedure for DVSA earned recognition operators
Audit standards
Your application and portfolio of evidence must show that the audit standards proposed by you meet the:
This is to make sure DVSA earned recognition standards are applied consistently.
Third-party audit standards may be wider than earned recognition. It must be clear from the audit documentation:
what the extra standards are
that these wouldn't be compulsory for entry into the DVSA earned recognition scheme
The audit documentation must contain enough detail to allow the DVSA scheme manager to understand the:
nature
results
conclusion of the work performed
It should include a summary page showing:
the applicant's details, including all legal entities and operator licences
your details
the dates of audit and any further verification checks
the outcome of the initial audit
details of any improvement plan
evidence of verification checks
the final outcome
Your audit documentation must also be able to fulfil and show the following:
compliance modules, performance criteria and assessment requirements
auditor evidence to support the assessment result for each performance criteria - this can include:

copies of operator documentation
system printouts and auditor reference to actual systems
documents and procedures seen

non-compliance with the statutory requirements for the operator licence identified
feedback provided to the operator for any non-compliance
the outcome of the systems audit stating whether the standards have been met
dated signatures for the auditor, transport manager/ responsible person and operator: these can be electronic but must be verifiable
complete, original signed copies for the operator, DVSA and the audit provider
quality control reviews and inspections can be conducted
What happens next
After you've submitted a completed application and supporting evidence, you'll receive confirmation of conditional acceptance as an earned recognition authorised audit provider.
You'll also be published on the list of authorised audit providers on GOV.UK.
The scheme manager will then arrange to carry out an on-site quality assurance check of the first earned recognition audit carried out by your senior auditor.
DVSA will tell you when you can carry out the initial audit. This will be when the operator applying for earned recognition has passed the application review stage.
It should be:
arranged within 14 days
carried out within 6 weeks, unless otherwise agreed by the scheme manager
Final authorisation will not be granted unless you can show all the standards and requirements are met.
If the audit process doesn't meet the earned recognition standard, the DVSA representative will decide instead whether the operator being audited has met the DVSA audit standard.
You'll receive feedback from the DVSA representative and discuss the next steps for your application.
What happens during an audit
Using audit documents accepted by DVSA, you'll have to follow standards defined in the authorised auditor :
code of practice
terms and conditions
DVSA will confirm to you when:
an audit can take place
the date by which the audit documentation must be returned
They may also inform you of:
any conditions on an operator's licence you need to be aware of
any particular location you should attend
specific documentation to check at audit
To prevent any delay the operator must have all the required evidence available at the time of the audit. An operator's systems must meet the audit standards referred to in the:
Within 10 days of completion of the audit, you'll need to send the report and any documentary evidence to the DVSA for review and a decision.
The operator will not be informed of the result of the audit at the time it's carried out.
If they fail to meet the standards on initial audit the application may be rejected.
But, where issues can be corrected within a month, they'll be given the opportunity to do so. They'll need to provide the necessary evidence to the scheme manager who will then decide whether to grant accreditation.
If issues cannot be resolved within a month, the operator will need to submit a further application if they want to be accepted into the scheme.
Application periods
Operators will be allowed to apply for earned recognition status at any time. But their applications will be processed in batches quarterly on the following dates:
1 January
1 April
1 July
1 October
Any application received after these dates will be processed in the next period
An audit can be carried out either up to three months:
before the processing date
after the application's been received
Example
An operator decides they want to submit their application for the 1 July processing date. The audit can be carried out in advance from 2 April until 30 June but the application must be received by 1 July.
After DVSA have reviewed the application, they may ask for more checks to be carried out. Or, if the application fails to meet the necessary requirements, it may be rejected.
Improvement plans
If an operator fails to meet the required standards and you think the standards can be met within the application period, an improvement plan can be agreed with the operator.
It's important that the code of practice is followed. There should be independence between the audit process and any support, other than feedback, given to the operator to meet the required standards.
A further audit may be needed if documentary evidence is insufficient.
The audit summary page should include:
the reasons why the standards weren't met
the evidence showing they've now been met
Periodic audit
A periodic audit must be carried out every two years to make sure earned recognition standards are being maintained.
If the operator fails a periodic audit on minor issues - which can be fixed within 3 months - the accreditation will continue.
But, if there's a significant failure of standards, the operator will receive:
feedback
an action plan
a time schedule agreed with the scheme manager to bring the standards to an acceptable level
If the operator doesn't achieve this, they may be removed from the earned recognition scheme at the discretion of the scheme manager.
DVSA earned recognition: conducting an audit (PDF, 139KB, 1 page)
Quality assurance
Initial audit
DVSA will carry out a quality assurance check of the first earned recognition audit carried out by the senior auditor from your organisation.
This will be on-site and include an assessment of the:
audit documentation
systems audit process
It's to make sure standards are set at the correct level and consistent across all authorised audit providers.
During this check, your senior auditor will be able to show that a process exists to prevent any conflict of interest in the relationship between you and the operator.
Any decisions or observations identified during the audit that show the operator meeting the correct level of compliance must be:
fully justified
sufficiently explained
fully documented in the audit report form
Your auditor must provide enough objective evidence to justify their conclusion
They will need to:
show independence
be able to provide an impartial and considered audit report
The quality assurance check will report any potential threat to the independence of the audit.
The audit must be applicable to the operation and should be conducted at a level that is relevant to the:
operating system
number of operating centres
fleet size
You'll need to provide evidence that the location or locations used provide a comprehensive audit that satisfactorily measures DVSA earned recognition standards.
Audits must:
be carried out in a systematic and appropriate manner
provide a level of sampling that ensures an informed judgement
give an accurate measurement of the operator standards
During the audit process your auditor should:
ask open and probing questions
observe and record positive and negative reactions
They should physically check policy and process documentation as well as availability.
The quality assurance checks will look for:
a systematic process
audits conducted in an appropriate manner
sampling carried out effectively, including directed checks
DVSA will not grant final approval unless your auditor can show all the standards and requirements are met.
Periodic checks
To make sure the quality standard is maintained, DVSA will carry out:
periodic checks of audit documentation
on-site quality assurance checks as required by the scheme manager
At least one auditor assessment will be carried out every year when conducting an earned recognition audit.
Removing authorised audit provider status
The scheme manager may reject an application or remove the status to be an authorised audit provider if:
you or your auditors do not meet the responsibilities detailed in the Terms and conditions (PDF, 1.19MB, 6 pages)

you or your auditors aren't following the Code of practice (PDF, 1.18MB, 5 pages)

you fail to maintain the required audit standards or competence qualification and quality management systems accreditation

you're involved in or linked to anything likely to damage the reputation of the DVSA earned recognition scheme
How to complain about being rejected or removed from authorised audit status
If your application or authorised status is rejected or removed, you'll receive written notification from DVSA within 14 days detailing the reasons why.
You'll then have 14 days to respond in writing to the decision, detailing any facts or circumstances you want DVSA to take into account in reconsidering your status.
A DVSA corporate senior leader will look at your appeal and decide whether:
DVSA's action has been proportionate and reasonable
to uphold the decision of the scheme manager
If you're not satisfied with the response you can email corporatereputation@dvsa.gov.uk.
Published 24 April 2018
Last updated 9 January 2019
+ show all updates
A new version of the application form has been added.
First published.