Guidance
Digital Skills Partnership
This partnership aims to improve digital skills for people and organisations. Find out more about its work and how your organisation can get involved.
The Digital Skills Partnership (DSP) brings together public, private and charity sector organisations to help increase the digital capability of individuals and organisations in England. It's work extends from a commitment within the UK Digital Strategy which sets out government's ambition to create a world-leading digital economy that works for everyone.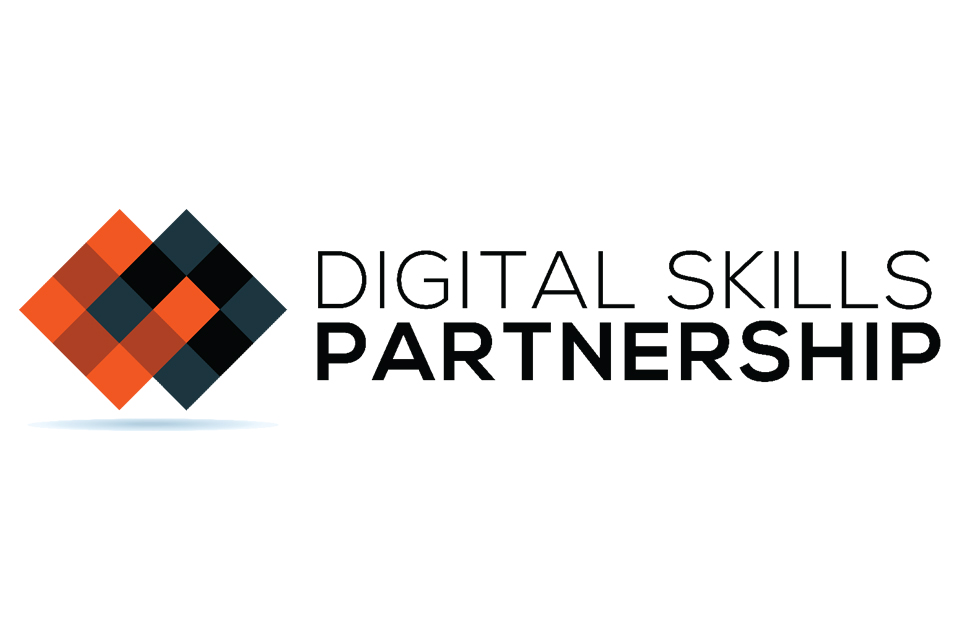 The aim of the DSP is ambitious: to improve digital capability across the whole skills spectrum - from the essential skills that help reduce digital exclusion, to the skills workers need in an increasingly digital economy, and through to the advanced skills required for specialist roles.
DSP Delivery Groups
To meet these challenges, the DSP has set up cross-sector Delivery Groups to tackle 4 priorities:
Increase the national coherence of digital skills provision. Develop tools that will help local and national organisations to identify the digital skills needs of the current and future workforce and support individuals and organisations to identify and access relevant training opportunities.
Support the development of Local Digital Skills Partnerships in English regions that can help to deliver targeted digital skills training for local communities and economies with local and national partners. Monitor and evaluate the benefit of their digital skills programmes and create a 'playbook' for sharing best practice.
Increase digital enterprise by helping small businesses and charities upskill their employees and increase their digital capabilities so they can take advantage of the productivity gains that technology provides.
Support computing in schools by convening industry and other partners to ensure that teachers have the knowledge and skills to teach the new world-leading computing curriculum effectively.
How to support the Digital Skills Partnership
Register your interest in joining the DSP and/or its Delivery Groups.
Local Digital Skills Partnerships
The first two Local Digital Skills Partnership (LDSP) pilots have been established in Lancashire and the Heart of the South West (HOSW) to tackle local digital skills challenges and build thriving and inclusive local economies. Find out more about how you can join them by contacting:
A third Local DSP will launch in the West Midlands Combined Authority in December 2018. DCMS has invited all other Local Enterprise Partnerships and Mayoral Combined Authorities to submit Expressions of Interest to form a Local DSP pilot. A further three will be selected by April 2019.
A draft version of the Local DSP Playbook has been created as a central resource for examples of the practice, tools and data that will help regions to establish and run a successful Local DSP. The playbook is open for contributions from individuals and organisations that can share experience and evidence of what works - and what doesn't work - in improving digital capability. Am updated version will launch in 2019.
Digital Skills Innovation Fund
Local Enterprise Partnerships (LEPs) and Combined Authorities can now bid for grants as part of a new £1 million Digital Skills Innovation Fund for initiatives which specifically aim to help people take up digital roles. Find out more and and read the application guidance.
Find out more about the work of the DSP
Published 19 October 2018