Working in partnership to shape future plans and benefits
Your voice matters
We have now started a process to find a site for a Geological Disposal Facility (GDF) for radioactive waste in the UK.
Communities will be right at the heart of the siting process for a GDF and a facility will be built where both a suitable site AND a willing community are selected.
This process is consent-based; communities will be able to work in partnership with us, so that people will have the opportunity to create a future that works for them.
How a GDF can benefit a community
The process of finding a site will take between 15 to 20 years. Then, only following a positive Test of Public Support and after the relevant permissions from the independent regulators have been obtained, can construction start.
As our commitment to interested communities, we will:
help cover costs for communities engaged in the process
invest up to £1 million per year in communities once a Community Partnership is formed
also, invest up to £2.5 million per year in communities where deep borehole investigations take place.
In addition:
there will be hundreds of well-paid jobs every year for over a century with further opportunities for the local supply chain
local projects will benefit from community investment funding and public facilities and infrastructure can be improved over the long term.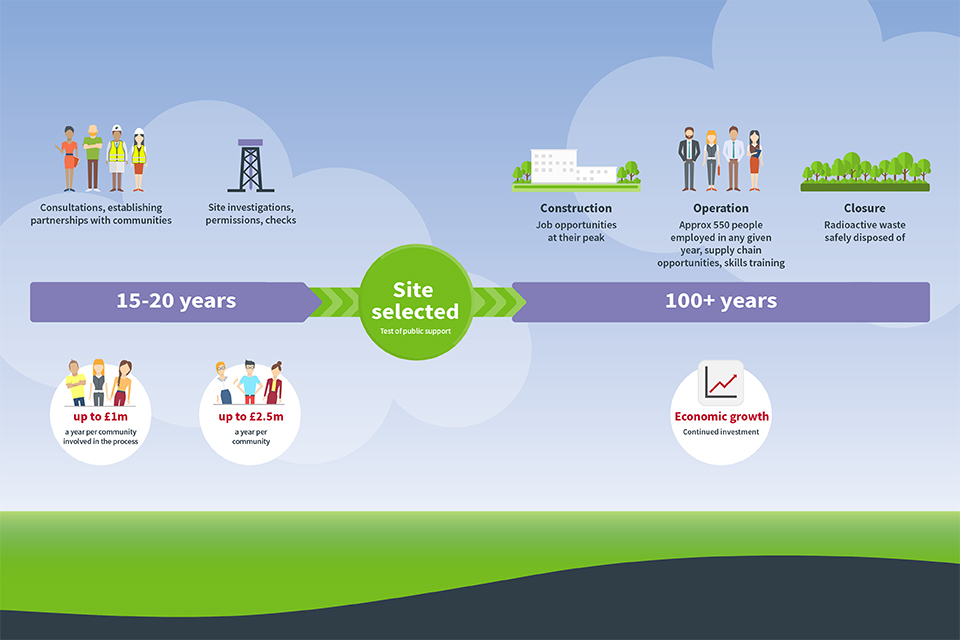 Join the conversation
We have produced an Introduction to Geological Disposal, which gives you an overview of our mission to deal with radioactive waste, and how it could support growth in a community.
To join in initial discussions with us, read our Community Guidance for more in-depth information on how to get involved.
You do not need to own land, or form a group, in order to open a discussion with us. These discussions are to enable anyone with an interest in the Siting Process to find out more and to decide whether or not they want to take their interest further.
To help those who may want to enter into discussions with us we have produced two Site Evaluation documents – one for England, and one for Wales.
The Site Evaluation documents have been designed to summarise, in plain and accessible terms, what we will need to consider during the siting process to ensure we can successfully investigate an area and subsequently, construct, operate and close a GDF.
We held a public consultation on how we will evaluate sites in England as part of our work on this important topic. This consultation has informed our final document:
All the documents for Welsh communities are also available in English.
The role of Government
In the UK, radioactive waste management is a devolved matter. This means that different Government policies may apply in England, Northern Ireland, Wales and Scotland.
UK Government policy applies in England. We must seek to identify sites for a GDF that are technically suitable, and have a local community that gives explicit support to proceed with development.
The Welsh Government has published its Working with Communities policy: 'Geological disposal of radioactive waste: Working with potential host communities'. The Welsh Government policy is similar, but not identical, to the policy BEIS published on 19 December and will reflect the needs and interests of communities in Wales.
The Northern Ireland Executive has responsibility for ensuring that any proposed Geological Disposal Facility (GDF) will not have an adverse impact upon the environment, health or safety of Northern Ireland. Whilst Northern Ireland recognises that it is in its best interests to support any mechanisms that ensure that these wastes are managed in the safest and most secure manner, any future policy decisions in relation to geological disposal in Northern Ireland would be a matter for the Northern Ireland Executive, which is currently suspended.
Scottish policy does not include geological disposal. The Scottish Government published its Implementation Strategy for Scotland's policy on higher activity radioactive waste following consultation in 2016.
Our role
Radioactive Waste Management Ltd (RWM) is a subsidiary of the Nuclear Decommissioning Authority (NDA). At RWM, we draw on over 30 years of experience in carrying out scientific research and development in geological disposal.
One of our roles is to bring about a permanent, safe solution to manage the UK's higher-activity radioactive waste. It is our responsibility to implement geological disposal and provide long-term radioactive waste management solutions. Communities are at the heart of what we do.
Contact us
If you want to learn more about GDF and the role of communities in the siting process, please get in touch by emailing gdfenquiries@nda.gov.uk and one of our team will get back to you.
Published 25 January 2018
Last updated 18 February 2020
+ show all updates
Page updated to include: Site Evaluation documents summary and the final Site Evaluation document.

Added translation

Broken links are fixed

Following publication of the policy by the Department for Business, Energy and Industrial Strategy, Radioactive Waste Management (RWM) now begins the search for a willing host community and a suitable site to construct a Geological Disposal Facility (GDF). The edit includes new information for the general public.

Added translation