Guidance
Fast Track Apprenticeship: Commercial
The Commercial profession buys goods and services for government.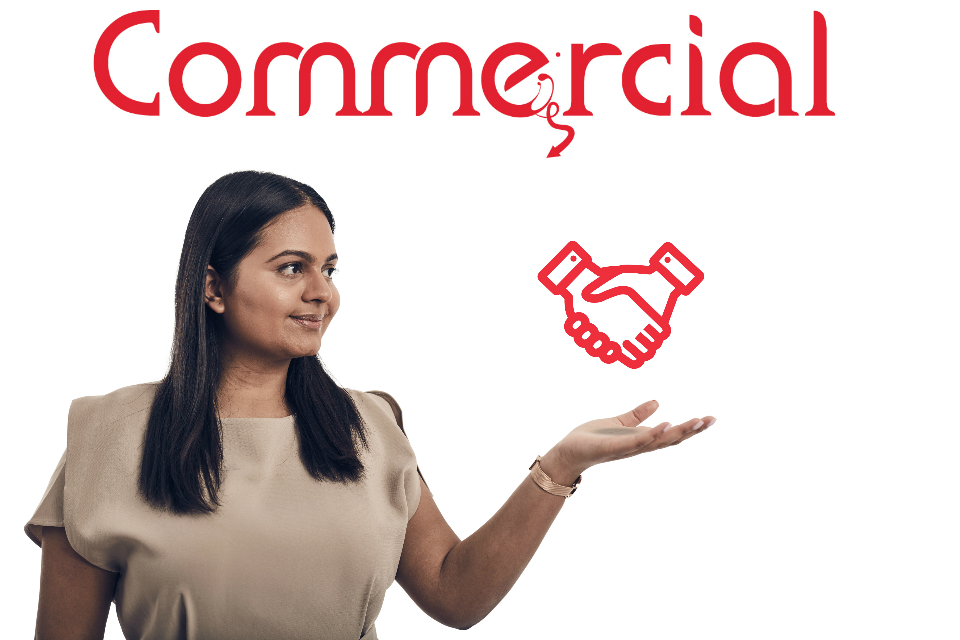 As a commercial apprentice you will develop specialist skills that are increasingly valued by employers across all sectors. These skills are especially important in the public sector with the government spending over £240 billion across the economy every year.
Improving commercial skills is one of the Civil Service's highest priorities so you'll receive plenty of support as you develop your abilities and build your professional networks.
Whilst working toward your diploma you will enjoy a wide range of roles that focus on the Governments buying of goods and services.
The Commercial Fast Track Apprenticeship is a two-year Level 4 higher apprenticeship with a salary between £19,500 and £27,000 (£22,000 minimum in London). It is a permanent position within a Government department.
Follow a day in the life of Emma, a Commercial Fast Track Apprentice in this video.
Civil Service Fast Track: Commercial
What you'll do
Examples of what your role could include:
helping departments to source and purchase new I.T. systems
assisting with rail and other infrastructure projects
improving value for money through effective contract management and negotiation
What you'll learn
You'll work towards a Level 4 Diploma with the Chartered Institute of Procurement & Supply.
The qualification takes around 14 to 18 months to complete and is made up of 5 modules over this period. You'll have tutored learning sessions and lots of individual and peer-learning resources for this exam-based qualification.
Some study leave will be made available but there will be a requirement to undertake some study in your own time. This is particularly the case around exam periods.
You'll receive coaching to ensure you're on track to develop the skills and knowledge required to complete the apprenticeship and build your fantastic career upon completion of the scheme.
Where you'll work
In 2018, the Commercial Fast Track Apprenticeship roles will be available in the following locations:
Coventry
Leeds
Liverpool/Bootle/Netherton
London
Manchester/Salford
Newport
Norwich
Sheffield.
Depending on which location you choose, you could be working in the following government departments or agencies:
Crown Commercial Service
Ministry of Justice
Department for Transport
HM Revenue & Customs
Department for Work and Pensions
Foreign and Commonwealth Office
Department of Health
Department for Education
Environment Agency
Public Health England
Rural Payments Agency.
What we're looking for
We would like you to have:
a willingness to learn negotiation skills on-the-job
excellent problem-solving skills
an inquisitive mind – you should enjoy finding creative solutions to problems
a desire to provide great customer service.
Entry requirements
You'll need 5 GCSEs, grade C and above, or the new grade 4 and above, including English Language and Maths, or equivalent. (Or expect to have these qualifications by 31 August 2018.)
You'll also need to check you meet the general entry requirements, such as age, nationality and residency.
After your apprenticeship
Commercial skills are sought after in both the public and private sector. The knowledge you'll have acquired on the apprenticeship will open up many career opportunities for you. Your Department will also provide on going support for your development after the scheme.
Once you've successfully completed your apprenticeship, you'll also be able to apply without a degree for the Fast Stream. This is the Civil Service's graduate development programme which prepares participants for leadership roles within the organisation.
Applications are now closed
Published 5 January 2017
Last updated 20 February 2017
+ show all updates
Link to application process now live.
First published.