I'm delighted to be here this morning. The World Travel Market is one of the premier events in the travel and tourism calendar, and it's being…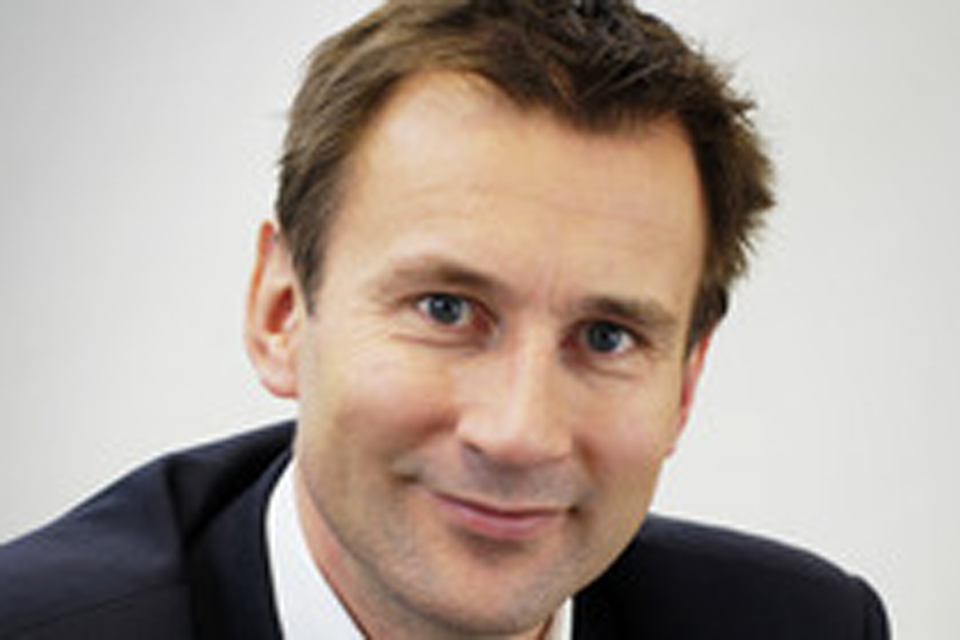 I'm delighted to be here this morning. The World Travel Market is one of the premier events in the travel and tourism calendar, and it's being held at a most critical time for the industry.
As you heard from James, inspiration is the essence of any Olympic year, and it will certainly be the watchword for UK tourism in 2012.
A Government that 'gets' tourism
The Games offer us a unique chance to show just how valuable the global tourism can be to the global economy - and, yes, to issues of world concern, like sustainability, climate change and poverty that are rightly at the front of people's minds today.
And to make the most of this special year, we know the tourism sector needs Government on their side.
That's why in John Penrose, we've got a dedicated tourism minister - the first ever in the UK - though I appreciate we are playing catch up with what many other countries have done so well in term of looking after the industry's interests.
It's also why we've got a new tourism strategy: a new way of doing business, curbing bureaucracy, creating a more nimble, bottom-up, industry-led way of working for the digital age.
And it's why we're now getting our teeth into more than 60 regulations holding back the hospitality sector - from simplifying licensing, to scrapping rules on where you need to place no smoking signs.
Securing growth
Now I'm not saying we've cracked every issue just yet. But we are listening and we are responding - and we're doing this because we know that a strong UK economy depends upon a strong UK tourism sector.
It is already our fifth biggest industry, and it could become one of our fastest-growing sectors over the next ten years, supporting as many as 3 million jobs by 2020.
And Fiona's right to say that unlocking the huge markets of India and China is key. Forecasts tell us the number of visits from China alone could triple in the next decade.
We're seeing the signs of this already. Visitors from China were up almost a quarter in 2010, and in the first eight months of this year numbers have risen again by a third.
Let's remember the average Chinese visitor spends about three times more than the typical visitor whilst they're here - our Chinese friends love to shop, and we provide plenty of opportunities in Britain for them to do just that!
The changing market for tourism
So the opportunity is there, the potential is there - but so is the challenge too.
As Fiona says, events in Thailand and Egypt shows us that global tourism markets are fragile in the face of natural disaster or political upheaval - though as we see from outbound tourism in Japan, they can also be amazingly resilient.
In the UK, our tourism industry isn't free from its own problems, but there are encouraging signs:
visits to the UK from overseas residents are up 7% in the second quarter of 2011;
Tourist spend per visit is 3% higher in the year up to August;
And domestic visitor spend in the first 6 months is also up 10% on 2010.
In the last year, the UK has also risen to third in the Nations Brand Index.
It shows improving global recognition of our charms and our strengths as a tourism destination, and it's something that should give us real confidence as we look forward.
The Olympic challenge
And next year does represent an extraordinary chance to push on. Never again will the UK hold such a sustained and inspirational sequence of world class events.
The Diamond Jubilee in June, building on this year's Royal Wedding - a fantastic moment of national celebration.
The great London 2012 Festival - more than a thousand events planned around the country, from music and pyrotechnics on Lake Windermere to an epic peace symphony in Birmingham.
The Torch Relay - Britain's own fiesta moment, with eight thousand torchbearers carrying the Olympic flame to all parts of the UK during May, June and July.
And, then of course, the main event itself.  The 30th Olympic and Paralympic Games - the biggest sporting event in the world, coming to one of the greatest cities in the world.
The 'GREAT' campaign
So we have the highest hopes for next year. But we're also mindful of what Shakespeare said - about expectations being "the root of all heartache".
Previous Olympics, we know, haven't always been plain sailing when it comes to tourism benefits.
And if we want to buck the trend and defy the tourism dip that other Olympic hosts have experienced in the past then we need a clear plan.
Visit Britain has already launched its biggest ever marketing campaign to promote the UK across our key markets.
But I'm now pushing this even further, working with the Prime Minister, the Chancellor and other colleagues across Government, to put tourism at the heart of our growth ambitions.
The result is that tourism now takes centre stage in a much wider 'GREAT' campaign launched by the Prime Minister in New York a few weeks ago.
GREAT is a single, integrated campaign for all international-facing parts of the Government, allowing us to speak with one voice in promoting the UK as a place to visit, to live, to invest and to do business.
It's no small vote of confidence in the sector - and in the key role we think it will play in the UK recovery - that the lion share of the £39 million invested in the GREAT campaign will go to support Visit Britain's tourism activities.
The combined Visit Britain / GREAT campaign now has £127 million behind it.
It's being rolled out across our top priority markets, including as the emergent economies of China, India and Brazil, and it's expected to generate 4.6 million extra visitors, more than 2 billion in visitor spend and nearly 60,000 jobs over the next four years.
Domestic tourism - the 20.12% deal
Let's not forget too that this is the opportunity of a lifetime to support what has too often been a poor relation in tourism priorities - our domestic tourism industry.
Today, the route for the 2012 Torch Relay is announced: an 8,000 mile procession with 8,000 torchbearers featuring shows, events, festivals in every part of the country.
It really will be a great British celebration, a time for families and communities to come out and enjoy their own Olympic moment in their own country.
The relay will shine a light on Britain at its best - and it's therefore the perfect moment to promote holidays at home.
Our ambition is to get the same proportion of people holidaying in the UK as go abroad for their vacation.
This will drive Visit England's campaigns, and especially its new scheme offering a unique discount of 20.12%.
The campaign will run throughout next year, backed with heavy-weight TV advertising.
And I'm pleased that major names are already lining up behind it, with Bourne Leisure, Hoseasons Group, Superbreak, The Eden Project and the Coach Tourism Council among those already backing the scheme.
Over three years, we expect Visit England's campaign will generate 12,000 new jobs, £480 million of extra tourism spend and 5.3 million more nights away on short breaks.
World Tourism Summit
As much as 2012 will define the country, it will also define the reputation of the UK tourism industry. 
It serves as a test of how well we rise to the challenges and opportunities of an Olympic year. A test too, of our commitment to tourism as a global force for economic growth and increasing international understanding.
And so next year we will host a World Tourism Summit with Ministers from twenty of the world's top tourism destinations coming together to discuss the power of events.
It is a chance for Governments to come together to reflect on 2012; to learn from what we intend to achieve in the UK, and to encourage new ideas and new ways of looking at events tourism in the future.
Conclusion
It takes me to the point I started with - that as much as next year is about amazing sport and top class performances, it's also about inspiring a long term legacy.
It's very much in our hands to shape and influence what we take from 2012, and as a Government, we want to facilitate this and make sure next year is the best-ever Games for tourism.
The World Travel Market, as a forum for discovery, for new ideas, fresh connections and, yes, some magic and inspiration too, is another step on this journey.
So I hope you enjoy the event, I wish you every success for the year ahead, and it's now my great pleasure to formally declare World Travel Market 2011 open for business.
[Ends]
Published 7 November 2011