Women Reaching Women Conference
International Development Minister Stephen O'Brien's speech to the National Federation of Women's Institutes - Women Reaching Women Conference, Tuesday 12 April 2011.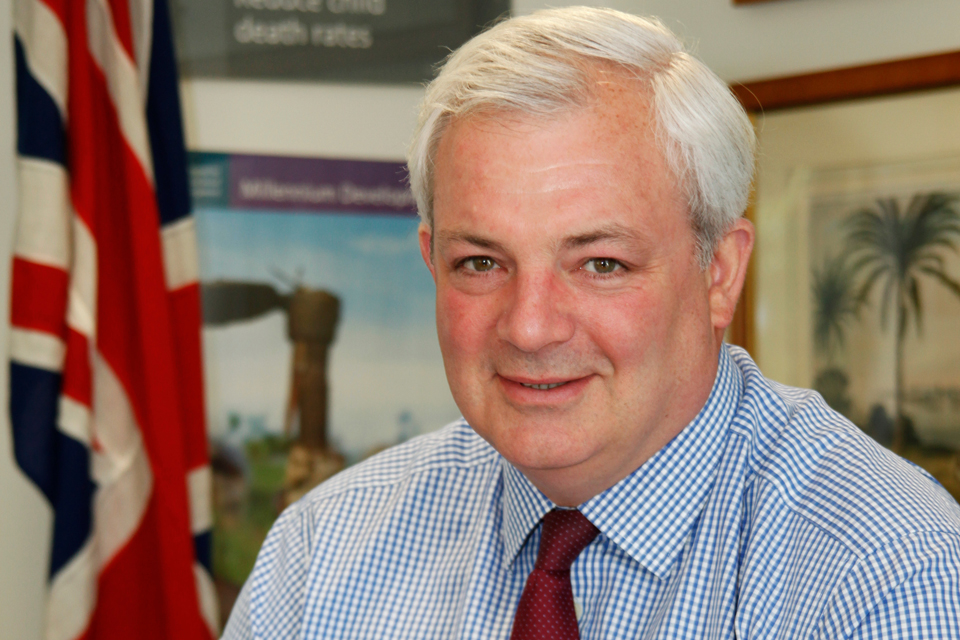 At a recent debate in the House of Commons to celebrate the centenary of International Women's Day, I was delighted to celebrate the great strides which have been made in the recognition and promotion of women's rights over the last one hundred years. 
Yet despite these advances we are still faced with enormous challenges. Every year over a third of a million women die from avoidable deaths in pregnancy and childbirth.  Globally, 10 million more girls are out of school than boys.  And as we face new and increasing challenges of climate change and the global financial crisis, it is girls and women in the poorest countries who are hit the hardest. 
Girls and women continue to bear the disproportionate burden of global poverty. Yet evidence shows us that investing in girls and women makes sound economic sense and is critical to achieving the MDGs. Better educated women earn more, have lower fertility rates and healthier children - benefiting girls and women themselves, their families, communities and economies.
We must seize each and every opportunity as it arises.  New opportunities such as the innovative use of mobile phones and the internet are now playing an important role in enabling girls and women to do business more efficiently, get the skills and information they need and hold decision makers to account. 
The creation of UN Women is an important step in enabling the international system to deliver for girls and women.  At the launch of UN Women on 24 February, the UK Government welcomed the agency and set out its high hopes for this new body.  We are already providing transitional support to make sure it gets off to the strongest possible start.
We are all part of the global Big Society and it is as much in our interests as it is our moral duty to get involved in tackling the tremendous challenges which face girls and women in developing countries.   I'm delighted that so many of you are doing this through participating in the Women Reaching Women project.
I know that many of you, in partnership with Oxfam and the Everyone Foundation, have been involved in developing learning resources and leading or taking part in training days. Crucially, you have also been learning what actions you can take to contribute to improving the lives of some of the world's poorest women, and sharing this knowledge with your communities. 
My Department has put girls and women at the front and centre of all of our business. On International Women's Day last month we launched a new Strategic Vision for Girls and Women to drive forward action that will bring transformational changes to the lives of girls and women in the poorest countries.  We've identified four areas where we want to see dramatic changes.  We are committed to:
Delaying first pregnancy and supporting safe child birth,
Getting girls through primary and secondary school,
Getting economic assets directly to girls and women, and 
Preventing violence against girls and women.  
In all of our work, we are giving new priority to adolescent girls.  We know that if girls have choice and control over decisions during adolescence, their life chances improve - they are better able to delay pregnancy and marriage, complete school and gain life skills.  This creates  a virtuous circle that helps to prevent the transmission of poverty from one generation to the next, driving lasting change within societies.
Tackling violence against girls and women is a top priority for us and for the whole of Whitehall. Here in DFID, we have produced a strategy for tackling this issue at home and abroad.  Meanwhile, the Prime Minister has appointed Lynne Featherstone as the Government's Ministerial Champion for Tackling Violence Against Girls and Women Overseas - an indication of our commitment at the highest levels to tackle this abhorrent human rights abuse. 
Our strategic vision also highlights our commitment to delay first pregnancy and support safe child birth.  I am pleased to receive copies of your Mum's Matter campaign petition. You can be sure of the coalition government commitment to improve maternal health. We are determined to tackle the scandal of women dying in childbirth.
In December last year, following the Millennium Development Goals Review Summit, we launched, a Framework for Results for improving reproductive, maternal and newborn health, called "Choices for women; Planned Pregnancies, Safe Births and Healthy Newborns".
The framework sets out how we will:
save the lives of at least 50,000 women during pregnancy and childbirth and 250,000 newborn babies by 2015
enable at least 10 million more women to use modern methods of family planning by 2015, including up to 1 million young women
prevent more than 5 million unintended pregnancies
support at least 2 million safe deliveries, ensuring long lasting improvements in quality maternity services, particularly for the poorest 40%.
We recognise that to achieve these results we also need to increase the power of girls and women to make informed choices and control the decisions that affect them. We need laws that protect their rights, and we need to increase the value given to girls and women by society and by the boys and men around them.  For example, in Uganda our support to the Centre for Domestic Violence Prevention has resulted in 1000 men joining together to prevent domestic violence through forming action groups to promote girls' and women's rights. 
We also need to work directly with girls and women to understand the difficulties they face.  DFID is working with the Nike Foundation, through an innovative partnership called the Girl Hub, to provide adolescent girls with a means to communicate what matters to them and to support decision makers and donors to do more for girls and to do it better. 
 In Rwanda, Nigeria and Ethiopia, the Girl Hub has undertaken research to learn more about girls' ambition and the realities of their lives.  This research is helping the Girl Hub in Ethiopia to work with the BBC World Service Trust to bring girls' stories to audiences across the country, and to build a national conversation about the issues faced by girls.
My Department will also work with all UK-funded multilateral organisations to step up progress for girls and women. And we will keep a close eye on the implementation of the European Union commitments on gender equality and women's empowerment in development.
How will we know when we've succeeded?  We will know we have succeeded when girls are routinely going to secondary school in the countries we're supporting.  When maternal mortality rates and the age at which adolescent girls and women first give birth are falling. When girls and women have access to economic assets, including land, and are able to make productive use of them.  When fewer women suffer violence.  And, most importantly, when women and girls themselves tell us that their lives have improved.
Published 12 April 2011