UK's 'strong and growing' economic relationship with Qatar
Foreign Office Minister Lord Howell spoke on the potential for strengthening economic cooperation with Qatar at a business event in London on 5 July.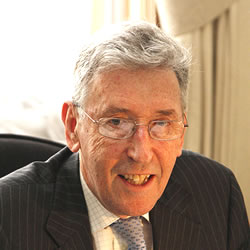 Mr Chairman, thank you for your excellent and comprehensive introduction to the enthusiasm, dynamism and potential of the Gulf region. Qatar is a country I know quite well having visited eight or nine times and having family connections there.
I am delighted that the British Government, through UK Trade & Investment, is supporting today's conference. I would like to thank MEED for the opportunity to address you today on the United Kingdom's very strong and growing economic relationship with the State of Qatar.
Infrastructure development is at the heart of our business relationship and is important for the future success of Qatar's fast-growing population and diversifying economy. The UK has real expertise and experience to share in this regard, and there is enormous potential not just for continued exports bur for stronger, detailed collaboration. I would like to start by sharing my thoughts on the UK's relationship with Qatar and the broader Gulf region.
Bilateral relationship
The thing that strikes me profoundly is how the relationship between the UK and Qatar has gone from strength to strength. We talk about oil and gas but are working together closely on many regional issues, including the implementation of UN Security Council Resolutions 1970 and 1973 on Libya.
Elsewhere, Qatar has demonstrated its role as an international mediator through hosting the Doha peace negotiations, aimed at brokering an agreement between the Government of Sudan and the various Darfur rebel groups, which I will debate in Parliament later today We welcome Qatar's commendable efforts towards achieving a comprehensive and inclusive peace settlement, and hope to see Qatar's continued involvement. This is invaluable, a small country is playing and big and growing role.
Over the last year there have been a record number of high level visits in both directions. The Prime Minister's visit to Doha in February conveyed this Government's commitment to the relationship, a commitment that has been matched by the State of Qatar. The highlight of this renewed relationship was undoubtedly the State Visit by His Highness the Emir and Her Highness, Sheikha Mozah bint Nasser Al Missnad last October. Looking forward there is much more we can do together to widen and strengthen our bilateral co-operation. I look forward to seeing new collaborations as this partnership develops.
What a staggering change there has been since I first visited Qatar over three decades ago. I remember a senior Qatari telling me how disappointed they were to have only gas, which nobody wanted, rather than oil.
Importance of trade and investment with Qatar and the broader Gulf
Building up our trade and investment relationships has been one of the government's foreign policy priorities since it took office last year. It is a core element of the drive to restore the British economy.
As a Government, we are determined to do all that we can to make Britain one of the best countries in the world for both inward investment and trade. We want to link ourselves more closely to the fastest growing and influential parts of the global economy - Gulf States are clearly on that list. Qatar is leading the way as one of the fastest growing economies in the world and the most competitive country in the Middle East & North Africa.
The UK exported £15 billion in goods to the region last year - accounting for 6 per cent of our total goods' exports. Exports of services were worth around a further £10 billion. That puts total UK trade with the Middle East & North Africa on a par with trade with India and China combined - a fact worth repeating.
Qatar is the UK's third largest export destination in the Gulf. Over the past five years, bilateral trade has increased by over 160% to £2.2 billion. Imports of Qatari goods increased by over 200% in the last year alone, driven by our growing demand for liquefied natural gas (LNG). We want to double bilateral trade with Qatar by 2015 and be Qatar's commercial partner of choice.
Qatar's rapid pace of growth is matched by its ambitious National Vision, which we all admire. An estimated $100 billion in infrastructure projects is currently planned or underway in Qatar across a range of sectors. British firms have the skills, technology and expertise to help realise them. Shell has led the way with the Pearl Gas To Liquids facility at Ras Laffan their largest investment ever, and which I believe is one of the largest hydrocarbon projects on the planet. HSBC are one of the UK's main investors in Qatar; Vodafone won Qatar's second telephone licence; the Williams F1 Technology Centre at the Qatar Science & Technology Park, itself a fantastic development, is the first of its kind outside Europe.
Other British companies such as Arup and Atkins are supporting the creation of the some of Qatar's most modern and innovative developments including Aspire Tower and Education City. British expertise in public private partnerships is also helping finance many major infrastructure projects. No-one who has visited the Pearl, as I did last year and recently, can fail to be impressed by Qatar's glittering place in the future.
Qatar's infrastructure investment has been felt more widely in the region and further afield. Consider the changes to London's City skyline as a result of the construction of new buildings like the Shard; and Qatar's investment in the South Hook LNG terminal, which is capable of supplying up to 20% of our gas needs. All of this underpins our own economic growth, social development and environmental management, as gas is a clean stepping-stone fuel
Qatar's efforts are evidently paying off. It has become a global gas superpower - producing 15% of the world's gas reserves with strong aspirations to realise the potential of green technologies - and will host the Middle East's first World Cup in 2022. World class companies are growing and becoming more influential - eager to develop new partnerships and to compete at a global level. You will hear more from these companies and the immense opportunities on offer over the next two days. I would like to touch briefly on a number of key opportunities which best match UK capability.
Key opportunities for the UK
Of most significance is the 2022 World Cup, which will require around $57billion in infrastructure development relating to stadia, rail, roads and accommodation. Hotel room capacity, which strikes me as amazingly effective in Doha, will need to quadruple to around 60,000.
The UK has a strong track record and unique expertise in organising and hosting major sporting events and developing world class sporting and related infrastructure. We are already playing a considered part. Foster & Partners designed the Lusail Iconic Stadium, the centrepiece of Qatar's World Cup bid incorporating new and green technologies. The Doha Showcase Stadium, constructed to demonstrate this technology, was designed by Arup Associates. HH The Emir saw the impressive work at London's Olympic Park during last year's state visit and I am pleased that some of you will have the same opportunity tomorrow.
2022 presents a unique opportunity to share our experience and expertise as fellow host nations - we are now 400 days away from the opening of the London 2012 games, and we are looking to finalise a MOU on host country cooperation with Qatar shortly. We have a great deal to share with you.
Qatar is planning to invest over $25 billion to develop its national and international rail network by 2026. The UK has world-class expertise in railway design, engineering, systems integration, operations, regulation and transport planning - using energy efficiency technologies. It is not surprising then that the UK's top 5 UK consultancies have been invited for prequalification (including Atkins and Arup, whom you will hear from over the course of the conference). Our specialists have worked on some of the biggest rail projects around the globe and are keen to help deliver these ambitious plans. We have a lot to offer on this front.
A major high-profile property redevelopment in the heart of Doha is Musheirib, which offers opportunities in construction, retail and logistics, environment and water. I have just had the pleasure of meeting the driving force behind this, who is with us today. This iconic project is seeking to deliver the world's first sustainable community and recreate the historic centre of Doha in a modern context with today's technologies. Three of the five major international design architectural firms who have been selected to implement the design phase of the project are from the UK, and Arup is serving as master development consultant.
The £4.2 billion Lusail project on the edge of Doha is another priority development which over the next 10-15 years will comprise sports and leisure facilities, services, residential and commercial districts for 200,000 residents. A number of UK architects and consultants have been involved in this landmark project
UK and Qatar also share a strong commitment to develop, modernise and expand our education and healthcare systems. These are sectors in which the UK has an outstanding reputation, in terms of policy reforms and delivery, R&D and technology transfer. Qatar's investment in social infrastructure also presents major opportunities across a broad spectrum - from engineers and architects and medical suppliers to those involved in training.
Our links in these areas are strong and growing. For example, a number of British schools and universities have established partnerships in Qatar, and UCL will become the first European university to establish a campus in Doha. We are keen to strengthen cooperation through a MOU to support Qatar's plans for education reform and development. A major health infrastructure project in Qatar is the $2.5 billion Sidra Medical and Research Centre, which is hoped will become a regional hub for medical research in addition to top quality healthcare and training.
Strengthening commercial cooperation
How should we - both Government and the private sector - be responding to all this, and indeed, doing better?
The Foreign Secretary set out his ambitious vision for UK foreign policy last July. Central to this was deepening relationships with the Gulf States in key sectors including areas I have already touched on. The FCO is now working closely with other Government Departments and key partners to build a more coordinated approach to relations between the UK and the GCC - and trade is a big part of this.
Last year's State Visit by HH The Emir of Qatar to the UK gave our bilateral relations the most enormous boost. The Prime Minister followed this up with his own visit to Qatar in February, in which the UK's Trade Minister Lord Green and over 30 UK CEOs, Chairmen and Vice-Chancellors participated. The Prime Minister has invited HH The Heir Apparent to the UK and Lord Green intends to lead another business delegation to Qatar soon.
Qatar continues to be a global priority of UK Trade & Investment. Qatari projects in UK Trade & Investment's high value opportunities programme are worth over £12 billion to the UK. I have already mentioned on a number of these opportunities.
The signing of a new MOU on Trade & Economic Cooperation with Qatar last year has given our commercial relationship further focus and strategic direction. Greater collaboration on infrastructure development is a shared priority and will be progressed through our new Trade & Investment Forum, which will support stronger business-to-business engagement, better target opportunities and match these to our strengths.
We are also expanding our current programme of business engagement and awareness-raising to ensure more UK and Gulf companies take advantage of all these opportunities. We will build on successful events to date, such as our High Growth Gulf Market roadshow across the UK coming up in September and our annual 'Britain in the Region' conference in Dubai in November. This conference will again link with the Big 5 Construction Exhibition and this year will incorporate a Gulf Infrastructure Conference. Big 5 is a key platform for UK companies to promote their capabilities
A number of trade missions to Qatar are planned to progress UK involvement in developing Qatar's infrastructure. Following a successful railway mission to Qatar last December, a follow-up mission is planned in November. In addition, a trade mission focussing on Musheirib and developing sustainable communities through green building, products and technologies is planned for January.
British companies are winning business in Qatar and are well placed to win more and we intend to do so. And the rewards are not just there for the bigger, established players. We want to see more and more British SMEs pulled into supply chains. At yesterday's Masterclass, a number of UK companies learned about the practicalities of doing business in Qatar and how UKTI can support them. I encourage you to visit UKTI's stand during the conference if you would like more information. There is plenty to be learnt.
Conclusion
In conclusion, the UK Government is strongly committed to fostering greater commercial engagement, partnerships and opportunities on infrastructure development with Qatar. And to push our relationship into new areas. I hope I have left no doubt in your mind about that. The opportunities for all concerned are immense. But we want UK business, institutions and academia to play their part.
The only sure route to success is to show continued commitment to a country that has huge and increasing potential; values its friendly and historic links with the UK; and maintains a strong desire to see that relationship develop further and profitably.
Thank you.
Published 5 July 2011