Speech
UK-India working together to counter extremism
The British Minister for Countering Extremism Baroness Williams delivered a speech at Observer Research Foundation conference on 'Tackling Insurgent Ideologies'.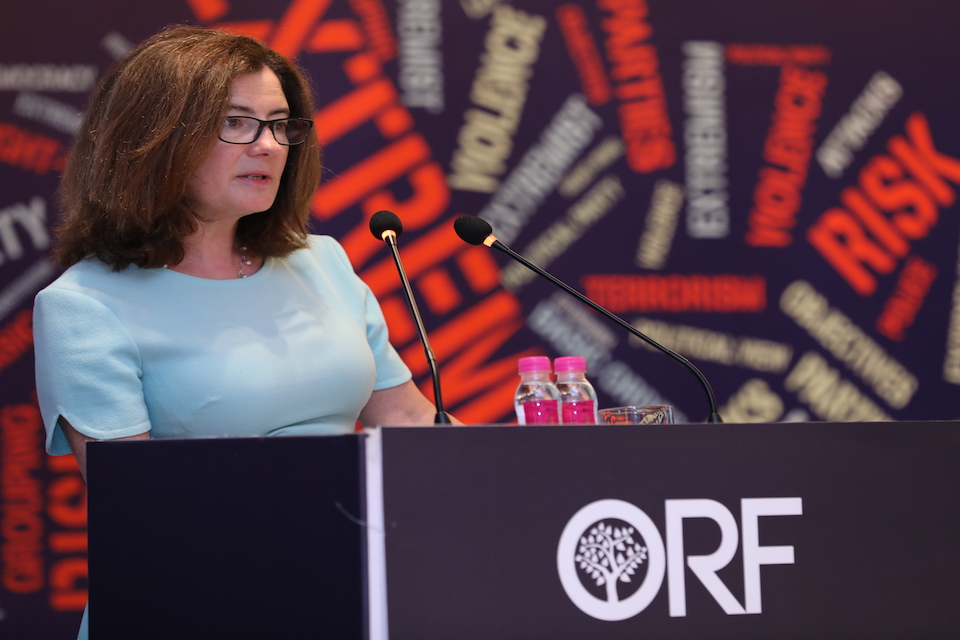 It's an honour to speak to the CVE community today, and so soon after Prime Minister Modi's visit to the UK in April. Going by yesterday's introductory sessions I'm sure we have a fascinating series of panels to look forward to.
I'd first like to start by reflecting on the strength and importance of the partnership between our two countries. We are bound together by personal, professional, cultural and institutional ties.
We have a shared interest in each other's prosperity, generating jobs, developing skills, and enhancing the competitiveness of the UK's and India's economies.
And our business links are strengthened by the people-to-people links between our countries – what we now describe as a 'Living Bridge'.
We both have a history of democracy, with India being the largest democracy in the world. We recognise that diversity and cohesion creates safer and prosperous societies.
These longstanding historical ties are of course also the foundation on which we cooperate on counter-terrorism and extremism issues.
And that's what I'm here to talk about today.
As the UK Government's Minister for Countering Extremism, I want to take this opportunity to look beyond counter-terrorism and instead focus on our approach to identifying and countering extremism in the UK.
I'll focus on three main areas:
What we mean by 'extremism' in the UK
The progress we've made towards tackling extremism since we published our Counter-Extremism Strategy in 2015; and
Finally, I want to talk about the importance of our shared work to counter-terrorism – the most harmful of all forms of extremism.
What we mean by 'extremism' and our strategic response
I can think of few issues that we face today which are more serious or important for society than tackling extremism.
But it's important that I'm clear from the very beginning: in the UK we do not consider extremism and terrorism as the same thing.
Of course extremists use narratives to tragically radicalise young Britons to join terrorist groups like Daesh. But radicalisation into terrorism is not the only harm of extremism.
Extremists also use their twisted narratives to justify hatred and division, spread intolerance, isolate communities and erode the rights of women and minorities.
Our strategy defines extremism as the vocal and active opposition to our fundamental values, including democracy, the rule of law, individual liberty and the mutual respect and tolerance of different faiths and beliefs.
Countering extremism is complex. We must balance the rights of individuals to practice a faith, or their right to have free speech. Law abiding campaigning and nationalism, like we've seen closer to home with Scottish nationalism for example, is acceptable in our democracy.
But, we will act decisively to disrupt extremist activity where our legal thresholds are broken and where individuals are crossing that line, whether that's by inciting hatred or violence.
The threat we face from extremists is unprecedented. The internet is enabling them to spread their ideologies at a pace and scale never seen before. It also gives them access into every family home.
Last year the Prime Minister, Theresa May, spoke about there being too much tolerance of extremism in the UK. This is still the case today; but it cannot continue.
Through our Counter-Extremism Strategy we're acting now to confront extremism and the extremists in our communities.
In Britain - as I'm sure is evident across all our nations represented here today - there are those who do not share our values of democracy, the rule of law, and mutual respect and tolerance of individuals of different faiths and beliefs.
As we heard yesterday at the opening session, extremism in all its forms is not something any Government can, or should, do alone.
At the heart of our Counter-Extremism Strategy is a partnership with all those opposed to extremism. We need the help of everyone: local partners, national partners, and international partners.
This conference provides an opportunity to share our experiences of what works in tackling extremism. I'm delighted to see such a broad range of attendees here, bringing together experts, practitioners, and officials from all over the globe. I look forward to hearing your lessons learnt over the coming days.
And in this spirit I'll start by setting out our approach to countering extremism in the UK.
In the UK our strategic approach is based around four pillars:
vigorously countering extremist ideology – making sure every part of government is taking action to confront extremist narratives that run contrary to our shared values

actively supporting mainstream voices - especially in our faith communities and civil society

disrupting the most harmful extremists - using all of the tools available to us and prosecuting those who break the law, and

building more cohesive communities - by tackling segregation and feelings of alienation which can provide fertile ground for extremist messages
Let me be clear, this is not about limiting free speech or about enforcing British values overseas. This strategy is about ensuring that individuals' freedoms, such as the right of women, or minorities, to take a full part in society, are protected.
It recognises that you don't have to support violence to subscribe to certain intolerant ideas which create a climate in which extremists can flourish.
Ideas which oppose basic liberal values such as democracy, freedom and sexual equality.
Ideas which actively promote discrimination, sectarianism and segregation.
Ideas which privilege one identity to the detriment of the rights and freedoms of others.
That's why our strategy takes a comprehensive approach to tackling the ideology of extremism – whether violent or non-violent, Islamist or far and extreme right wing.
And our strategy doesn't just consider extremism domestically.
It recognises that extremism needs to be tackled at source, which on many occasions can be traced overseas. Only through close cooperation with trusted allies and partners can we undermine the extremists who wish to do us all harm.
Our international work focuses on disrupting the "flows" of extremist individuals, money and ideologies, between the UK and overseas. We are working with international partners to tackle extremism, and as a result, building resilience and capacity overseas to address the drivers, narratives and enablers of extremism.
For example, we are working to support implementation of the United Nationals Secretary General's Action Plan for Preventing Violent Extremism, which frames what all UN member states and agencies are expected to do to tackle violent extremism.
The National Action Plan encourages a comprehensive approach, which goes beyond the essential security-based counter-terrorism measures by emphasising the important function of preventive steps to address the underlying conditions that drive individuals to radicalise and join violent extremist groups. Adopting such an approach will help drive concerted action across our international community.
The progress we've made towards tackling extremism since we published our strategy in 2015
I'll now touch on some of the key successes we've seen over the last two years.
As I said earlier, it is imperative that the effort to tackle extremism is not just driven by government, but by the whole of society. In Britain, we have developed a flagship Building a Stronger Britain Together Programme, which supports over 160 civil society groups with grants and in-kind support. Each one standing up to extremists in their communities.
This network listens to issues and experiences from the front line and helps us learn about innovative and effective local interventions.
For example, in Newcastle, in the North East of England we have worked with the city to break down barriers between communities and celebrate what we have in common.
This campaign, 'Together we are Stronger' highlights, through videos and social media, experiences of individuals such as Ally Ali, who moved to the city in 2012 from Somalia not being able to speak any English, and now coaches football at Newcastle United.
I met some of these individuals when I visited the city in March and the people I met taught me that whilst individuals may seek to divide us, or hold extremist views, Newcastle is a welcoming city that celebrates the contribution of all its different communities. The campaign, which will shortly be launching in other cities in the UK seeks to tackle divisive views by celebrating the diverse and inclusive spirit of the city.
We've also established a network of Community Coordinators to develop knowledge of extremism locally and identify and support groups challenging extremism in local areas.
I've had the opportunity to meet some of the groups and community co-ordinators that we work with closely and I'm continually struck by their passion, expertise and commitment to tackle extremism at the grass roots.
And later this year we will publish a refreshed Hate Crime Action Plan. This will set out what more the Government plans to do to tackle hate crime, including anti-Muslim hatred. Our refreshed Action Plan will build on the good work already underway.
We've already committed over £3 million of funding to protect places of worship which could be targeted in hate crime attacks.
And nearly 50 Islamic places of worship have received support.
But there is always more we can and must do.
To step up the fight against extremists, just this year we established a new independent Commission for Countering Extremism.
The Commission is crucial to bringing new drive and innovative thinking to all our efforts to tackle extremism. It will chart a new path and has a clear remit to support the Government to identify and confront extremist ideology in all its forms, whether Islamist or far and extreme right-wing, or violent and non-violent.
The importance of our shared work to counter terrorism – the most harmful of all forms of extremism
I touched on radicalisation and counter-terrorism, the most harmful of all forms of extremism.
No-one becomes a terrorist from a standing start. It starts with a process of radicalisation. When you look in detail at the backgrounds of those convicted of terrorist offences, it is clear that many of them were first influenced by what some would call non-violent extremists.
Just last week, the Home Secretary launched our new counter-terrorism strategy, recognising that the threat is evolving in the UK and globally.
A marked shift was demonstrated by the appalling attacks in London and Manchester in 2017, which cost the lives of 36 innocent people and changed the lives of many more. It prompted a fundamental review of the UK's counter terrorism strategy – CONTEST – to respond to the scale of the threat and the speed with which plots are now developing.
The result is a new more agile, flexible and coordinated approach designed to better prevent, detect and disrupt terrorist attacks, and where attacks get through, to limit the impact and recover swiftly.
Both of these strategies are cross cutting in their approaches.
And central to each of them is partnering with all those who share our values: at local, at national, and at international levels: between governments, agencies, the private sector and communities.
Conclusion
The next three days are a great opportunity for us all to reflect on the challenges we are facing in our own countries and abroad, share best practice, and establish how we can and must continue to work together to overcome them.
I will conclude by re-iterating that defeating extremism in all its forms is not something any government can, or should, do alone.
We need the help of everyone and that is why we are committed to working in partnership, together.
Together we will defeat the extremists and build a stronger more cohesive global community, for our children, our grandchildren, and for every generation to come.
Published 12 June 2018