Speech
"The sheer scale of the crisis facing the people of Yemen means that there can be no let up in our efforts."
Statement by Ambassador Matthew Rycroft, UK Permanent Representative to the United Nations, on Yemen in the UN Security Council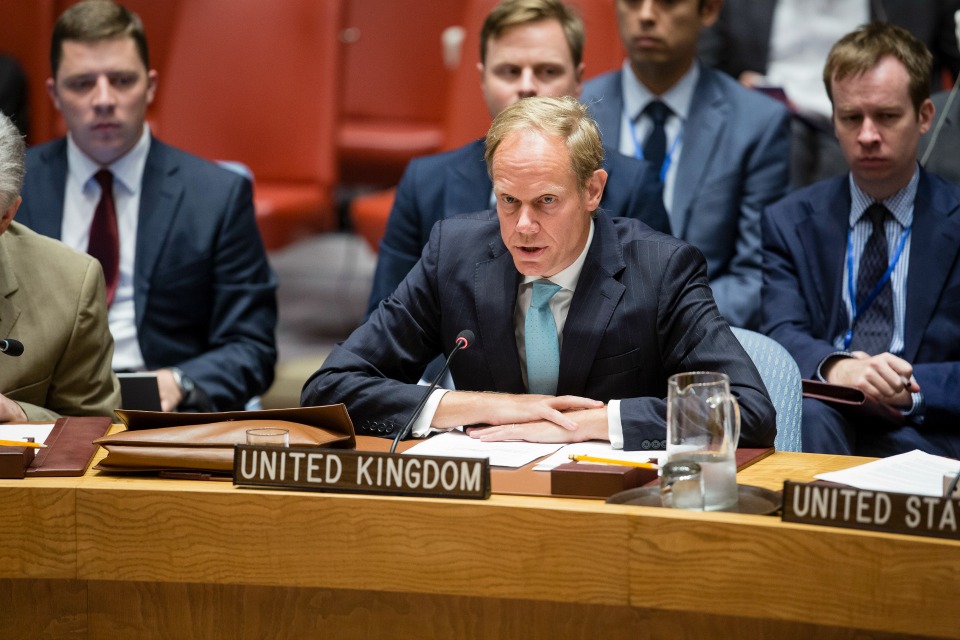 Thank you Mr President,
And thank you too, Ismail, Stephen and Muhammad, for your very powerful briefings. You are all doing vital work on this issue, and as Security Council penholder on Yemen, I want to reiterate in open session today our appreciation for your tireless efforts.
As you have all highlighted, the sheer scale of the crisis facing the people of Yemen means that there can be no let up in our efforts. It is a political crisis, a humanitarian crisis, a crisis where the violence simply won't end. As a result, civilians continue to suffer, with over 14 million people now food insecure and over 21 million people in need of humanitarian assistance. That is the tragic cost of the ongoing conflict in Yemen.
In response, we all know what needs to happen. First, the violence must stop. There needs to be an enduring, meaningful Cessation of Hostilities. I was proud of the UK's efforts to help secure a ceasefire earlier this month, but it is clear that three days is simply not enough. So we call on the parties to renew their commitment and implement an immediate, sustainable ceasefire.
In support of that goal, we also need to make sure that the De-escalation and Co-ordination Committee has the support, training and resources that it needs. The Committee is a crucial mechanism for building trust and addressing violations. If the Yemeni parties are serious about peace they should engage with it fully.
Sadly, any signs of de-escalation have been elusive of late. Only last week, a long range missile was fired from Saada into Saudi Arabia, reportedly at the King Abdulaziz International Airport, north of Jeddah. This attack by the Houthi and Saleh loyalists was provocative and unacceptable.
All sides need to show restraint. We were shocked and appalled by the terrible loss of life in the airstrikes on a funeral hall in Sana'a earlier this month. We immediately underlined our deep concerns at Ministerial level with the Saudi government.
Over 140 people died that day. Elbio has just spoken very powerfully about it, and I share his disappointment and his regret that this Security Council was unable to agree the draft press statement that the UK had circulated which would have strongly condemned that attack.
Despite this failure, the UK is clear that there must be accountability for that attack. The release of an initial investigation by the Coalition's Joint Incidents Assessment Team is a positive step towards this.
Stopping the violence, Mr President, is just the first step. And even that won't be enough to help the millions of people in need of assistance in Yemen.
Regardless of progress on the ceasefire, we also need to make concerted strides on improving the humanitarian situation.
At the General Assembly last month, the UK hosted an event which raised 100 million dollars for Yemen. Half of that money came from the UK itself. And the international community and UN agencies also committed to strengthening their response.
But money alone is never enough. It counts for very little in fact when aid can't get through. So let us call on the parties to take every step possible to improve humanitarian access so that we can help alleviate the suffering of the millions in need.
Ultimately, for all of this to be sustainable, the Cessation of Hostilities, the humanitarian access, we need the stability that comes only from a political process. And that requires compromise between the parties.
So, we welcome your presentation, Ismail, of the Road Map to the Yemeni parties. It sets out how that compromise can be achieved. It says clearly the security and political steps that the parties must take to reach a peaceful resolution.
While the path ahead on the political track has become clearer, it is still a path that has yet to be followed fully. We are disappointed by the continuing failure of the Houthis and Saleh to engage on the Sana'a Security Plan, in defiance of resolution 2216, and by President Hadi's public rejection of the Road Map. We hope he will now receive it, and engage on it in good faith. In fact, we call on all parties to engage in good faith with the Special Envoy and to return to negotiations on the basis of the Road Map and in a spirit of compromise.
As they do so, the Special Envoy will have the UK's full support for his efforts to bring the parties together. We take note of his requests just now for full Security Council support. And as penholder on this issue, we will continue to work on a draft Security Council resolution calling on all parties to do four things: one, return to an immediate Cessation of Hostilities; two, return to negotiations on the basis of the Road Map; three, bring about accountability for alleged breaches of international humanitarian law; and four, allow unhindered access for humanitarian aid. We pledge to continue working with our partners on this resolution in support of the UN Special Envoy and all his efforts on the Road Map, and on the Cessation of Hostilities, and ultimately, in bringing peace to Yemen.
Thank you.
Published 31 October 2016