Speech
The importance of intellectual property to innovation and trade
Baroness Neville-Rolfe talks about the importance of intellectual property at the 'Innovation is GREAT reception' in Singapore.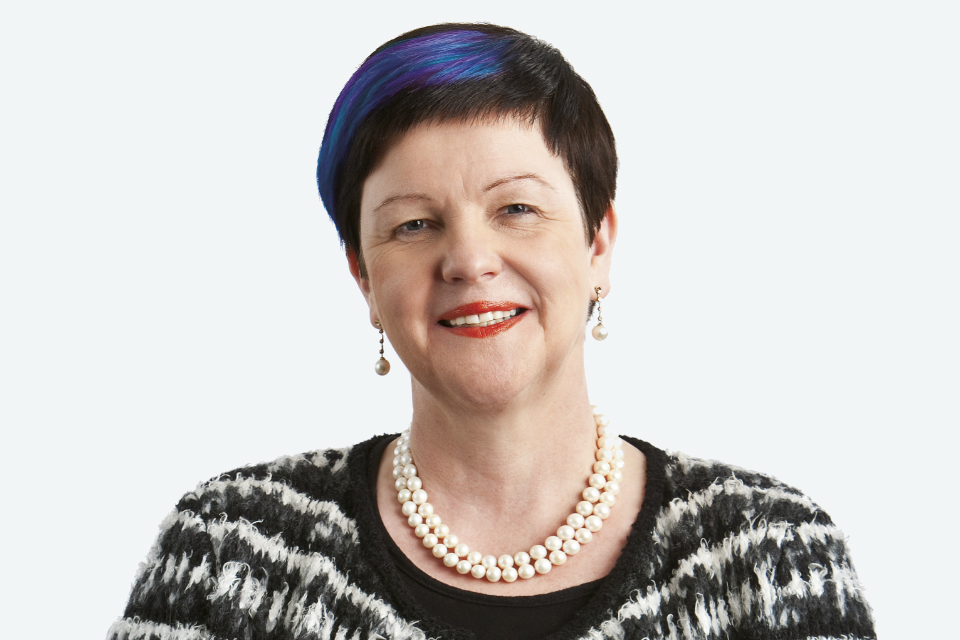 Denise Croze of WIPO Thank you. Your Excellency the High Commissioner, Ladies and Gentlemen. I want to talk this evening about the importance of Intellectual Property to innovation and to trade between the UK, the EU and Asia, SE Asia and Singapore.
I believe that innovation will continue to be a vital driver of global growth and economic prosperity. It will play a key part in helping us to address key challenges facing society. Using knowledge effectively enhances productivity, and welfare, and creates new global market opportunities.
The UK remains one of the world's leading innovators, second in last week's Global Innovation Index, to Switzerland, up from tenth in 2011. Singapore is at number 7 with some great strengths highlighted during our visit to AStar Fusion World today (22 September 2015).
The UK of course benefits from a long tradition in our universities and science base. As a result with less than 1% of the world's population, the UK produces 16% of top quality published research.
I believe that, innovation systems must be inter-connected and coherent. Governments must work in partnership with businesses and our innovation infrastructures must help growing businesses, and be supported through world-leading organisations such as the World Intellectual Property Organization and by national IP offices and accreditation institutes. And we need to provide practical help in key markets of the kind Christabel Koh (Co) our High Commission and UK Trade and Investment (UKTI) provide in Singapore.
We have seen an important shift in the source of wealth and business. The majority of business investment used to be in physical things like premises and machinery. Today business investment is increasingly in intangible goods: in ideas, in creativity and in digital innovation. There are also opportunities in the growth of global tourism and the importance of strong cultural identity - I am also a culture minister with a personal passion for art, gardening and sport. We have much in common spiritually and practically: the Barclays Asia Trophy (which was won by Arsenal), the recent opening of the Hamley's store (the oldest toy store in the world), and the strong links between Kew Gardens and the Singapore 'Gardens by the Bay' which I am visiting this evening.
And the UK has a particularly knowledge intensive economy. We invest almost half as much again on intangible assets, including IP, as on tangible assets - £127 billion on intangible assets in 2011, compared with £88 billion on tangible assets.
In Singapore your services sector contributes to over two-thirds of GDP, although manufacturing maintains a significant share of the total economy and intangible investment in Singapore is growing.
And the total brand value of the top 100 brands in Singapore is reported to be worth around US$40.2 billion in 2014. These include Singapore Airlines who brought me here seamlessly, Keppel in the construction and marine sectors, Singtel in telecoms and Frazer and Neave in beverages. That's impressive and makes IP very important and indeed it is why we signed a memorandum of understanding (MoU) between the Intellectual Property Office (IPO) and Intellectual Property Office of Singapore (IPOS) this afternoon.
Singapore is ranked as the most innovative country in Asia, and during my visit I have seen a strong commitment to the creation of the best possible conditions for innovation. Entrepreneurship and skills are also important and Singapore's high standing in terms of global competitiveness is impressive.
Singapore and the UK are natural partners in innovation. This was reflected in the announcement during the President's visit to the UK last year of the creation of a new Innovation and Research Partnership between our 2 countries and David Cameron's visit in July where he emphaised the importance of working together in the region on IP enforcement.
In July 2015 the UK government launched a wide ranging Productivity Plan and made a clear commitment to support business in creating the ideas that help them grow, focussing on innovation, growth and jobs. It included:
continued support for our universities and reform to our education system significant support for research and development including the internet of things which is helping to bring new products to market from 3D printing to driverless vehicles and advances in renewables through Innovate UK
a Challenger Businesses Programme to identify and address barriers to expansion for early-stage disruptive technologies
support for our network of Catapult centres - everything from digital to advanced manufacturing - bringing together businesses, scientists and engineers to ensure the UK is at the forefront of the commercialising technologies which offer global opportunities
The UK government is committed to making Britain the best place in Europe to innovate, to patent new ideas and start and grow a business. It is one of the reasons I am here. So much future growth will be found in knowledge intensive industries dependent on IP rights. I believe that a strong IP system is key to encouraging innovation, growth and jobs and I will be working with like-minded global partners, such as Singapore, to spread that message.
Thank you all for your time and your interest. I am not due to take questions but if there are things you would like to discuss please have a word with me or the delegation from the IPO, UKTI and the High Commission.
Published 22 September 2015