Speech
The Gulbenkian Inquiry into the Civic Role of Arts organisations
Minister of State for Digital and Culture Matt Hancock highlights the importance of philanthropic support for the arts.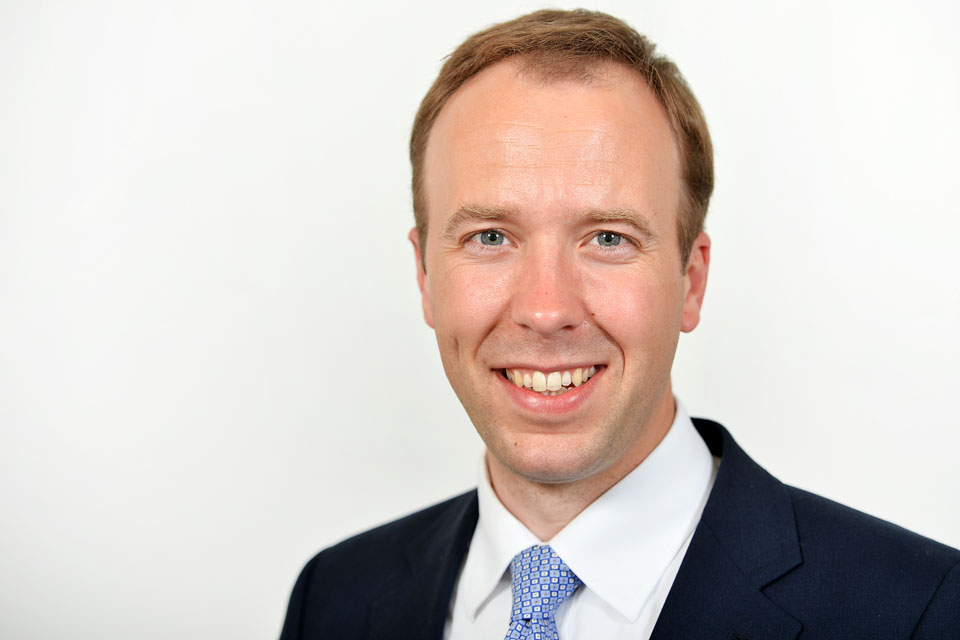 It is a pleasure to join you here today, as you look at the key findings from phase 1 of the inquiry into the civic role of arts organisations.
Sometimes - just sometimes, people refer to DCMS as the Department of Fun. It is well meant, I'm sure, but misses the point of our work to an absurd degree. Apart from the fact that the industries we represent are among the most successful the UK boasts, adding billions to our economy each year, and in terms of positive impact are probably the best ambassadors our country has, what we add to the quality of people's lives is impossible to overstate.
Let's never dismiss the worth of fun, but art and culture are about so much more than that. So I am delighted to turn my attention today to the civic role of arts organisations.
Or perhaps it would be better to say the civic roles, because the functions and the benefits of arts and culture are many and they are varied.
I'd like to focus on three key aspects today. Place making, participation and inclusivity. How arts and culture can help a town or city thrive, what engagement with those institutions gives to individuals, and how we make sure everybody benefits.
Place making
First, place making.
Arts and culture are essential to towns and cities - contributing significantly to both economic and social regeneration. Because, increasingly, people want to live, work and be at the heart of things. And that means near cinemas, near theatres, near galleries.
Proof of this regenerative power is plentiful in the UK.
Go to Margate, and see how the town is transforming thanks, in no small part, to the arrival of the Turner Contemporary and the arts scene it has encouraged. Not for nothing is Margate now known as Shoreditch on Sea. I say that as someone who happens to like Shoreditch.
Or go to Liverpool - now one of the most exciting, energised places to visit in the UK - thanks to a thriving cultural scene that includes the Tate and the newly refurbished Everyman.
Next year, I'd encourage you all to go to Hull where you'll see the regenerative power of culture taking place before your eyes, when it stands as the UK City of Culture. I've been up there to see how work is progressing - very well, I'm pleased to tell you - and the pride and optimism filling the city is palpable.
But you needn't rely on my impressions - the numbers speak for themselves.
It is estimated that being UK City of Culture will deliver a £60m boost to Hull in 2017 alone, and the city has seen more than one billion of investments since 2013, when it was first awarded the title.
So we will continue to push the regenerative power of culture. In 2018 Newcastle Gateshead plays host to the Great Exhibition of the North, which will celebrate the best in culture, art and design from England's North, transforming perceptions of the region locally, nationally and internationally.
And in terms of place making, there is also a role for arts organisations to be the town halls and parks of our communities - the focal points - acting as places for people to debate about important issues facing our society and creating a safe space where their voices can be heard.
So arts institutions can revive a place's fortunes, supply a new sense of energy and give a community focus.
Participation
But what about the people who visit those institutions? Let us turn now to the benefits of participation.
We know engaging with arts and culture can be key to strengthening communities. You may remember the relatively recent report by the New School for Social Research in New York that found readers of literary fiction tend to be more empathetic than most. It is through art that we better understand each other.
A review of the Social Impacts of Culture and Sport last year, showed that cultural participation can contribute to social relationships and community cohesion, and make communities feel safer and stronger too. Research has also found positive links between cultural participation and improved social skills and engagement with the wider community.
And this research is being put to practical use. Arts organisations around the country are working to improve the physical, mental and emotional health of vulnerable citizens by engaging them in cultural activities, including those who are at likelihood of offending or reoffending.
Take for instance Dance United - which uses intensive contemporary dance training to help transform the lives of young people who are marginalised. Their award-winning intense Academy programme, which currently runs in London and Yorkshire, is based on the discipline of professional dance training.
A staggering 98% of those who complete the programmes gain a national qualification and 80% go on to a range of further educational opportunities. For many taking part, this is a life-changing opportunity that shows them their potential to achieve where so many others have failed them. That is the power of arts and culture.
Access
And so to my last point, access.
We want to build an economy that works for everyone not just the privileged few.
Your sector is potentially one of the greatest forces for openness and social mobility we have.
Culture knows no boundaries.
I want our arts and cultural institutions to be unrivalled for their inclusivity, and their celebration of diversity. Not only in a great array of artists and artwork, but showing true diversity in the workforce - at all levels, right to the very top - and in the audience.
Digitisation is improving access all the time, enabling children to explore the great cultural collections remotely, but a lack of understanding can also be a barrier to arts engagement, and that's why it's so important a high-quality arts education is available to all.
Last month, the Department for Education announced over £350m of funding for music and cultural education programmes between now and 2020. This builds on the £460m already spent on a diverse range of similarly focused education programmes.
Then came the Autumn Statement where the Chancellor announced funding towards a Royal Society for the Arts and Education Endowment Foundation pilot to examine the impact of cultural education on disadvantaged pupils.
This innovative scheme will give us the data to understand scientifically the impact of the arts on life chances.
After discussion with DfE and industry leaders, I was thrilled with last week's announcement that A-Level Art History has been saved. It is now crucial that our leading museums and galleries work closely with schools that already offer or are thinking of introducing the A Level in their teaching, particularly in state schools where uptake has been traditionally very low.
This is an important step and is part of a much wider effort. Britain's future will be determined by the combination of our creative flair and technical expertise, so it is vital that the next generation is well prepared.
Conclusion
Today I have outlined just some of the reasons why arts and culture are vital to society. But the simplest reason is one we all know in our hearts to be true: art enriches life.
So I strongly encourage all arts organisations to wholly embrace their civic role which is vital to the social and economic regeneration of places, connecting communities and ensuring those who may traditionally have been excluded are helped to participate in public life.
I look forward to receiving updates from the Calouste Gulbenkian Foundation on the next phases of the inquiry and to hearing their proposals on how the civic role of arts can be strengthened further.
I'd like to end, if I may, with a quote. It's from Alan Bennett's The History Boys, and though it concerns reading I think it applies to all art, all culture.
The best moments in reading are when you come across something – a thought, a feeling, a way of looking at things – which you had thought special and particular to you. Now here it is, set down by someone else, a person you have never met, someone even who is long dead. And it is as if a hand has come out and taken yours.
I want everyone in our society to know the benefit of that hand reaching out and taking theirs. That, at its purest, is the civic role of arts and culture. Is there any greater?
Our philanthropic support for the arts is of critical importance, and I want to thank each and every supporter – the trusts, the foundations the corporate and the individual support – for playing your part.
Published 8 December 2016