Speech
The Future of Europe
Foreign Office Minister David Lidington spoke about the future of Europe during a visit to Estonia.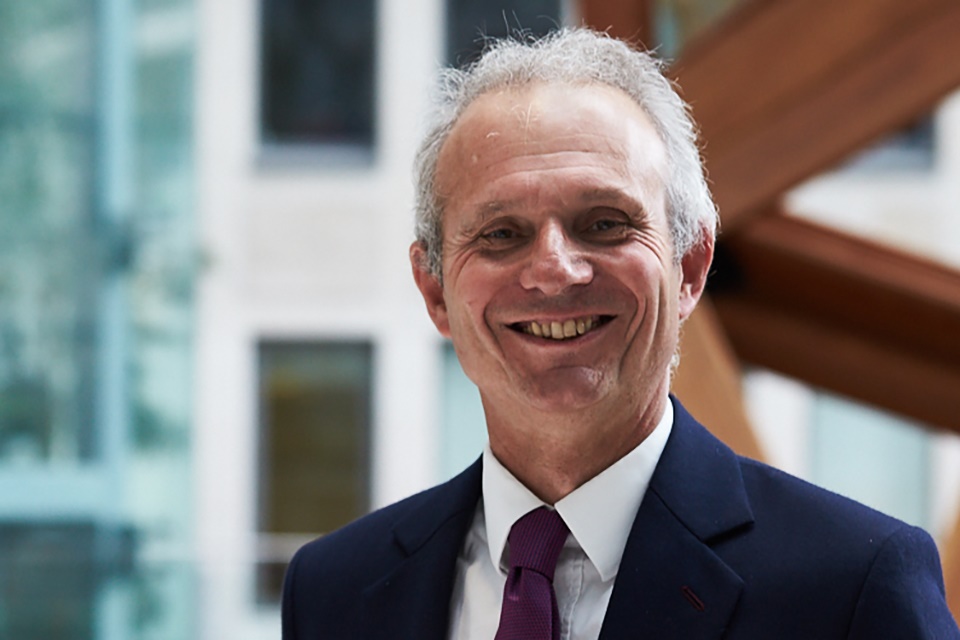 I'm delighted to be here at this distinguished business school, which I gather was founded at about the same time that I started work in the UK's Foreign Office.
Both of us have clocked up a quarter of century since then, I'll leave it to you to decide which of us has aged better, and in that time, we have seen profound changes in our immediate and wider neighbourhoods.
As Estonia was experiencing the Singing Revolution in 1988, I was getting to grips with foreign policy at perhaps one of the most exciting times in recent history.
1989 saw ossified regimes across eastern Europe topple like dominoes, with the Berlin Wall coming crashing down in November that year.
In 1990, country after country held their first democratic elections since communism, and Germany was reunified.
Then, finally, in 1991, Estonia regained its independence amid the collapse of the former Soviet Union.
As a representative of the British Government, I am proud that the UK did not ever recognise Soviet occupation of Estonia. And I am proud too that the UK was among the leading nations that pushed for the European Union to expand to the east.
I think that what Estonia has brought to this union of nations more than justified those efforts.
Estonia has been among the fastest-growing and most innovative nations in Europe; it is here that Skype was invented (and can I pass on grateful thanks from my children for that). It is a nation that has stood up for an open, liberal economic policy that mirrors the EU's democratic values.
These European values in recent months have come under renewed pressure, as people here will be only too aware.
Russia's actions in Ukraine cast a chill across Europe.
With tens of thousands of troops massed on Ukraine's eastern border, Russia's leaders are invoking the ghosts of times long past to justify themselves: the decades of Soviet domination of Europe when Ukraine was back in the USSR; the ferocity and the cruelty of the Second World War; and even a mystical and mythical time in the Middle Ages – when, incidentally, Tallinn was a prosperous and well-defended member of the Hanseatic League.
Russia's leaders choose to ignore the reality that, for the last 70 years, a lifetime of living memory for most people, Ukrainians have lived together as a unified nation.
But they are acutely aware that in four weeks' time, the people of Ukraine will be able to vote freely on their future – a future decided in Kyiv and Lviv, in Kharkiv and Donetsk and Odessa, not in Moscow. And they have been trying their utmost to disrupt this process.
Our response has been clear. This activity must cease.
Russia must de-escalate the situation in eastern and southern Ukraine. It must make a clear public statement to call for illegally armed groups in eastern Ukraine to disarm and vacate occupied buildings.
Russia's leaders must also be aware that they cannot threaten other states.
Estonia is a NATO member and makes a strong contribution to the Alliance. UK soldiers have been proud to serve side by side with their Estonian colleagues in Helmand. This week NATO Allies are deploying forces to support Estonia and other Allie s in the region. US paratroops arrived in Amari today. A similar number of UK soldiers will also arrive in Amari at the end of this week, at the same time as UK Typhoon fighter jets arrive in Lithuania.
Acting together as an alliance within the EU and within NATO, we will defend our democratic values.
Let me be clear. NATO's Article 5 means what it says. We are committed to each other's defence.
Throughout this crisis, I have been deeply impressed by the level of unity that I have seen in Europe.
And this perhaps gives us a chance, one that often arises from such events, to re-examine what we are doing as a European Union.
Whether on energy security or on our general competitiveness, the situation in Ukraine has underlined the need for action to preserve and strengthen our values of safety, security and prosperity.
We have seen how attractive European values can be. My focus for this afternoon is how to strengthen them.
First, I will discuss how we can use the opportunities of 2014 and secure European prosperity through reform;
Then, I would like to focus on an area where I believe that Estonia is leading the way in Europe: digital innovation.
Europe's strength hinges on the prosperity of our economies. Vitali Klitschko has often spoken of his visit to Poland in 1991 – a poorer country than Ukraine then, but one which, having aligned itself with the European Union, is three times wealthier now.
The European model was seen to work. It has had a transformative effect in the region.
But, in the last six years, as emerging economies enjoyed record growth, that of the EU stagnated.
If we in the European Union want to spread our values more widely, we need to show that our model continues to have value.
We need reform to make the EU work better, so that it continues to offer a compelling vision based on democracy and prosperity, not coercion and isolation.
We must take action that we know will result in higher living standards and deliver jobs and growth.
That means driving forward the Transatlantic Trade & Investment Partnership – worth up to €119 billion a year to Europe – and other trade deals too, including the deal with Japan.
That means deepening the single market in services, digital and energy. Implementing the Digital Single Market would add 4% to the EU's GDP by 2020 – more than the combined GDPs of Austria and Finland.
It means removing unnecessary burdens to business, simplifying regulation, and not micro-managing people's daily lives. Did you know that, across the European Union, there are no fewer than 4700 regulated professions?
Fundamentally, it means not shying away from making the necessary reforms to secure growth, jobs and prosperity.
The UK has been at the heart of this debate, and building consensus across Europe on the need for reform.
This is healthy. The benefits which the European Union can give should not be constrained because of a lack of willpower to make the changes needed across the whole of Europe.
The difficult economic decisions taken by countries across Europe have begun, tentatively, to bear fruit.
We are back in growth - just. But we cannot take this for granted.
Over the next 15 years Europe's share of global output is forecast to halve. On digital we are already lagging behind the USA and Asia. The digital economy makes up 6% of the total American economy. In China and Japan it constitutes 7%, and in South Korea 8%. In Europe it is only 4%.
Now – with elections for the European Parliament and the prospect of a new College of Commissioners just around the corner – is the time to be considering just what kind of a European Union we want for the next five years.
It will have to be a Europe aware of the responsibilities it has – those of upholding the values of democracy, the rule of law, and freedom, in a world which often does not play by the same rules.
It will have to be smart in addressing the big geopolitical issues, such as on energy security.
It will need a sense of humility and proportion, too. Though people in neighbourhood states are prepared to make real sacrifices for the idea of the EU, we should not fall into the trap of seeing "Europe" as a cure-all solution.
It will need flexibility. The 28 Member States of the EU range in population from over 80 million to 400,000; some are in Schengen, some outside; some islands, some landlocked; some were in the EEC when others were part of the Warsaw Pact. Then you have the euro-ins – like Estonia – and euro-outs, like the UK. A one-size-fits-all European model is simply not realistic.
It will need the discipline to establish priorities at the outset, focus on them and deliver what the citizens of its 28 member states are interested in: policies for jobs and growth.
It will need the modesty of recognising that across Europe, people look to their national parliaments and national governments first and foremost. Eurostat's figures show that taking the European average, turnout in national elections is consistently around the 70% mark. [63.5% in Estonia, in 2011] Turnout in the 2009 European elections was 43%.
European policy should reflect the idea, expressed by the Netherlands, of "Europe where necessary, national where possible." Democracy means decisions being taken as close as possible to the people they affect – which is often not the Berlaymont building in Brussels.
Finally, Europe should look to all of its Member States for leadership and ideas. I do not believe that Old Europe, that of the founding six Member States, holds all the answers for the twenty-first century. It is time for some fresh thinking.
The spirit of entrepreneurship and innovation which I have seen in Estonia, for instance, could be well applied in reviving sluggish economies elsewhere.
What do I mean by that?
Well as part of this visit I am participating in the Freedom Online Coalition Conference. This is a coalition of states – including Estonia, the UK, and the US – whose aim is to uphold the freedom of expression and other human rights online.
This is something which is all too easy to take for granted. But one thing which the "Spirit of the Maidan" has reminded us is that in the EU, we should never underestimate how attractive the vitality of our democracy is. It is a key European value.
We need, at every opportunity, to demonstrate our commitment to democracy, the rule of law and freedom.
The internet has been transformative in promoting social and cultural development across the world. Countries with strict online censorship – among whom Belarus, Cuba, North Korea, and Syria – know this; they are trying to fight the tide, but they are scared. We have a moral duty to uphold online freedom.
So it was particularly apt that this year's conference should be in Tallinn – because I can think of few countries as committed, not only to using the internet to improve their citizens' lives, but to the principle of online liberty.
I know there has been shock and disappointment in Estonia that you have slipped in the global rankings for Freedom of the Internet. But given this was from number 1 in the world to number 2, that's a problem many others would want to have. I wish you well in moving back to the top.
You will of course be familiar with Estonia's digital programme – "E-Estonia, the digital society". Through it, its citizens can complete just about every municipal or state service online and in minutes.
This has helped bring democracy closer. Estonia was the first country to have national elections online, in 2005. Members of the public interested in the process of a piece of legislation can log on to e-Law to see how parliamentarians are amending it.
Even the Cabinet prepares for its meetings online, with Ministers clicking a box to state whether they have any objections or would like to speak on a particular topic.
I should say that in the UK, where we like to think of ourselves as reasonably tech-savvy, Ministers use red leather boxes which have been made by the same firm to the same design for almost two hundred years!
The Speaker of the UK's House of Commons was here last week, being accorded the rare honour of addressing Estonia's Parliament. He has spoken around the world of the model which your Parliamentary online systems offer to every other Parliament. He is also keen to advance discussion in my Parliament towards adopting key elements of the systems here.
A digital programme is also good for business. When, as in Estonia, you can set up a company online in 18 minutes, that's a boost to entrepreneurship. When you move the entirety of self-assessed tax returns online, as we are piloting in the UK, for small businesses that represents a saving of valuable time and unnecessary paperwork.
We can learn from each other, and we are stronger when we work together. Last year, the UK and Estonia signed a Memorandum of Understanding to work together on digital government and public services.
And in February this year, Moldova launched its new hotline for the Moldovan National Health Insurance Company – with advice and assistance from Estonia. This meant that Moldovan residents no longer had to pay visits in person, which involved lengthy queuing or making appointments.
What has this to do with the EU? Simply that it is precisely this spirit of coordination and sharing of best practice which gives value to a European Union. In a modern, interconnected world, you can of course resort to protectionism and isolationism. But you will not get very far.
For those citizens in Moldova – and I won't labour the point about Moldova's particular geographic situation – a small but significant message was sent in February: this is what Europe represents; this is what Europe can do.
There is another important motive to work together on digital issues. If we want to have a digital society and to promote online liberty as a European value, we also need to combat those who seek to curtail or destroy it.
Cyberspace and cyber security do not recognise national borders. We must therefore work with partners in Europe and beyond to keep the internet secure whilst allowing for economic growth and innovation.
We now have a coherent EU Cyber Security Strategy, adopted by Council Conclusions – a significant achievement. This sets out action plans in improving cyber security and reducing cyber crime, both at European and at Member State level.
It also initiates a strategy to develop resources for cyber security: coordinating existing funding, such as Horizon 2020, to foster research and development, and strengthening cooperation on cybercrime through organisations like the European Cybercrime Centre and Europol.
This is important: if we are to gain collective benefit from the liberty the internet gives us, we need to work together to maintain its security. In this domain, too, Estonia is a recognised leader from whom we can learn useful lessons.
Conclusion
You will probably have read that the debate on Europe in the United Kingdom is robust to say the least. I make no apology for this. We want to change Europe for the better, for the benefit of all Member States – and the Government's approach is to outline a positive, pragmatic argument for EU reform.
The events of the past few months have shown us very clearly that for many, European values – of democracy and prosperity and collaboration – are, quite literally, worth fighting for. We have been jolted into remembering the big picture: where we stand, what our values are, and who our partners are.
We cannot afford to take our freedom, security and prosperity for granted. They are things we must work to strengthen, and to protect.
Further information
Follow Foreign Office Minister David Lidington on twitter @DLidington
Follow the Foreign Office on twitter @foreignoffice
Follow the Foreign Office on facebook and Google+
Published 29 April 2014