Speech
"Tackling impunity for violations of humanitarian law and human rights law must be central to protect civilians"
Statement by UK Ambassador and Deputy Permanent Representative Philip Parham at the UN SC Open Debate on the Protection of Civilians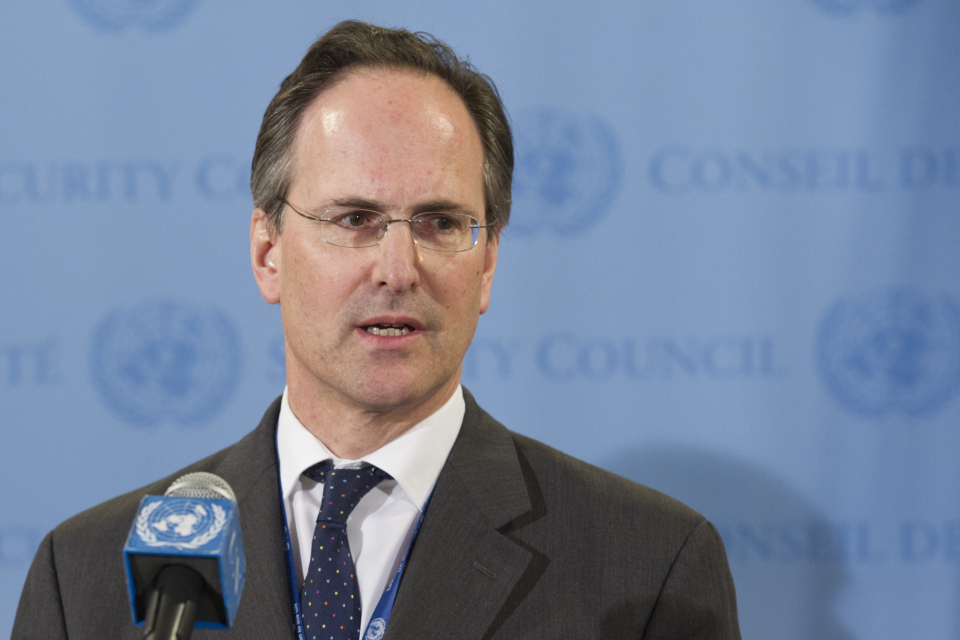 Thank you, Madame President, and a warm welcome to the Council and many thanks for scheduling this important debate today. Let me also warmly thank the Secretary-General, High Commissioner for Human Rights Pillay, Under Secretary-General Amos and ICRC Director Spoerri and for their compelling, though of course very concerning, briefings. We should reflect carefully on their advice, both on tackling specific current conflicts and on our approach to protecting civilians more broadly.
Madame President,
We applaud the commitment and energy which your delegation have brought to the protection of civilians and related issues since joining the Council in January. We are also proud of the contribution which you, we, Australia and the other co-authors of the Arms Trade Treaty have made to protection of civilians through that treaty and like others we look forward to its ratification and implementation.
I will focus on two of the dimensions of protection of civilians highlighted in your concept note: strengthening accountability and ensuring humanitarian access.
Madame President,
History demonstrates all too clearly that the worst crimes against civilians have been committed by perpetrators who thought that they didn't have to fear being held responsible. That is why tackling impunity and strengthening accountability for serious violations of international humanitarian law and human rights law must be a central element of international efforts to protect civilians.
And we should acknowledge the important progress that has been made in the last two decades. The establishment of the International Criminal Tribunal for the Former Yugoslavia in 1993 and then the International Criminal Tribunal for Rwanda signalled a step-change in the reach and effectiveness of international justice, which was then consolidated by the creation of the International Criminal Court.
Madame President,
Twenty years after their establishment it is sometimes easy to forget or underestimate their impact. Let us therefore recall that we now live in a world in which no-one can count on being shielded by state sovereignty. Heads of State, military leaders, politicians have all had to account for their actions before mechanisms of international justice – actions which have inflicted untold suffering, including often the systematic use of sexual violence against civilians.
But Madame President, much remains to be done.
We need to do more to support and uphold existing mechanisms of justice. We need to hold states to their obligations to cooperate fully with these mechanisms, as we did successfully with the International Criminal Tribunal for the Former Yugoslavia, all of whose indictees were eventually apprehended. The United Kingdom urges all those UN members who have not yet done so to become parties to the Rome Statute. And we urge all those who are already states parties to uphold their responsibilities in that regard. It is deeply disappointing, for example, that in recent months we have seen high profile indictees who are refusing to cooperate with the International Criminal Court visit or travel unchecked through the territory of states parties.
The Council should be ready to make use of its authority to make referrals to the International Criminal Court in order to enhance the protection of civilians. Our failure to refer the situation in Syria to the International Criminal Court is a matter of great regret. We have seen there no let-up, rather the opposite, in the disproportionate use of weaponry including ballistic missiles and aerial bombardment, against civilian centres. We have seen murder, torture, sexual violence and forcible displacement used as tools of conflict.
Madame President,
The Council's responsibility in respect of the protection of civilians in Syria is clear. We have to impress upon all sides in Syria that there is no impunity. We should delay no further in referring the situation in Syria to the International Criminal Court. We should ensure that mechanisms of international justice are applied and that all those responsible for planning and perpetrating war crimes in Syria and associated civilian suffering are made to answer for them.
Madame President,
Let me now turn to another theme highlighted in your concept note, the importance of ensuring humanitarian access to those in need. This is a fundamental aspect of protection civilians.
I want to highlight two such situations of particular relevance to this Council: the Blue Nile and Southern Kordofan in Sudan and Syria.
In Blue Nile and Southern Kordofan, hundreds of thousands of civilians have been displaced and are vulnerable to ongoing fighting. They remain largely cut off from humanitarian access. This situation has persisted for months, indeed for years.
In Syria, as the Emergency Relief Coordinator has repeatedly briefed to this Council, it has proved extremely difficult to secure humanitarian access to those affected by the fighting.
These two situations, though in different continents, have several features in common. The tragic impact on civilians of unchecked conflict. A tendency by the host authorities to see external humanitarian assistance as interference in domestic affairs. The arbitrary denial of the delivery of humanitarian support to those in need. And the prevention of cross-border humanitarian access impeding the speed and the reach of humanitarian access to vulnerable civilians.
In Syria, I welcome the efforts by Valerie Amos to develop a consensus around a set of key humanitarian requirements which offer practical recommendations for what can be done to improve humanitarian access. I hope that the Council will work intensively and constructively in the coming days to find ways of coming together in support of these recommendations.
In respect of Blue Nile and Southern Kordofan, we need to apply our influence as a Council to ensure humanitarian access to civilians. We urge the warring parties immediately to reach a negotiated settlement that will end the fighting and alleviate the suffering of civilians. Again, I hope that the Council will be able in the near future to renew its commitment to such an approach.
Madame President,
While on the subject of humanitarian access, and on today, World Humanitarian Day, let me pay tribute to the dedication and bravery of humanitarian aid workers and acknowledge the risks that they face in helping those in need. They too are civilians and we need to focus on their protection and the accountability of the criminals who attack them.
Madame President,
The international community has made important strides forward in respect of the protection of civilians. We have established effective and far-reaching mechanisms of international justice. We have extended international normative commitments through a series of comprehensive Council products on the protection of civilians, most recently our Presidential Statement of 12 February.
But as your concept note highlights, these important steps have yet to translate into reversing the increasing suffering of civilians on the ground. For all the efforts that have been made, the Secretary-General still, correctly, characterises the current situation in respect of protection of civilians as "abysmal" in his most recent report.
We must therefore as a Council continue to focus intensively on this challenge; to uphold and, where necessary, to extend the authority of international justice mechanisms while helping to strengthen domestic justice systems; to exercise our responsibility to refer to the International Criminal Court those situations which warrant it; to support the need for effective humanitarian access in situations where this is hindered; and to demand of all parties that they meet their obligations to protect civilians and to apply maximum pressure to those who fail to do so. The protection of civilians is central to our role and it should be uppermost in our minds not just during thematic debates such as this one but throughout all our work.
Thank you, Madame President.
Published 19 August 2013
Last updated 21 August 2013
+ show all updates
Shorten title
First published.